Larry Thacker has released a string of books featuring poetry and his exploration of mountain mysteries over the last few years.
More recently, this resident of Johnson City, Tennessee, has put forth a new book called "Working It Off In Labor Country," published by West Virginia University Press.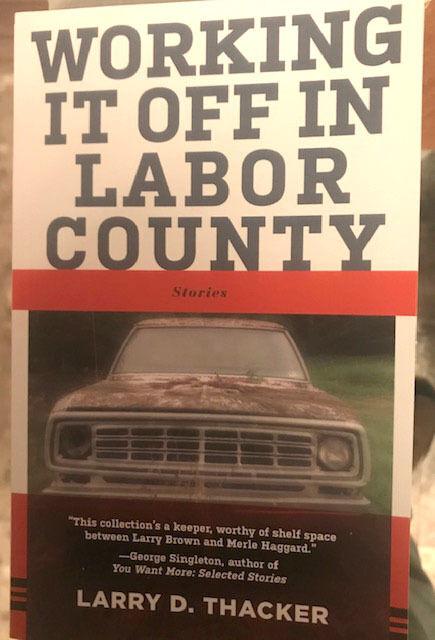 For Thacker, 51, this book stems from his education.
"I finished my MFA in creative writing in '18, concentrating on poetry, but also picked up a secondary concentration in fiction and fell in love, realizing I could talk about home and place and Appalachia and mountain culture in yet another way besides non-fic and poetry," Thacker said.
"Fiction's a great way to tell about struggles in life, through a mix of real and imagined experiences. Hopefully, readers find a little of themselves and the world they're in within these characters' interesting challenges."
The author figures this book took him as long as three years to complete.
"I've worked on three other full collections at the same time, including poetry work. I enjoy having lots of writing projects on the desk at once. Same with what I'm reading. Half a dozen books at once."
Now, Thacker says he wants readers to pick his brain through reading his words.
Use your imagination, he said.
"It may be a fictitious Southeast Kentucky town and county, but we're all in this book," he said. "It draws from the everyday oddity of life, from its hilarity to its horrors. We all know struggles and laughter. It's a gritty collection in a language you'll recognize."
Thacker thanks his longtime fans who have been following his writing for a decade.
"I want people to laugh," he said.
"I like helping people laugh. If they laugh, and tear up, think more deeply about life, reconsider the mysterious world around us, then I've done as great a job as I can expect of myself, I reckon."
On that note, Thacker said he drew inspiration from relatives.
"My grandfather, my family, my hometown of Middlesboro, Kentucky, my home region, my writing mentors, my favorite writers, everyday life, pain and laugher," he said.
Thacker called this book "influenced by poetry, for sure," he said.
"Poetry informs my fiction, but my fiction is less poetic, more economic. Definitely driven by the characters I've known from projects like 'Mountain Mysteries' and earlier days writing columns and when I was involved in politics. We bring with us, overtly and covertly, everything in our lives up to our present writing."