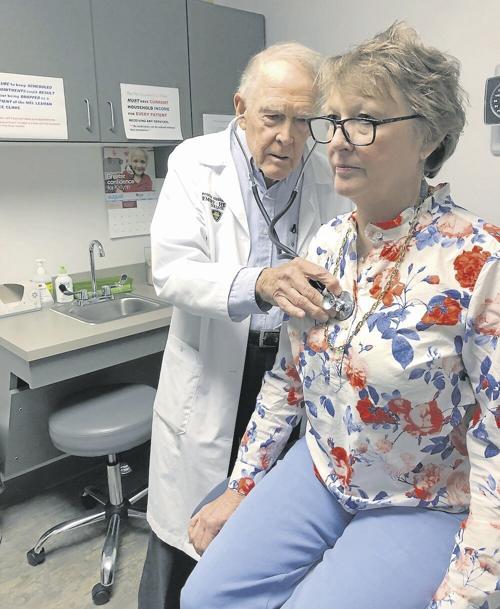 Now fully vaccinated, Dr. James Patterson is back at the Mel Leaman Free Clinic he helped found in 2000 and continues to serve as medical director.
"I was still practicing when I started the clinic, so I never really retired," said the longtime local doctor.
Having just celebrated his 89th birthday, and practicing medicine for 64 years, Patterson is not planning to retire anytime soon. He took time off to self-quarantine during the pandemic because of his age but wanted to come back as soon as he was vaccinated.
The clinic was doing well until COVID-19 hit the community, he said, so the pace has been off for the past year. He hopes things will pick up with the case numbers dropping and more people being vaccinated.
He's been greatly missed at the clinic, said Debbie Williams, medication assistance coordinator.
"He's been such a great asset to this clinic," Williams said. "We wouldn't be here without him. He's very personable and loves this clinic. He uses his own money to help patients or get them rides home. He's always available. Just a remarkable person."
Williams said Patterson is always interested in the staff members and their families, what they're going through, and is always available to talk or to check on them.
One time, when she was sick and in the hospital, having had lots of tests, Patterson talked to her about her medications when she came back to work. She was having trouble with her blood pressure medicine related to allergies. He was the only one who brought that up, she said, and was able to help her get over that issue.
Lisa Mitchell, LPN, was still working as director of the emergency department at Smyth County Community Hospital when she came to the free clinic 21 years ago.
"Dr. Patterson has made a difference in the lives of the free clinic patients through his kindness, his dedication and his thoughtfulness, just three of his qualities amongst many," she said. "I think that he is truly interested in his patients and what's going on with them. They have his undivided attention when he is with them. He gets to know them on a personal basis and always goes the extra mile."
Going that extra mile with people earned Patterson an Extra Mile Award from the town of Marion in 2016.
Marion Town Council member Avery Cornett described how, when Patterson's phone would ring in the middle of the night, his Boston terrier, Friskie, would run to door and wait while the doctor pulled pants over his pajama bottoms. The pair would set off together.
Cornett shared Patterson's history at the council meeting when he recognized the man, who is known around the community as "The Good Doctor." The town annually participates in the national program that recognizes community members who go "above and beyond in their efforts to help the community and their fellow man," said Cornett.
One of the ways Patterson goes above and beyond is having established a transit fund to help people get to and from the free clinic. Many often don't have the money or the transportation to get there.
"To him, all his patients are equal," said Mitchell. "He's a true humanitarian. He's so kind to everyone. He says, 'This is some of the best work I've ever done, Lisa.' He's been such a good friend to me and my family."
"I think he keeps us all inspired by his deep devotion to the clinic," said Susan Ferraro, director. "We have a video in which he says that he thought when he retired from practice he would go to volunteer at Indian reservations, but he discovered the need here and started the free clinic."
Patterson said that a cousin's husband wanted to help Native Americans because they have been so badly treated in this country, and he wanted to do something for them. So he did. But Patterson decided to stay home.
"We had problems here in our own county with people needing stuff," he said. "They needed a medical doctor with a license to start the clinic, and I wanted to take care of those sick people who didn't have the money for a doctor. It's one of the best things I've ever done."
Patterson said he would see a patient in an empty room somewhere before the clinic found a site. Sometimes he would see them in their homes or in his office. Then the clinic got its first site in the Marion Plaza, which served them well until the current building on the campus of the former hospital became available and was renovated. When Emory & Henry College bought the old hospital to turn it into a campus for health care studies, students were able to help with patients at the free clinic.
Patterson and the clinic staff are looking forward to when those students can return once the pandemic is over.
"It's been up and down over the years," Patterson said of the free clinic, "but we managed to get there. We got quarters and were able to help people. Students help us. We could use a lot more."
The community has been a big help to the clinic, Patterson said, and generous with donations and support.
The clinic needs more volunteers, particularly health care providers who can actually see patients, Patterson said. "The help we get is pretty much based on our numbers. I hope it will get better."
Patterson comes to the clinic on Mondays but continues to be available as needed.
"As long as there's need, and I keep my health, I'll keep doing it," he said when he turned 80. "Doing it will help me keep my health."
That plan continues as the Good Doctor heads toward his 90th year.
"The free clinic is the happiest thing I've ever done," he said. "Being able to help people makes me happy."
Stephanie Porter-Nichols contributed to this story.