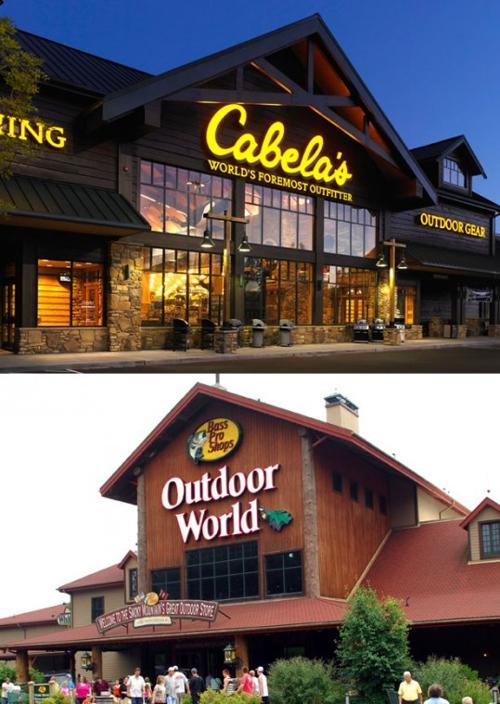 BRISTOL, Va. - Bristol Virginia Mayor Archie Hubbard is concerned about reports Bass Pro Shops might be moving closer to buying out rival Cabela's.
Each chain operates a location in the Twin City, with Bass Pro anchoring The Pinnacle in Bristol Tennessee and Cabela's anchoring The Falls, four miles away, in Bristol Virginia.
Earlier today multiple media outlets reported privately held Bass Pro would join with financiers Goldman Sachs Group to prepare an offer to buy publicly traded Cabela's, its chief rival in the retail hunting/fishing market. The possible acquisition has been rumored since last fall when a minority investor lobbied for Cabela's to take steps to increase its value to shareholders.
"Anytime a rumor comes around we're concerned but the only worry I have is Bass Pro buying them [Cabela's] out. Anybody else it would be no different, just a new owner," Hubbard said this afternoon. "I don't know how they would handle it and I don't know how many places they both have stores. This may be a unique situation."
The 82,000-square-foot Cabela's location opened last October. The 100,000-square-foot Bass Pro opened in 2014.
News reports claim the two companies operate competing stores in about a dozen larger U.S. markets.
Bristol Virginia has invested about $45 million in general obligation bonds to get The Falls up and running and sold more than $30 million in project revenue bonds to construct buildings at the Lee Highway center.
At present, Cabela's is one of three businesses currently operating there. A convenience store is scheduled to open in a few days and developers recently announced four additional businesses planned to locate there later this year.
Bass Pro reported about $4.25 billion in annual sales last year while Cabela's reported about $3.6 billion in sales. Bass Pro has 94 retail locations compared to 64 for Cabela's and each reports employing about 20,000 people.