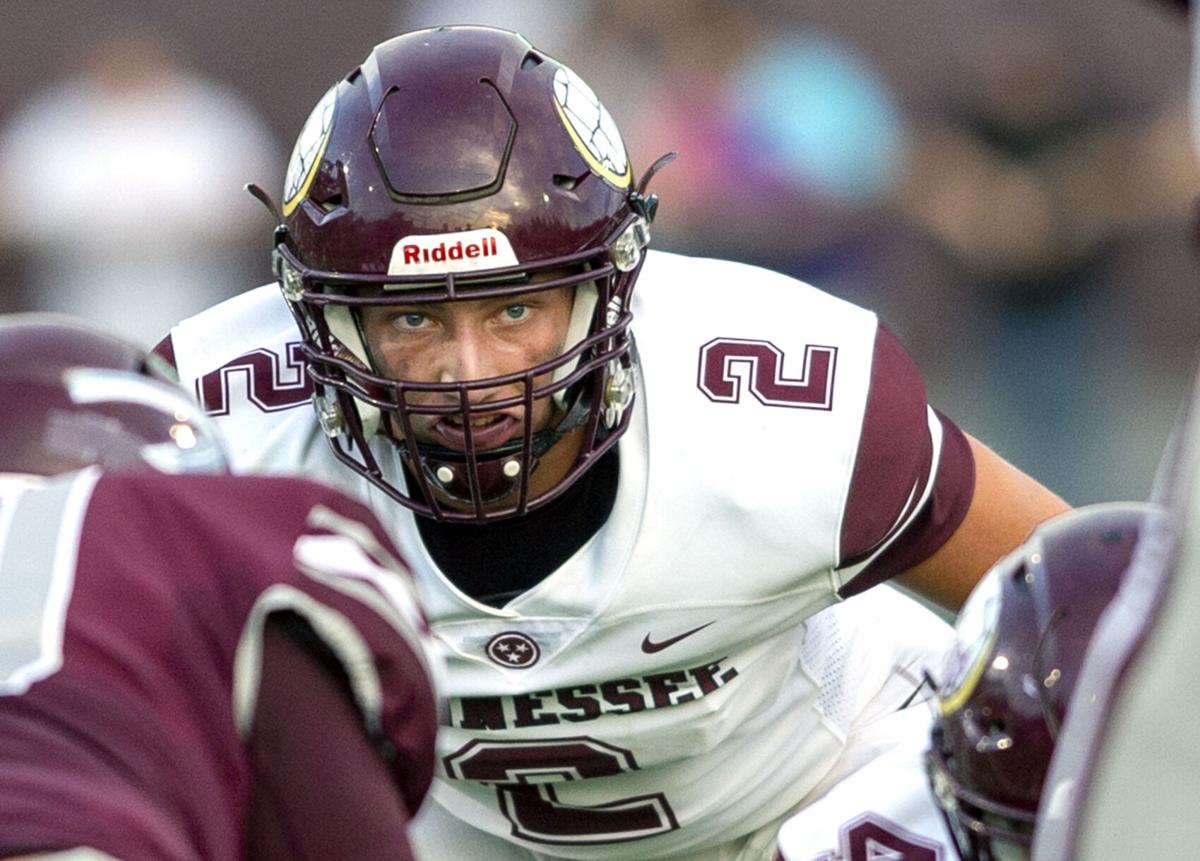 BRISTOL, Tenn. – Bryce Snyder just wants to play football.
Perhaps, if the coronavirus will allow, actual football games could happen in just over two weeks.
He is doing his part to be ready.
"It feels really good," said Snyder, who took part in Tennessee High's first practice involving contact on Tuesday at the Stone Castle. "We have been kind of slowed down, shut down for a little bit, but it feels great to be back out on the field. We have been waiting for it for a while now."
Snyder was key part of Tennessee High's 9-2 campaign last season, which included nine straight wins, along with the Mountain Lakes Conference championship before falling in the opening round of the playoffs.
Expect that final result to serve as motivation for the season ahead.
"For sure, it was upsetting, definitely losing like that, but we have just got to beat it this year and move past it and keep pushing," said Snyder, who plays linebacker, running back and receiver for the Vikings.
Tennessee High head coach Mike Mays has a few holes to fill in his lineup after losing several talented athletes to graduation, but the eighth-year head coach likes what he sees.
"There are some holes to fill on either side of the football. We really feel good with about nine guys on defense, feel really good about them," Mays said. "We feel really good about six on the offense. There are guys that played a lot last year that are now thrust into starting role right now with the ones [starters]."
Getting them ready for the season opener could be more challenging this season without scrimmages or jamborees against other teams, normal activities the Tennessee Secondary School Athletic Association isn't allowing as part of its COVID-19 guidelines to follow in order to play football.
If all goes well in relation to concerns with the coronavirus, Tennessee High is slated to host Dobyns-Bennett on Aug. 21.
"We will see how they overcome, with no scrimmages, it is going to be hard, but we are going to build some days in where it will be a scrimmage day, we will go good-on-good," Mays said. "You don't want to do that a whole lot, but this year you have to do it more.
"We are going to get some good-on-good and see who rises to the top. I think we have the makings of a really good team, ones and twos, so going against each other, I think we can get a good look of what we can do."
Tennessee High was expecting to play 10 games this season as usual, but lost both Virginia High and Abingdon after the Virginia High School League suspended fall sports in Virginia to the spring.
While efforts to pick up another game or two have been unsuccessful so far, Mays remains positive. The Vikings were slated to have a week off after they play Dobyns-Bennett, giving them a couple of weeks to prepare for their
Mountain Lakes Conference opener with Daniel Boone.
In fact, if the schedule remains unchanged – and that remains to be seen – the Vikings would play just three games in the opening six weeks before finishing up the regular season by playing five weeks in a row.
"Right now we have three open dates," he said. "Honestly with the lack of hitting and things early in the season, we may need that break right here. We play a couple of games, we might need another break so I am looking at it as a blessing."
Tennessee High did lose plenty of talent from last year's squad, including East Tennessee State recruit Nolan Wishon, along with Kelvin Coleman, Connor Bailey, Trevor Dowell and more, but Snyder echoes Mays' opinion that the Vikings still have the makings of a good team.
"For sure, we definitely do. We did lose a bunch of key assets, but we have a really good football team," Snyder said. "We had a few leaders that left, but we have a few guys that I think will really step up."
That includes NCAA Division I prospect Jaden Keller, who has worked over the summer with incumbent quarterback Steven Johnson, who is expected to replace Cole McBrayer, the MLC's Offensive Player of the Year, who will suit up for Emory & Henry College when they play football in the spring.
Snyder thinks Johnson is ready to take the reins of the Tennessee High offense, which scored at least 28 points a game during their nine-game win streak last season.
"[Steven] has been working extremely hard," he said. "He has really worked hard over the offseason, getting a lot better, throwing and recognizing passes and stuff. I think he will be good."
Defensively, the Vikings were stingy at times last season, allowing nine or fewer points in six games, including an impressive shutout of Daniel Boone.
Snyder, who hopes to play more football in college, expects that unit to remain strong.
"We lost a few key players last year on the defense, but I think our defense is still going to be great this season," he said. "I really do."
Also a talented baseball player for the Vikings, Snyder witnessed just how difficult it was for the senior members of the Tennessee High baseball team to lose out final season on the diamond.
He is certainly doesn't want a repeat with football in the fall.
"It is huge," he said. "With everything going on, I just really want to go out there and play my senior year."
Be the first to know
Get local news delivered to your inbox!