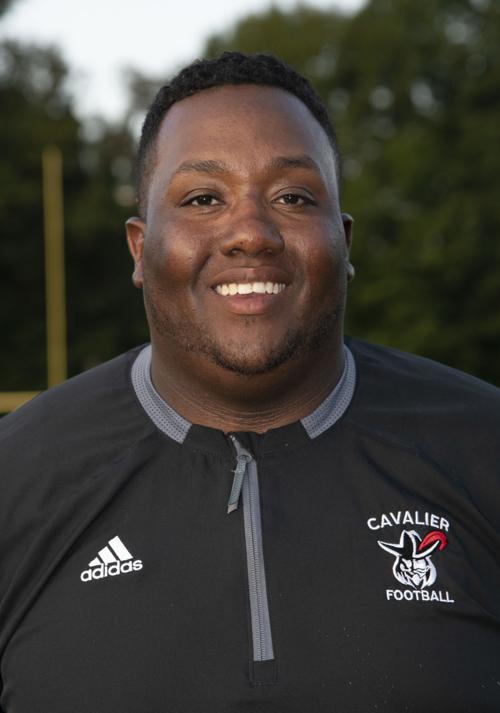 DAMASCUS, Va. – Holston High School Cavaliers football coach Derrick Patterson received some bad news Monday morning.
Just a few hours later, the 31-year-old mentor delivered an urgent message to his players.
"I told them they had a decision to make," Patterson said. "They can let the circumstances define them or they can make the best out of the situation."
That situation is historic. Due to the COVID-19 pandemic, Virginia High School League officials voted Monday to postpone the football season until the winter and spring.
Since June 22, Holston and other teams across far Southwest Virginia have been lifting weights, running drills and hoping for some Friday night lights. Those 90-minute sessions for the Cavaliers are held three days a week.
"I initially had confidence that we were going to be able to play this fall," Patterson said. "That's not going to happen, but I full have confidence that we will get to play this spring. Our job is to be ready."
On Tuesday afternoon, the Washington County School Board voted to delay the start of classes until Aug. 24.
Patterson said his team will continue to work until the first day of school before taking a week and a half break.
"That's when we will set another schedule based on the learning program in the school system," Patterson said. "We've not even been able to throw passes yet, but the kids have maintained a good attitude."
The frustration level among football coaches, players and fans across Virginia rose Tuesday when Tennessee Gov. Bill Lee issued an executive order allowing contact sports among TSSAA member schools. TSSAA schools will also be able to practice in pads as early as Thursday.
"It seems like every state around is preparing to play football this fall," Patterson said. "I know some people in Virginia are upset, but that's not my decision to make. I see both sides of it."
Football fever ran strong in Damascus last season, as the Cavaliers posted a 7-5 record and earned their first playoff win since 2009.
Seven starters on offense and defense are scheduled to return, including dynamic senior quarterback Quaheim Brooks.
"If we're able to stay healthy, we can be pretty good," Patterson said. "We've got some talent and speed, but we're not that physically strong. So this is our chance to spend more time in the weight room and focus on getting stronger."
Junior running back and safety Trent Johnson is one of those returning starters. For now, Johnson is dwelling on the big picture with his teammates.
"We've been trying to cheer each other up and look to improve our weaknesses," Johnson said. "I've played football since grade school. Not having a season this fall will be frustrating, but I will probably go to Tennessee to watch some games."
Late Tuesday afternoon, Johnson was helping his father, Adam, and older brother, Austin, at the family business in Damascus. For the past five years, Adam has operated Bicycle Junction which caters to cyclists from around the region and nation.
Adam Johnson is a native of Damascus, and played basketball for the Cavaliers.
"I haven't missed a Holston football game in years," said Adam, who has been a loyal sponsor for Holston athletics. "It's going to be awful not having games this fall. Everybody I know is frustrated about that."
Austin Johnson is a 2019 graduate of Holston, where he earned All-Hogoheegee District honors as a lineman.
"It's crazy to me that teams in Tennessee can play this fall, and Virginia can't," Austin said.
Near the center of town on South Shady Avenue, waitress Jeannie McCracken took care of customers at the Damascus Diner.
"I really feel sorry for the kids around here, especially the seniors getting ready for college," McCracken said. "They've missed out on sports and scholarship opportunities, plus the prom, graduation, being around their friends and so much more. Everything kind of went on a spiral since schools closed in March."
That's why Patterson wants his players to maintain an optimistic outlook.
"I don't know what the kids are going through emotionally because none of us have ever experienced like this before," Patterson said. "Again, I look at this as a chance to learn how to deal with and overcome adversity. You can be sad and upset, or you can keep moving forward."
Patterson earned all-state honors in football as a lineman at Covington High School before starring on the defensive line at Emory & Henry.
So how does Patterson plan to spend his Friday nights this fall?
"I've played football since fifth grade, so it's going to be different," Patterson said. "I will spend more time with my family, rely on my faith and just keep working for the spring season. That's all we can do."
agregory@bristolnews.com | Twitter: @Greg_BHCSports | (276) 645-2544
Be the first to know
Get local news delivered to your inbox!