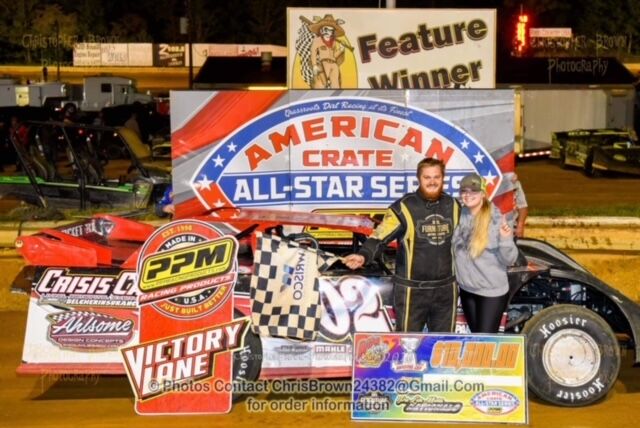 LEBANON, Va. – During the week, Tyler Arrington works as a master auto mechanic.
On the weekend, the 27-year-old Lebanon resident puts his mechanical mastery to use on another stage.
For the past few years, Arrington has been one of the top drivers on the American Crate All-Star Series, a dirt late model touring series based in Northeast Tennessee.
"Nothing compares to racing a dirt late model car," Arrington said. "It's very competitive and anything can happen."
Arrington, who played football at Honaker High School, knows all about competition. He won the American Crate All-Star Series championship in 2019 and finished second in points this past year.
The real highlight to the 2020 season came Sept. 6 on the high-banks of Wythe Raceway in Rural Retreat, Virginia.
In a $10,000-to-win event that attracted over 45 drivers from several states, Arrington emerged with the big prize.
"We went into that race expecting to run good, but we really didn't expect to win," Arrington said.
Arrington worked overtime for his career-defining victory, which came on a Sunday. The weekend adventure began with a Friday night event at Volunteer Speedway in Bulls Gap, Tennessee, followed by a Saturday night race at Lizard Creek Speedway in Hanover, West Virginia.
"We got home Sunday at 5 a.m., and then we went back to work four hours later," Arrington said. "We changed the radiator and did a lot of other stuff on the car. To go through that weekend and win at a track where I cut my teeth was a dream come true."
There was pressure on Arrington, especially considering his impressive two-year charge in the modified division at Wythe Raceway in 2013 and 2014. During the 2014 season, Arrington crafted an eight-race win streak on the fast half-mile layout.
"I should have won the track title that year, but I had to miss some races," said Arrington, who did capture the Late Model track title at Wythe in 2016.
Arrington learned the basics of racing at age 12 in the hyper-competitive world of karting. He won dozens of trophies over the next seven years, including two championships at now defunct Beechnut Raceway in Blountville, Tennessee.
"We did a bunch of races in several states before we finally decided to go in a different direction," Arrington said.
Since 2015, Arrington has been running with the American Crate All-Star Series. This past season, he entered 20 Crate races in Virginia, Tennessee, West Virginia and Georgia.
His bid for a second straight series title came down to a tense two-night battle with Knoxville's Trevor Sise at Smoky Mountain Speedway in Maryville, Tennessee.
"We had to finish nine positions ahead of Trevor in both races," Arrington said. "We did what we needed to do on the first night, but Trevor was just better than us the next race. It was tough to finish second, but I told my crew at the beginning of the season that we really weren't shooting for points."
For the season, Arrington ranked tenth among 3,283 crate late model drivers around the nation. He held the No. 6 spot for several weeks.
The Arrington story has another twist. His crew consists of Lebanon building contractor Dave Bush and Traci Arrington, Tyler's wife.
"That's a cool deal," Tyler said. "Traci didn't know anything about racing until we got together in 2014, and now she pretty much does all the tire work on the race car."
Tyler is already preparing for the 2021 season. He recently picked up a new engine and body, and has made plans to represent the American Crate All-Star Series at a Charlotte racing expo in February.
"We're still looking at the schedule, but we're definitely going to chase the big money races again," Arrington said.
Arrington hopes one of those big money races comes during the Bristol Dirt Nationals on March 15-20 at Bristol Motor Speedway. That new event, which was announced last week, will serve as a prelude to the Food City Dirt Race weekend on March 27-28.
"Having the chance to race at Bristol would be a big deal for me," Arrington said. "We were planning to go watch the Cup, Truck, and hopefully the World of Outlaws events at Bristol. If there is a chance for us to actually race, we will be there and a ton of other racers would be there as well."
Arrington knows something about the allure of NASCAR events on dirt. He accompanied the Abingdon-based Henderson Motorsports NASCAR Truck series team when Abingdon's Caleb Holman won the pole for the 2016 Eldora Dirt Derby at Eldora Speedway in Ohio.
"That was huge," Arrington said. "Caleb and I are friends, and I went with him to both Eldora events along with several other tracks. I did whatever the team needed."
Like most of the racers, crewmen, racing officials and media members who used Northeast Tennessee and far Southwest Virginia as a launching pad to national success, Arrington has made his mark the old fashioned way through endless efforts behind the scenes.
"I'd love to race super late models on dirt someday, but the cost is almost out of reach for a guy like me that works every day," Arrington said. "There are so many good racers from this region, and I'm just proud to be part of the group."