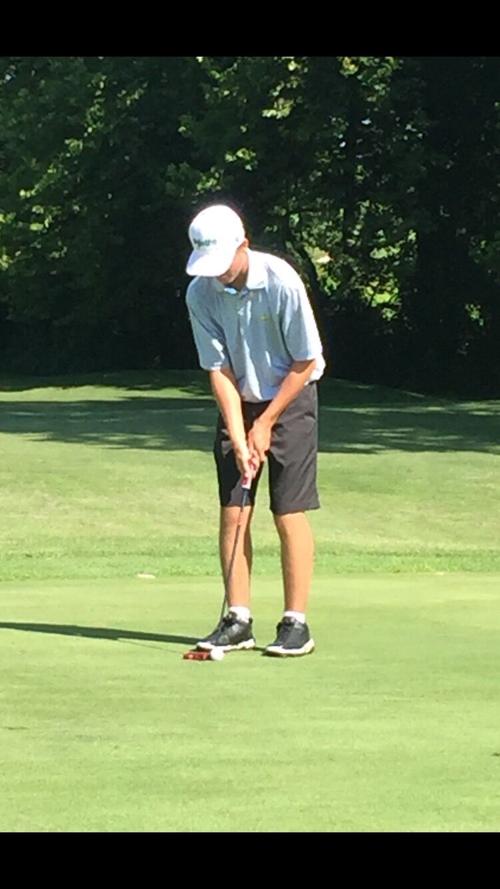 It was a round of golf that Seth Robinette hopes to duplicate as the season continues. Or, perhaps do even better.
"That is my best round I have ever had," said Robinette, who fired a 66 to capture the Conference 11 individual championship last week at Tri-Cities Golf Club.
It was one of those days when the putts were dropping for Robinette, who finished three strokes ahead of Tennessee High's Jack Tickle.
"I was making some putts really," Robinette said. "I made about two or three really long putts and everything else was some medium range putts for birdies and just keeping the bogeys to a minimum."
Robinette showed flashes of his potential last season, advancing to the TSSAA Large School state tournament, finishing in a tie for 29th at WillowBrook Golf Club in Manchester.
"I definitely think he has got a shot to take it all the way again. Last year that was one of his personal goals," Sullivan Central golf coach Daniel Dakin said. "He missed out as a freshman by one shot and then to come back and overcome that last year and qualify for the state in a playoff no less, he was super happy about that."
Happy, but certainly not satisfied.
"If you would watch Seth Robinette golfer as a sophomore versus Seth Robinette golfer as a junior, he has gotten bigger and he has gotten stronger," Dakin said. "His work ethic, I don't know how in the world it could get any better. It is just unbelievable how much he works and takes it serious."
Robinette took advantage of unexpected free time beginning in the spring when the COVID-19 pandemic closed schools, leaving students to complete their school work via virtual options.
"Actually it helped because I had more time to go out there and hit and play," said Robinette, who plays regularly at Warriors Path State Park and at The Virginian in Bristol.
That practice has paid off with a terrific start to his junior season.
"I definitely hit my irons better than I did last year," he said, "but just hitting fairways and my putting has gotten better too."
In a region full of talented high school golfers, Robinette has certainly added his name to a list that includes Tickle, Jon Wes Lovelace at Volunteer and the Dobyns-Bennett due of Taylor Kilgore and Zac Fletcher, among many others.
"He has really overcome some personal hurdles this school year because we have had matches where he has played against some pretty high level competition that is in our conference," Dakin said. "He has had some personal battles with other golfers that he has kind of wanted to compete against and do well against and he did that that day.
"I think it was a good statement for him, a testament to his family and all the hard work and time they have put into it. It is just fun being a very small part of it and just getting to watch how he has grown in less than a year."
Tickle, who placed third in the state last season, has seen certainly seen improvement in Robinette.
"Seth is a really good player, I am friends with him, he is a great dude," Tickle said. "Being from Central, we play a lot in high school meets together. We have gotten to be buddies over the years so he is another great player coming out of east Tennessee.
"He shot 66 so he can go out there and play good also."
Robinette hopes that will continue as he continues to take five virtual classes from home, and then heads out to a local golf course, with one particular goal in mind.
"Yeah, definitely making it to state, hopefully I can do that again," Robinette said. "I am trying to hit it well so I can get back to state."
While Dakin has always notice a passion for the game from Robinette, it might be more intense than ever this season.
"He has flipped a switch to be honest with you, probably this whole season," Dakin said. "He is just so much more consistent with every facet of his game. Not that he has never enjoyed playing golf, but you can just kind of tell he is in the zone right now and he is pretty much every round that he is playing. He is competing at a high level."
Robinette must finish in the top five in district and top three in regional competition to qualify for another trip to the state meet. When there, his goals are set as well, having shot rounds of 79 and 81 last fall.
"Just to get to state is my goal," said Robinette, who has an improving team of mostly juniors who are looking for success themselves. "I would like to play a lot better than I did last year. I would like to have two rounds in the mid-to-low 70s, that would be great.
"It was kind of cold and windy in the state, but hopefully I can play better this year if I get there."
Don't count against him. Dakin is certainly a believer.
"I think he has as great a shot as anybody to go back to qualify for state and definitely qualify with a better score than he had last year," said Dakin, who said Robinette has a desire to play golf, perhaps locally in college. "That is no disrespect to the competition that we play in our conference because all those coaches do a great job and they have got great programs.
"There is just a lot of talent within our area right now with junior golf. It is growing and I am just happy to be a small part of it. I would be shocked if he didn't qualify for state again."
Robinette finished up his school work on Wednesday and went back to work, this time for a mid-week match at Warriors Path. His plans were set before ever getting there.
"They are pretty much the same ever since the beginning of the year," he said. "I just try to shoot under par every round. That is my goal."
Be the first to know
Get local news delivered to your inbox!