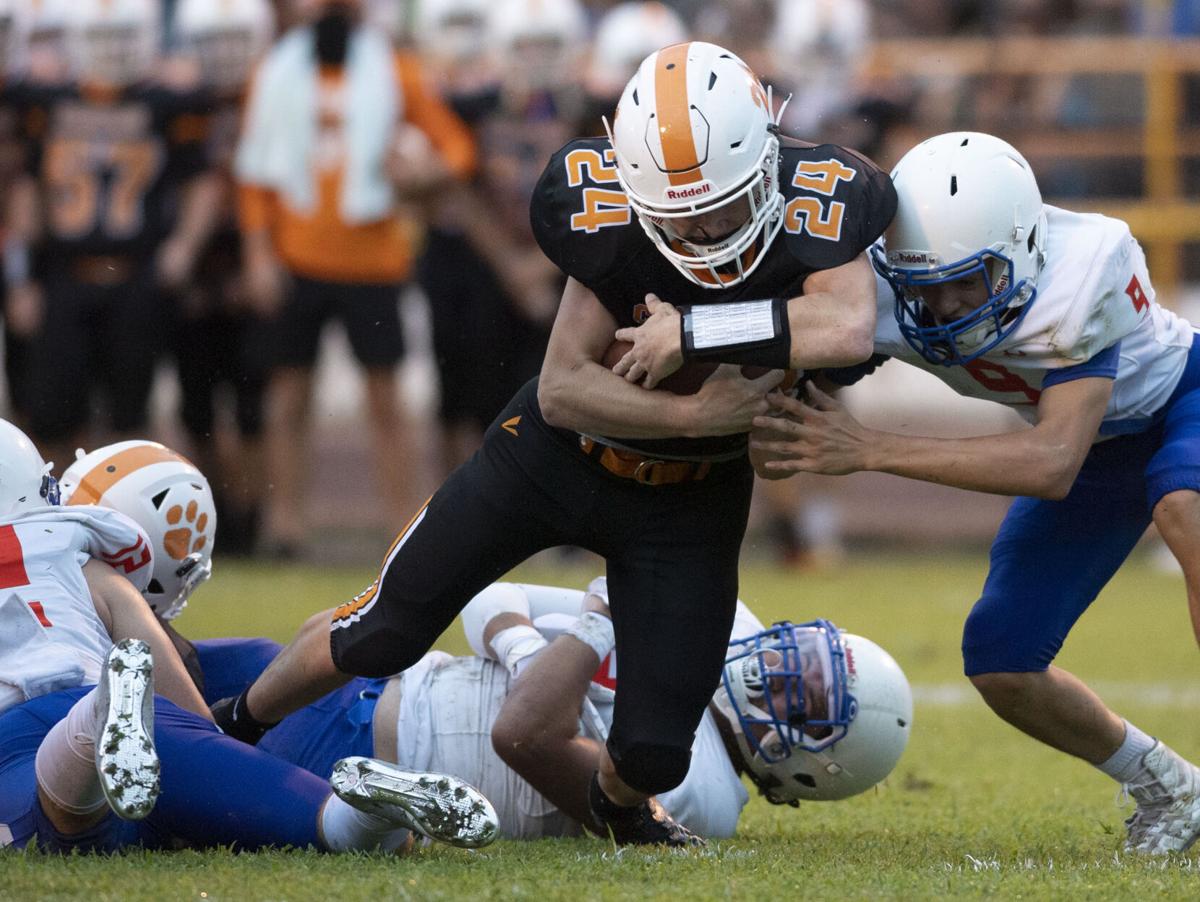 Sullivan Central sits at 2-0 for the first time since 1995. The next goal is 3-0, which hasn't happened in Blountville since 1986.
While the Cougars are 2-0, having beaten Volunteer 28-6 in their last outing two weeks ago, Pigeon Forge is the next opponent, having won their lone game on the same night 19-12 at Grainger.
Sullivan Central head coach Chris Steger is certainly hoping for a better conditions tonight. In their last outing, the game was delayed for more than an hour at halftime due to torrential rain and lightning at Bernie Webb Field.
 "Who knows about the weather," Steger said. "I am seeing the possibility that the edge of the storm arrives around the start of the game. In this day and time, we will just be excited to line up and have an opportunity to play the game.
"Although, I'd be really excited to see our team on a dry surface."
Sullivan Central counted Pigeon Forge among its two wins last season, taking a 19-0 lead at the break and eventually finishing on top 36-6.
The Will Nottingham-to-Connor Wilson combination has been the rage for the Cougars, combining for three scoring passes in the win over Volunteer. In addition, the Cougars defense has surrendered just 14 points in two games.
 "I think that Sullivan Central is a very good and disciplined football team," said first-year Pigeon Forge head coach Scott Meadows, in an email. "Watching them on film, it looks like they are playing with a lot of confidence.
"Offensively I think they are a very special group. Their quarterback is outstanding and their receivers seem to catch everything thrown to them. We have our work cut off for us playing this team."
Steger feels much the same about the Tigers, who used the big play to defeat Grainger, including an 87-yard strike from Mason Stutts to Bryson King and another 39 yards to Hussein Al-Sultani. Bryce Effler also ran 52 yards for a score.
Pigeon Forge is looking for a second win, something that didn't happen over the last two seasons with the Tigers finishing with identical 1-9 marks.
"Pigeon Forge will be a challenge for the Cougars on both sides of the football," said Steger, in responding to an email. "Offensively, they run a Delaware style of the Wing T that our team really has not seen before.
"It will be critical that we play disciplined and read our keys to stop their multiple formational system and multiple run schemes.  Alignment and Assignment will be at a premium because a mistake could lead to a big play for them."
Sullivan Central showed the ability to control the ball in the second half of the win over Volunteer, with Roy Moody running behind a much-improved offensive line. Defensively, the Cougars have been stingy in slowing the run and defending the pass.
"They are an odd front team with two really good players that stand out," Steger said. "The nose man gets an excellent push and will have to be accounted for in both the running and passing game.
"Also, number two, their outside linebacker is an outstanding athlete who can make plays behind the line of scrimmage and in pass defense."
Sullivan Central last started 3-0 in 1986, a season that actually started with four straight wins. They could certainly like to do it again.
"Offensively, we will need to play Cougar Football and that is be aggressive on offense and use our playmakers in space," Steger said. "Our offensive line will need to have another outstanding performance to be successful this week.
"This is an improved football team from the one we played last year. I know we are a better football team as well. Our defense has really played well the past two games and will have to have another outstanding performance this week to be successful.
"The great thing about this team and especially our defense is that we have about 18 or 19 guys who are contributing on Friday night."
Volunteer at Sullivan East
The Patriots are looking for their first 2-1 start since 2016, their last season with a playoff berth. Volunteer has dropped two decisions, falling by a combined score of 77-6 to Sullivan Central and David Crockett.
Both teams have first year head coaches, including JC Simmons at Sullivan East and Jesse McMillian at Volunteer.
Sullivan East was led in its opening game win over Johnson County by quarterback Ethan Bradford, who is playing football for the first time since fifth grade. He was terrific, throwing for 177 yards and two touchdowns. In addition, freshman Dominic Cross ran for 101 yards and a score.
Volunteer has struggled to get its offense on track, scoring its lone touchdown on a scoring run by Cameron Johnson against Sullivan Central. Garrison Barnett has been the quarterback, while 6-foot-4 Caleb Scott is a favorite target of his through the air.
Sullivan East will make its first road trip of the season next Friday to Union County.
Be the first to know
Get local news delivered to your inbox!