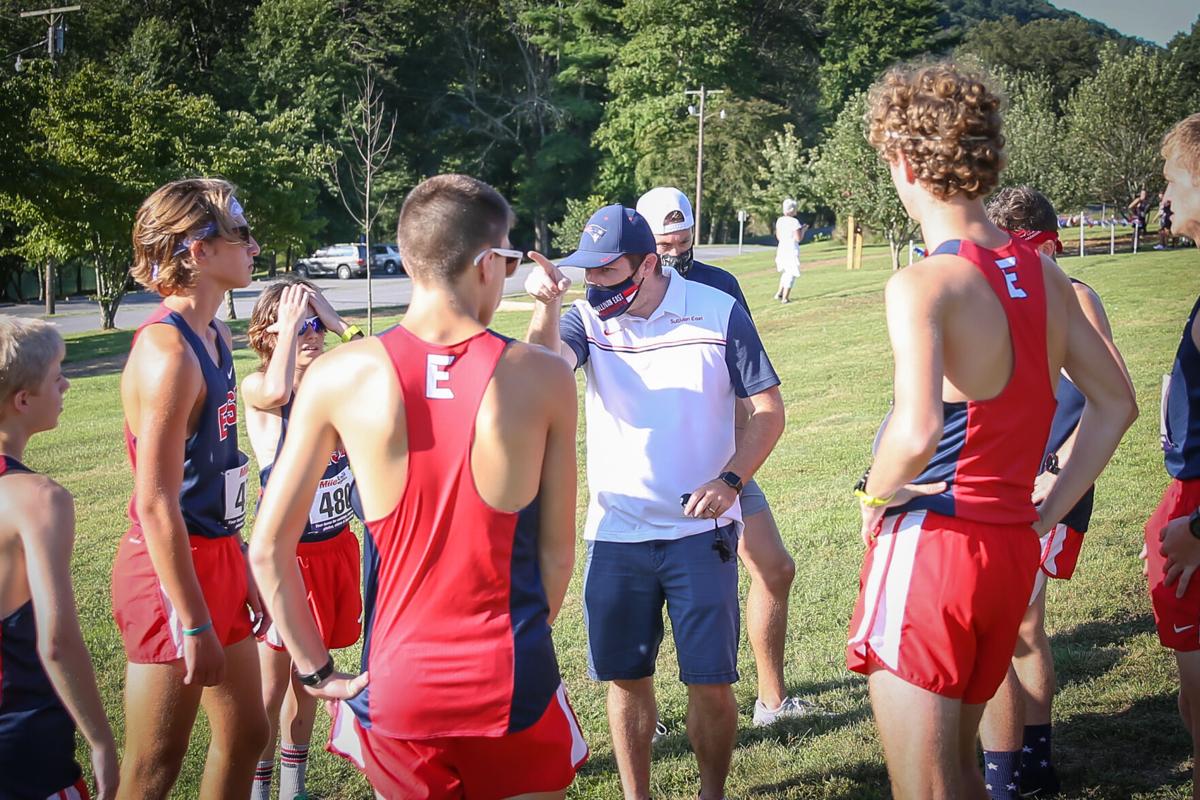 Five years ago Sullivan East finished second in the state among small schools at the Class AA-A State Cross Country Meet.
They'll return today, also as a small school, but will compete in the Large School division, leaving the Patriots just wanting to prove they belong.
"I just want those guys to go out and have fun, I want them to compete at a high level. They have earned the opportunity to compete against the best of the best in the state," Sullivan East cross country coach Ryan Williamson said. "When we step up to the line, we are in it with the best teams, let's just prove that we belong.
"We may not win, we may not be top 10, but let's prove that we deserve to be here. That is kind of what we are looking for, let's just have fun and prove that we deserve to be there with those great runners."
Sullivan East, who was led to that second place finish in 2015 by Luke Meade, who won that event and now runs at Arkansas, will compete in the Large School boys race today at Sanders Ferry Park in Hendersonville, the first time it hasn't been held at Percy Warner Park in Nashville for nearly 50 years.
The Patriots will be led by senior Drew Ledford, who enters having finished ninth in the Region 1 meet last week in Gray.
"Qualifying for state is extremely exciting for us because of how out of reach it has seemed for our team the past four seasons," said Ledford, who would have qualified for state as a top 10 regional finisher. "Going into this year we knew the position that we stood in as the underdog so we were just looking to go out there and do our best. It's been such a blessing seeing all that hard work pay off for my teammates and I."
Joining Ledford will be sophomore Jacob Witcher, senior Lance Littlejohn and freshman James Shirk, a trio that finished 17th through 19th last week at Gray. It was sophomore Carson Latham who sent the Patriots to state competition for the first time in five years, finishing 49th, culminating in a third place regional team finish.
"Really just for them to make it is a massive accomplishment. Going in we are not going to be favored in the top 10, we are not even going to be favored to be in the top 15," said Williamson, whose Patriots, with an enrollment of around 877, competes in the same large school division with numbers approaching 2,400. "Actually I looked at the new numbers that the TSSAA has put out for enrollment, we are the fourth smallest school in this division that made it to state…
"Finding five solid runners is difficult at a school our size. It has been difficult the last few years to compete with those big schools, just to have the numbers and just have that rich tradition year in and year out at like Daniel Boone.
They have a rich tradition, every year they are really good."
Andrew Perry (61st) and Jacob Turpin (106th) will also be along for the run for the Patriots, who finished seven points behind Dobyns-Bennett and three ahead of David Crockett to secure that state spot.
"Those guys have been working really hard. Everyone is going to contribute, but we knew it was going to come down to our fifth guy [Latham] and where he finished at," Williamson said. "He ran decent, he didn't run as well as he could, but he ran decent and he ran well enough to get us in…
"Everyone contributed, but he was the last piece of the puzzle there."
Other area runners involved includes Sullivan Central senior Mason Sanders, who has finished second to Daniel Boone's Conner Winfield in nearly every race this season, including last week's regional meet in Gray.
"He is a good runner. It is going to be interesting to see how he compares," Williamson said. "He has basically raced Wingfield all year so it is going to be interesting to see how he mixes up with all those other guys. He is a good kid and I am excited that he made it and excited that he has had such a great season and excited to see how he is going to do when he gets down there."
In addition, Tennessee High sophomore Zoe Arrington, who has won all the races that Science Hill standout and national competitor Jenna Hutchins hasn't been in, will look to improve on last year's 14th place state finish.
"Zoe is an awesome competitor, she is going to go out and she is going to run great and she is going to be competitive in there," said Williamson, who expects the Daniel Boone boys and girls and the Dobyns-Bennett boys to be competitive. "Obviously, if Jenna doesn't win it will be a huge upset…
"I think some of our local teams are going to be competitive."
How competitive remains to be seen. Williamson said it's never easy to compare runners just from looking at times during the season with courses that range from the hilly terrain of Northeast Tennessee to the flatter layouts elsewhere in the state.
"It is really difficult to predict in cross country because everyone is running on different courses and so when you take a look at the overall times, they are not always reflective of what teams are capable of," Williamson said. "It is really difficult to get a feel. I think if you just look on paper I really think a lot of the local teams are kind of not seeded very high, but then again you look at the courses we have around here and they are all really difficult courses.
"I think the times are not necessarily reflective of the ability that some of the teams around here have."
While the Patriots still have the memories of that state runner-up finish five years ago, Williamson isn't so sure this wasn't an even better accomplishment due to the competition of the larger schools.
"It is a challenge to get out of our region," he said. "We knew it was going to be tough, but the guys ran really well and they worked hard and they earned every bit of it."
He was especially happy for this collection of athletes, who seemed to exude what it means to be a team.
"It was awesome for them, just to see the excitement on their faces and just to see how excited they were for each other," he said. "Those are a bunch of good guys, they are not about themselves, they are about their teammates and about our community and our school.
"To know what they had accomplished for their teammates and our school and for our community, they were really excited."
The Patriots aren't looking to set records or even to finish on top in the year's final race. They just want to enjoy racing against the best in the state. That was similar to the same expectations last week in Gray, and they certainly exceeded those.
 "Same as regionals, we aren't expected to do anything amazing at state," Ledford said. "Our mentality is just to give it our all and have fun. First place or last, we're just blessed that God has provided us with the opportunity.
"All in all we're just looking to accomplish a great time, taking in every bit of it while capping off a phenomenal season."
Be the first to know
Get local news delivered to your inbox!