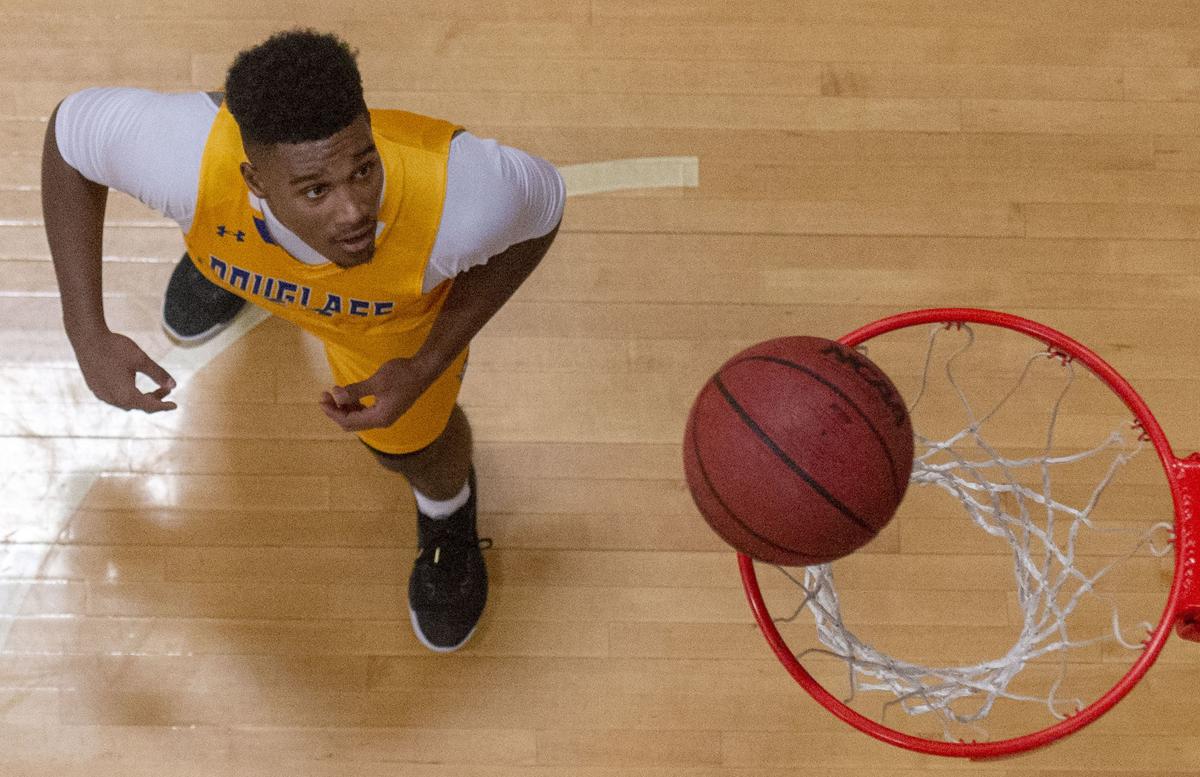 Key returners: David Graves; Nick Owens; Xayvion Turner-Bradshaw; Zach Dales
Promising newcomers: Caleb Morgan; Nick Knowles; Cade Roberts
Key losses: Chance Dawson; Joey Dales
Outlook: After sweeping the SWD regular season and tournament titles last season, the G-Men fell to Wise Central in the second round of the Region 2D playoffs.
Graham also advanced to the SWD junior varsity championship game before losing to Richlands.
Despite the loss of four seniors, the good times have continued this season with five straight wins, including four SWD victories.
Baker is working with eight players who have varsity experience.
Graves, a six-foot-one junior forward, led the G-Men with 16 points per game last season and has a range of skills. Owens, a 5-foot-7 guard who averaged 13 ppg., supplies outside shooting and passing.
Turner-Bradshaw is one of the quickest players in the region, while Dales and Roberts are playing larger roles as seniors.
Graves currently averages 18 points per game, with Turner-Bradshaw (14 ppg.), Owens (12 ppg.) and Dales (12 ppg.) next in line. Turner-Bradshaw is the son of former NFL running back Ahmad Bradshaw.
Coach's Quote: "We know that everybody is going to give us their best shot. We've got some kids who've been in the program for several years, and we're pretty excited about the season."
Key returners: Preston Steele, G, sr.; Zac Hertig, G, soph.; Hunter Hertig, F, sr.; Sage Potts, F, sr.
Promising newcomers: Nick Belcher; Paul Vencill; Andy Lambert; Logan Hall; Hunter Musick
Key losses: Jacob Jackson; Christian Hall
Outlook: Senior leadership will be a plus for Coach Potts in his second season.
Experience has been vital so far this season, as the Pioneers (3-1, 1-1) have reeled off three straight wins. That run includes overtime decisions against Honaker and Tazewell
Sage Potts is a fun player to watch. The athletic and creative senior forward averaged 19.4 points and 9.4 rebounds last season en route to earning All-Region D honors.
Steele, supplied 14.8 points and steals from the backcourt, contributed 17 points as Lebanon opened this season with a loss to Graham.
Sophomore Zac Hertig (3 ppg.) adds savvy to the backcourt, while senior forward Hunter Hertig (3 ppg., 5 rpg.) is also a factor.
Potts currently leads the team with 25 points per game. Steele (16.2 ppg.) has also been productive.
Lebanon lost to Gate City in the opening round of last year's regional playoffs.
Coach's Quote: "Flexibility is going to be the key word for everyone this year. We're going to have to be as adaptable as possible and hope for the best."
Marion Scarlet Hurricanes
Key returners: Grant Williams, jr.; Tanner Grubb, sr.; Jack Hall, sr.; Chris Joliffe, sr.
Promising newcomers: Bradley Thomas; Riley Russell
Key losses: Kyle Robinson; Kesean Goins; Stephen Havener; Tanner Tate
Outlook: Marion never found a comfort zone last year, and the Scarlet Hurricanes are currently facing more challenges.
Marion will become the last team in far Southwest Virginia to open its season with a home game this Friday against Tazewell.
Burchett, who spent 16 years as an assistant basketball coach at Marion, is searching for new leaders.
Robinson set the pace last year with nine points per game, while Tate was a powerful force in the paint.
Marion, which won two district games last season, fell 46-43 to Lebanon in the opening round of the SWD tournament.
Coach's Quote: "Our county pushed back our starting date until after the first of the year. The guys have been working hard and have made huge steps since last season. They seem to have great chemistry and are unselfish with the basketball. We don't know what the future holds for us, but we are preparing and improving every time we step on the floor."
Key returners: Sage Webb, G, jr.; Cade Berry, F, sr.; Luke Wess, F, sr.
Promising newcomers: Dylan Brown; Drew Simmons
Key losses: Cade Simmons; Bryson Richardson
Outlook: Three starters return from a team that posted an 8-2 district record before falling to Wise Central in the opening round of the Region D playoffs.
Richlands (3-2, 3-2) has earned a pair of district wins this season over Virginia High.
The big loss is Cade Simmons, who was named SWD player of the year last season for his consistent work in the post.
Berry, one of the top shooters in the district, currently lead the Blues with 18 ppg., while Wess (15 ppg.), Stillwell (10 ppg.) and Webb (7 ppg.) have also been reliable. Stillwell played sparingly last season.
The 6-foot Webb fits in well with the new fast-pace style employed by Phillips.
Wess and Ethan Shreve also supply perimeter shooting for a guard-oriented team.
Coach's Quote: "We don't have much of an inside presence so that's why we're going to try to speed people up. We're going to play nine or 10 players."
Coach: Kondwani Patterson
Key returners: Josiah Jordan; Jacob Witt; Ethan Mills
Promising newcomers: Bryson McCall; Tre Blankenship
Outlook: Patterson, a former standout athlete at Tazewell, served as an assistant under former head coach Omar Reed last year.
Reed was a basketball star at Tazewell who earned NAIA All-American honors at Bluefield College and later played in several overseas pro leagues. He resigned in August to return to his former home in Houston, Texas.
Tazewell failed to win a game the year before Reed arrived in Tazewell. He helped guide Tazewell's middle school team to a 12-3 record last season.
Tazewell, which lost two starters to injuries at the start of last season, fell to Virginia High in the opening round of the district tournament.
The challenge for Patterson is daunting. The Bulldogs have had six coaches in the past seven years along and the last winning record came in 2005.
Patterson recently earned his first win in style, as the Bulldogs (1-2, 1-1) earned a 74-73 win over rival Richlands. The ultra-quick Jordan set the pace with 25 points.
The Bulldogs (2-3, 2-2) dropped SWD games to Graham and Lebanon before posting a 62-53 win against Virginia High on Tuesday. Jordan (18 ppg.) leads the team in scoring, while Whitt, Mills and McCall are also averaging in double figures.
Witt (6-4, 215 pounds) provides rebounding and interior defense.
Coach's Quote: Not available
Key returners: Ajanni Delaney, jr.; Jean Mulumba, sr.; Dalton Taylor, sr.
Promising newcomers: Darvarion Mozzell, jr.; Dominic Norris, sr.; Aquemini Martin, soph.
Key losses: Gavin Austin; Jake Johnston; Isaac Simcox; John Clifton; Tyler Strong
Outlook: Gallishaw, 44, is a familiar name to basketball fans around Bristol.
He starred at point guard in the 1992 Arby's Classic for Hillcrest High School from Simpsonsville, South Carolina. Gallishaw then earned NAIA All-American honors at Virginia Intermont College, where he graduated as the second-leading scorer in program history.
Gallishaw replaced Wayne Rasnick, who resigned on June 15 following his second three-year stint at VHS.
The undersized Bearcats have dropped their first five games this season, but Delaney (11 ppg.) and Mulumba (9 ppg.) have provided a spark.
VHS advanced to the SWD tournament championship game last season before falling 81-73 to Graham. The Bearcats then fell to Union in the opening round of the regional playoffs
Austin, now playing golf at King University, was a prolific scorer the past two years. He set the VHS single-game scoring record last season with a 51 point effort on Feb. 11 against Honaker.
Gallishaw chased a head coaching position for 13 years
Coach's Quote: "Since I graduated college, I wanted to be a head coach and uplift young people. It's been a long road. And I'm not going to lie, it's been a frustrating road. I feel like this is my purpose in life. I've just been waiting my turn."