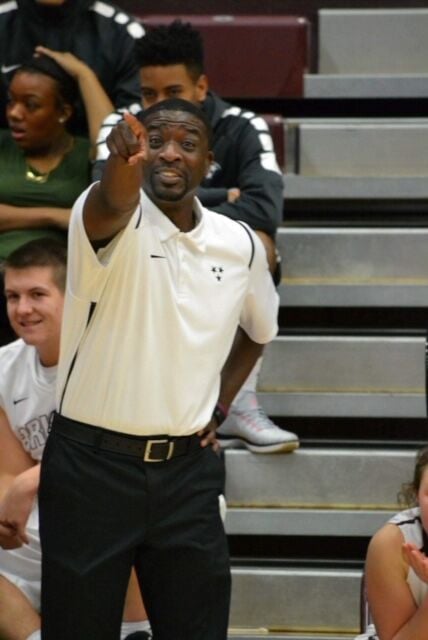 BRISTOL, Va. – Julius Gallishaw has been chasing one position for 13 years.
A day after celebrating his 44th birthday, the former Virginia Intermont College basketball star finally got his wish.
During a Friday afternoon teleconference, Gallishaw was named as the head boys basketball coach at Virginia High.
"Since I graduated college, I wanted to be a head coach and uplift young people," Gallishaw said. "It's been a long road. And I'm not going to lie, it's been a frustrating road. But the Lord has worked things out and I have this opportunity."
Gallishaw replaces Wayne Rasnick, who resigned on June 15 following his second three-year stint with the Bearcats.
Bristol-area hoop fans need no introduction to Gallishaw.
In 1992, he earned praised as a dynamic point guard in the Arby's Classic for Hillcrest High School from Simpsonsville, South Carolina. That Hillcrest squad featured Ray Allen, an all-tournament selection who played 18 years in the NBA and was inducted into the Naismith Memorial Basketball Hall of Fame in 2018.
"As a player, I learned from Ray about the level of hard work it takes to accomplish your goals in life," Gallishaw said.
Inspiration also came from head coach Phil Worrell at Virginia Intermont. Gallishaw earned NAIA All-American honors for the Cobras, became the second-leading scorer in program history, and served as an assistant coach at the now defunct school from 2004-06.
Gallishaw said he gained more basketball wisdom while working as an assistant coach for Tennessee High girls coach Barry Wade and for King University men's coach George Pitts.
"I've had a lot of influences, and it was a great pleasure to learn from all those coaches," said Gallishaw, worked at King last year.
As for his move to Virginia High, Gallishaw thinks it will be a "smooth transition."
"I've always liked Virginia High, and I know a lot of the parents and kids from my experience with the Bristol Boys and Girls Club and from coaching at the AAU level," Gallishaw said.
VHS athletic director Brad Harper said that Gallishaw has all the essentials for success.
"Julius brings a wealth of basketball experience from a variety of levels, and we certainly think that he is a great fit to lead our boys basketball program for years to come," Harper said. "We had several applicants for this position. But as we went through the interview process we felt that Julius was the person that could help prepare our young men not only for basketball, but for their futures far beyond the court."
As has become standard during the COVID-19 era, Friday's press conference was conducted over a video format. Gallishaw has not been able to practice with or meet with his players this summer.
"It's a little frustrating, but everybody is in the same situation," Gallishaw said. "I just have to be patient and work with my kids when I get the opportunity."
Gallishaw is hopeful of meeting with his players next week either by video or in person.
The Bearcats posted a 12-13 record last season. Gavin Austin, who signed to play golf at King University, led the Bearcats in scoring and set a single-game school record with 51 points in a Feb. 11 game against Honaker.
"I'm very thankful for this opportunity, and I'm ready to get started with my team," Gallishaw said.
During his long wait for a head coaching position, Gallishaw said he always took time to listen and learn.
"I wasn't ready for this out of college, but I've matured and I've educated myself by being other head coaches," Gallishaw said. "I feel like this is my purpose in life. I've just been waiting my turn."
Be the first to know
Get local news delivered to your inbox!