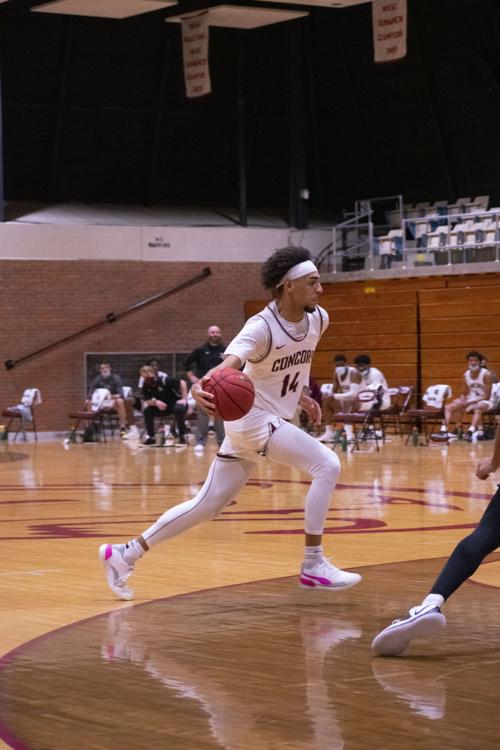 How long had Concord University men's basketball standout Malik Johnson been waiting for the season-opener? Well, 307 days to be exact.
Johnson had last suited up for the Mountain Lions on March 6, 2020, and the coronavirus (COVID-19) pandemic delayed the start of the Mountain East Conference season until Jan. 7, 2021.
"Stepping back on the court was honestly a blessing," Johnson said. "You know, I was very nervous that this day was not going to come. There was a lot of anticipation before the game. I was actually nervous like it was my first game ever or something. It just has a different feeling when you know at any moment the opportunity can be taken away. So, I know I have to play every game as if it's my last, because it could be. But once it tipped off, the game felt just like I remembered."
The former George Wythe High School standout made an impact as usual, finishing with 13 points, four rebounds and four assists in a 64-62 win over the University of Charleston.
Three days later, the 6-foot-5 senior went for 23 points, five rebounds and three assists in an 89-74 loss to West Virginia State.
"It's very early in the season, but I feel as if I have a bigger role now on this team," Johnson said. "Being one of the few upperclassmen that have been in this program, I have to lead every day. I expect this season to be one of my best ones yet. I see myself as one of the go-to guys this year and am willing to do whatever it takes to win basketball games. Overall, I think we had a great preseason as a team and that is going to lead to a successful season."
Johnson stayed sharp during the extended offseason by honing his skills frequently with friends and former high school teammates. Jake Martin, who currently plays at Emory & Henry College, was among them.
"We found an old factory in Wytheville and put goals in it and got straight to work," Johnson said. "I appreciate those guys in the gym this summer for helping me elevate my game to a new level. This summer I gained more knowledge and confidence about my game and I'm hoping that leads to more success."
Johnson averaged 13.2 points, 4.5 rebounds and 2.0 assists per game last season.
"What has impressed me so far this season is his leadership for this team and program," said Concord coach Todd May. "That usually takes some time to develop and he has taken that responsibility and ran with it. He not only leads by example on the court and off the court with his actions, but also with words. He's a servant leader and is always putting others ahead of himself, which you love to see from your team leader."
This evening Mac McClung will test his skills against the nationally-ranked Texas Longhorns in a primetime game on ESPN2.
The former Gate City High School superstar put up 19 points, three rebounds and two steals on Nov. 21, 2019, to key Georgetown's 82-66 triumph over Texas at Madison Square Garden.
McClung has since transferred to Texas Tech and will get another crack at the Longhorns, who are ranked fourth in the country and feature former Oak Hill Academy standout Matt Coleman III at point guard.
McClung is averaging 15.3 points and 2.7 rebounds per game, while shooting 43.2 percent from the field and 31.3 percent from 3-point range. Entering Monday, his 199 total points were the most scored by a Big 12 Conference player this season and he ranked fifth in the league in terms of scoring average.
Tonight's game is scheduled for a 9 p.m. tipoff.
Bluefield College senior Tianna Crockett (George Wythe) had a double-double on Jan. 7 in the Rams' 61-55 Appalachian Athletic Conference women's basketball loss to Tennessee Wesleyan.
Crockett finished with 10 points and 11 rebounds. She is averaging 9.7 points, 4.8 rebounds and 2.5 assists per game.
Freshman Emily Breeding (Abingdon) is averaging 7.1 points, 2.7 rebounds and 1.9 assists per contest for the Rams.
Courtney Whitson has been the queen of the boards for the women's basketball team at Middle Tennessee State University.
The Dobyns-Bennett High School graduate had 20 points, 15 rebounds and played all 40 minutes on Jan. 9 in a 99-89 win over Florida International.
A 6-foot sophomore forward, Whitson is averaging 10.1 points and 9.9 rebounds per game.
Freshman guard Peyton Carter (Abingdon) is averaging 4.3 points, 1.3 assists and 1.3 rebounds per game for the Tennessee Tech women's basketball squad.