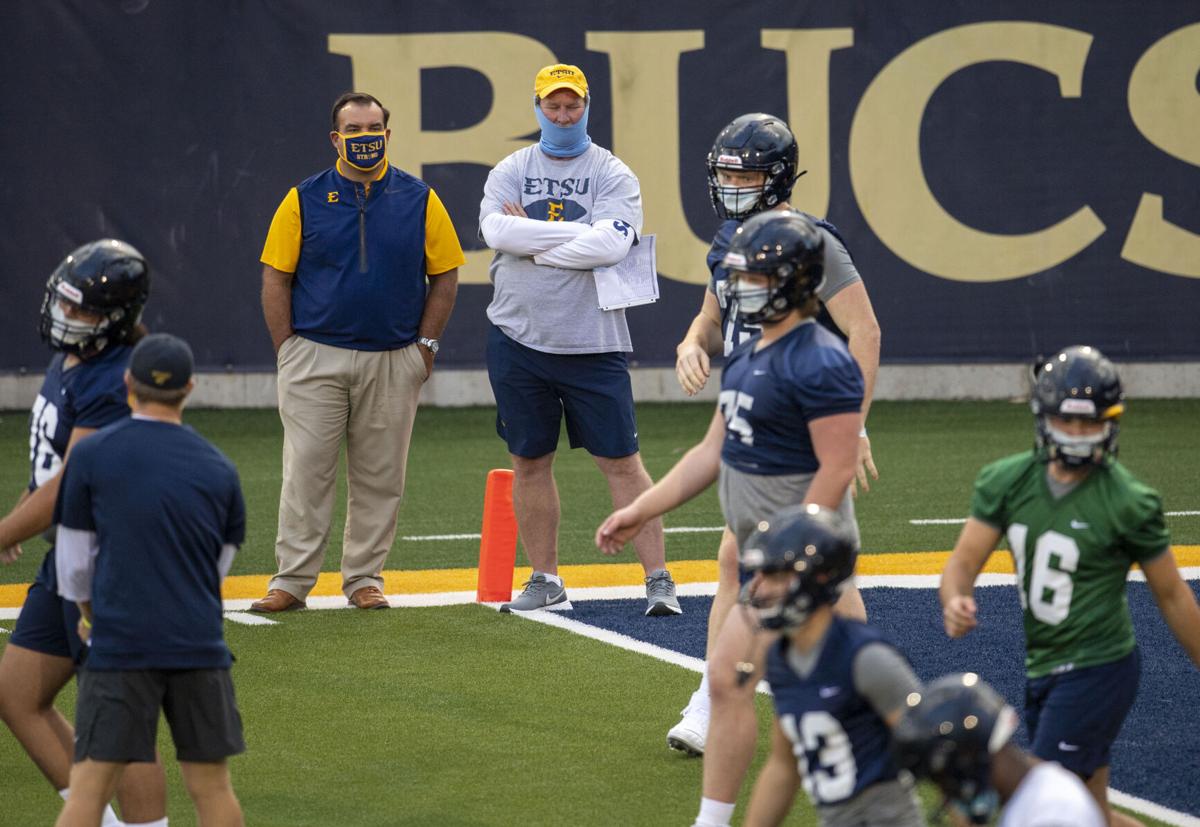 It seems odd to say in January, but the East Tennessee State football team is closing in on the 2021 "spring" season.
Nope, this isn't the usual 15 days of practice in preparation for the fall season. This is the real thing, with the Buccaneers having started conditioning drills, with an eye toward Feb. 20 when ETSU will open its truncated Southern Conference schedule at Greene Stadium against Samford.
ETSU began the first of two weeks of conditioning this week, with actual on-field preparations in shorts, shells and eventually pads beginning on Jan. 22.
"Once we get to the 22nd and we start practice, it should much more of a traditional preseason, but one thing that is way different is typically you are starting the first of August and you have almost a month before school starts," ETSU head coach Randy Sanders said. "We are actually going to be in school, trying to balance preseason practice, preseason meetings, trying to continue with conditioning as well as guys attending class and obviously having study halls.
"We are going to be juggling a lot once we get to the 22nd, but it is what it is, it is a continuation of 2020. I am just looking forward to playing football games."
After the Southern Conference joined other FCS leagues by canceling fall football due to the COVID-19 pandemic, the decision was made to play an eight-game SoCon slate in the spring.
ETSU has home games with Samford (Feb. 20), Furman (March 13), Western Carolina (March 27) and Chattanooga (April 17). Road games will include trips to Wofford (March 6), The Citadel (March 20), VMI (April 3) and Mercer (April 10). They have one built-in off week on Feb. 27.
Sanders acknowledged the uniqueness of playing a season in the spring, but the Buccaneers are willing to accept that challenge to get back on the gridiron.
"Football doesn't know anything about the calendar. It doesn't know if it is August or if it is January, it just knows it is football time and that is kind of what I have found in the weight room and being around the guys," said Sanders, who acknowledged the threat of inclement wintry weather ahead for both practices and games.
"Football is football. If it's cold, let's play, if it is hot, let's play. I am just excited again about the opportunity to play football and I think our players are too. I think the opportunity to play games has them excited and I am excited, but I think some of our players might be more excited than I am and I am glad to see that."
Sanders have emphasized to everyone on his roster that they should be preparing as if they will play since COVID-19 could easily sideline players or even entire position groups, much like it did during the just-completed FBS season.
"It is going to happen so let's not sit around and stick our head in the sand and say it is not going to," he said. "We are going to do everything we can to stay safe, we are going to do everything we can to avoid it…We don't need to be shocked when the situation does come up.
"The NCAA has said this is a year that does not count towards eligibility so the good thing is typically you have got about 70 players and you trying to redshirt 20 of them so you are operating on 50. We don't have to worry about redshirting so we can truly operate on 70 and we may need every single one of them."
Playing time could be spread throughout the roster during the spring, including in a quarterback room that Sanders calls the most talented since his arrival in Johnson City in 2017.
"Don't assume because you are a third team right tackle or third team safety or third team wide receiver, that you are not going to play," he said. "You better get ready to play because we are one day of contact tracing from trying to find somebody to be that third team right tackle to step up and play.
"Everybody has got to be ready to play. Hopefully we have got a full complement of bodies, hopefully everybody is convinced to doing the right things, not only on the football field, but off the football field and keep us all safe and keep us all active and keep us all going."
Sanders, who has been an offensive coordinator at Tennessee, Florida State and Kentucky, figures whichever team handles the adversity ahead the best will be the most successful. It seemed to work for Alabama.
"There is going to be a lot of things pop up this spring, there is no question about it. I try to tell the team and try to get them prepared," Sanders said. "Football is the kind a game, whoever handles the chaos best typically on a football field, wins. Well, the chaos isn't just going to be on the football field this year.
"I think you saw that in the fall season and Alabama and Ohio State probably did the best job of managing chaos, especially Alabama, managing the chaos was kind of in play in the fall of 2020."
Now it's time for SoCon teams to do their thing. Sanders and the Buccaneers are ready to play ball.
"It is our challenge to try to do a great job of managing the chaos that is going to arise in the Southern Conference in the spring of '21," Sanders said. "We are trying to get ready for it, we are trying to talk to people, we are trying to anticipate as much as we can, but there is no question there are going to be things that we can't anticipate pop up."