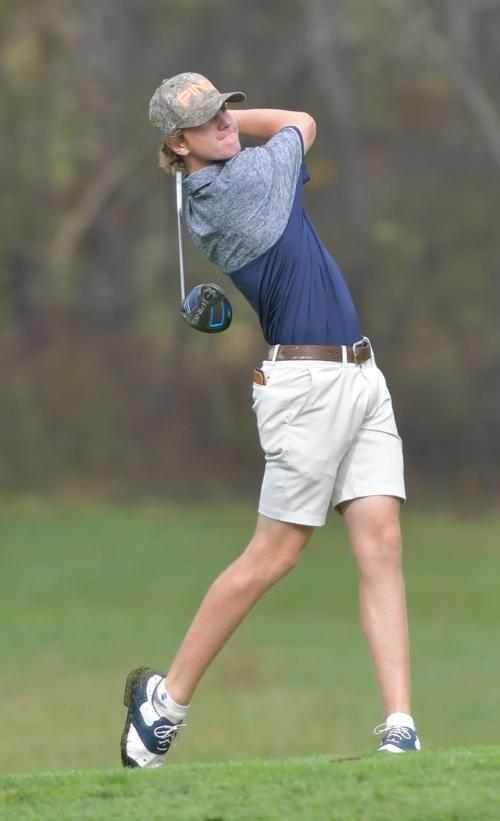 A  double-bogey on the 18th hole of the 118th Western Amateur led to a 3-over 75 that didn't sit well with Connor Creasy on Thursday morning.
"I missed a couple of the short putts, but I gathered myself and did what I needed to do on the next 18," Creasy said. "I am glad I bounced back from that and didn't let it bother me."
He did just fine. He used those earlier mistakes to motivate him moving forward.
"I kind of struggled this morning, coming in on the last nine holes, but it kind of pissed me off to the point where it got me a little focused for the second 18," said Creasy, who rebounded to shoot a 71 in the afternoon to advance to the Round of 16 today at Crooked Stick Golf Club in Carmel, Indiana. "I was a little ticked off, but it made me a little more focused to go out and do what I needed to do."
He did it too, in what was a miserable day to play golf.
"It rained for 34 straight holes today. From the time we teed off until the last two holes it was raining," said Creasy, an Abingdon graduate and sophomore golfer at the University of Georgia. "That made it really hard, thankfully I had a caddy. My dad is caddying for me this week so that made it much easier with the rain."
He rebounded just fine during the second of 18 holes, recording two birdies and a bogey, arriving at the final hole confident he would play again today.
"I had a pretty good feeling," he said. "There was a leaderboard on 18 and it said the projected cut was even so I just knew I needed to two-putt and I would have a good chance to make it."
That was fortunate for Creasy, who finished 15th with a four-round score of 2-under 286. Two shots behind him were seven players tied for 16th, with a playoff needed to decide the final spot in today's match play.
While that was going on, Creasy was already thinking ahead to dinner, a good night's sleep and his morning match with Sam Bennett, who was second with a 278, one stroke behind University of Minnesota's Angus Flanagan.
"I don't really know him or where he is from," said Creasy, of Bennett, who plays at Texas A&M. "It is one hole at a time, it is you versus another guy. It is kind of a fresh start tomorrow. It is 36 holes tomorrow. If you win in the morning, you would play again in the afternoon."
Creasy has played at Crooked Stick last October as a member of the Georgia golf team, a course known for being where John Daly burst onto the scene by winning the PGA Championship in 1991.
 "It is pretty hard. Pete Dye designed it and he tries to make you intimidated off the tee so he places bunkers and different things out there," Creasy said. "We had a college tournament back here in October and I played and I kind of learned some things about the course and I used it to my advantage this week.
"It is a tough golf course. They are growing the rough out and the greens are getting faster so it is going to be a good challenge tomorrow."
At least the weather is expected to be much better today, with sunny skies and no rain expected. That is a relief to all.
"It was annoying for sure," said Creasy, whose caddy was his father, Todd. "The grips get wet, the ball gets soaking wet, the clubface gets wet and it loses friction to the ball and it doesn't really go that straight. Your hands get wet, everything is just kind of a mess.
"I went through a couple of [gloves] for sure and I used a rain glove too and it gets wet. Everything is just wet."
Creasy did acknowledge that the rain may prove to be helpful going forward.
"That is one thing that has helped," he said. "This course is really firm coming into this week, but today the rain has definitely softened it up and made it a little bit more fair."
Creasy put together four solid rounds over three days, recording a 68, 72, 75 and 71. Overall scores won't matter from here on out. Up next is match play where the point is to win the most holes over 18 holes.
"I think personally for me it frees me up more," said Creasy, who won three team state titles and two individual state championships at Abingdon. "I am not worried about making a score. I am a competitive person so I think it is good for me just trying to beat that guy right next to me.
"I like it, I feel like it frees me up, frees my mind up more. If I make a 5 and he makes a 6, as long as I beat him on the hole that is all that matters."
In addition to his father, Creasy was accompanied to Indiana by his personal coach, Jerrod Funk. He had to deal with a few precautions related to the COVID-19 pandemic, but was free to simply play golf without worries.
"They are just having all the food outside and then you have to wear a mask when you go inside," said Creasy, who added that only a few club members were allowed to watch the players on the course. "Other than that this place has been fairly relaxed."
The Western Amateur is one of the more prestigious tournaments in amateur golf, and Creasy was pleased to play in it for a second time. He placed 20th in the event, just missing match play last year in Michigan.
"Absolutely," he said. "This is definitely one of the biggest and one of the best, strongest fields for sure."
It won't be easy to progress forward. Survive 36 holes today and there are 36 more match play holes waiting on Saturday.
First up are 18 holes this morning, and Creasy knows what it will take.
"To a degree you see what they do and make your decisions," he said. "but at the same time you are still sticking to your game and doing what you need to do."
bwoodson@bristolnews.com | Twitter: BHCWoodson | (276) 645-2543
Be the first to know
Get local news delivered to your inbox!