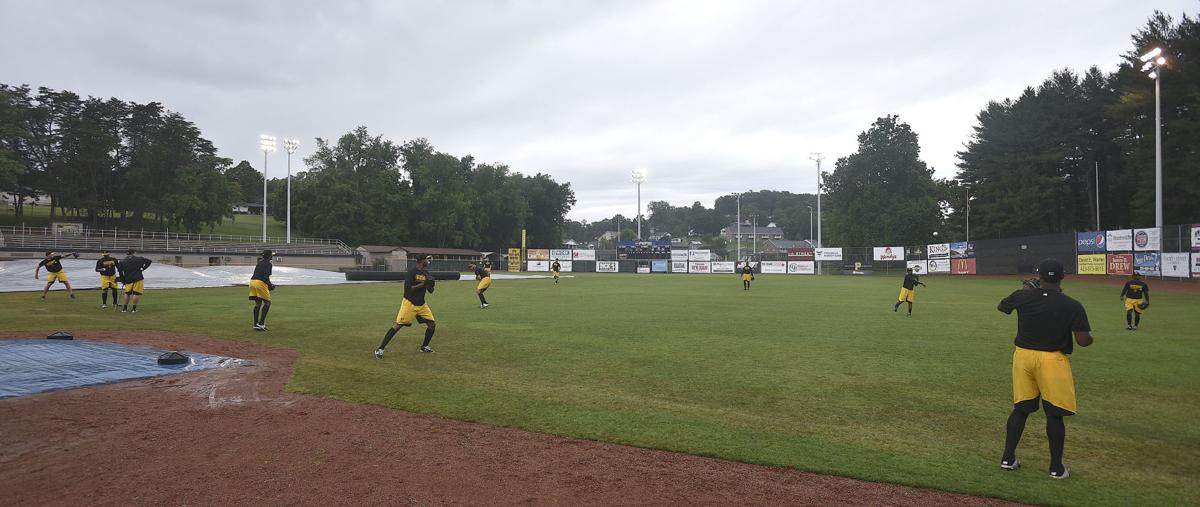 Professional baseball has been part of Bristol longer than auto racing and was even around before the Bristol Sessions recordings that created Bristol's place in the history of country music.
Keeping it here is the mission of Bristol Baseball Inc., no matter whether that means long overdue renovations at DeVault Stadium or building a new stadium, possibly on the other side of the state line.
"That is the thing with Bristol Baseball. Our thing is we just want professional baseball to survive. That is why we have always called it Bristol Baseball," said Mahlon Luttrell, the president and general manager of Bristol Baseball Inc. "We have never called it Bristol, Virginia because they have always played here. It is Bristol, it is our community and that is how we have always felt about it.
"If something was to happen and [a new stadium] would get built and it would happen to be on the Tennessee side, that would still be great. I think Bristol, Virginia residents ought to welcome it as well if that occurred because it is still in Bristol and in the town."
Here is a scary thought: There is no rule that Bristol must have professional baseball. If something isn't done to upgrade or replace DeVault Stadium, which has hosted 50 consecutive seasons of Appalachian League action, that possibility concerns Luttrell, and has for more than a decade.
"Always. Absolutely," Luttrell said. "The facilities in general, the last four facility standard reviews I have been involved with - it happens every three years – we are non-compliant in many ways and that is not good."
Fifty years ago, what was then known as Randolph Field hosted its first professional baseball game, a 10-9 win for the Bristol Tigers against the Kingsport Royals.
That was in June of 1969. It is now 2019 and DeVault Stadium – as it has been known since 1983 – has seen better days. If something isn't done, professional baseball's days - which actually began in 1911 with the Bristol Boosters - could be numbered in Bristol.
Bristol's longest stretch without baseball came from 1926-39 and 1956-68.
"There are only 163 cities across America that can say they have got professional baseball," Luttrell said. "Anybody you talk to, they say they would love to get a team. We would love to keep it, but we have got to do things to make it stay here."
DeVault Stadium – also known as Boyce Cox Field – is a no frills facility. It was once described by a writer from Chicago as "old-timey baseball."
There certainly isn't anything wrong with that, but there is a problem when the facility becomes unsafe. The concrete bleachers along the first base line and behind home plate have been closed until further notice.
"I don't think it is going to be a quick, easy fix. Obviously we have other seats for people to sit in, but you take seats like those, there are people, that is where they always sit, that is their go-to and they enjoy coming," Luttrell said. "Quite honestly some of them haven't been back since we shut them down."
That is a problem, especially with Bristol currently playing good baseball with an opportunity to at least dream of a postseason berth for the first time since winning the league title as the White Sox way back in 2002.
Fans like winning. They like places to sit just as much.
"We are down right now. Before this happened we were doing real well with attendance and our attendance has dropped," Luttrell said. "We publicized this is an issue because we want to let the fans know that if you are expecting to come here, you are not going to be able to sit in your normal seats and I think that has kept some people away.
"We have a lot of good momentum going. It is a shame it has kind of slowed down."
It isn't just the closed seats that should concern local baseball fans. There are numerous other issues that must be addressed to keep up with the times, including a bumpy outfield that Luttrell describes being like a "mogul ski slope."
"There is a lot of nice things about it, but it is just old and tired," Luttrell said. "There is just a lot of updating that needs to occur. To put this facility in extremely good hands and updated, it would probably cost about $5.5 million to put it where it needs to be...
"A lot of times it is not about money. It is just about general maintenance, just general upkeep. We haven't spent a whole lot of money to maintain things, but once it goes down to a point, then yes, it does cost a lot of money."
Pioneer Park in Greeneville and Pulaski's Calfee Park are examples of what a new or upgraded facility can do for professional baseball and their communities.
True, money is tight so private funds will be needed, estimated to be around $16 million for a new facility, but think of the benefits. Not only does professional baseball have a huge economic impact on the community, but it could also provide a better home for Virginia High and even Tennessee High to play their games.
Plus, a renovated or new stadium could host numerous other events to bring visitors to Bristol.
"It wouldn't hurt Bristol Baseball's feelings at all if it stays here and you do everything else you need to get done, but it is going to take money to do it," said Luttrell, who was recently selected as vice mayor of Bristol, Tennessee. "Sometimes you get to a point of no return on an investment like that. Is it better to try to get it in shape or is it is better to build it new because there are things that you are not going to replace that you are going to be constantly dealing with."
The time to act is sooner rather than later. Luttrell says that Pittsburgh has treated Bristol like family, but when the current contract with the Pirates runs out in 2020, who knows if they will choose to remain.
Family is like that. Sometimes they do move on.
"The way today is if we lost it again I don't think we would ever get it back, I really don't," Luttrell said. "There are so many people out there in cities that would love to have it because they know what it means economically."