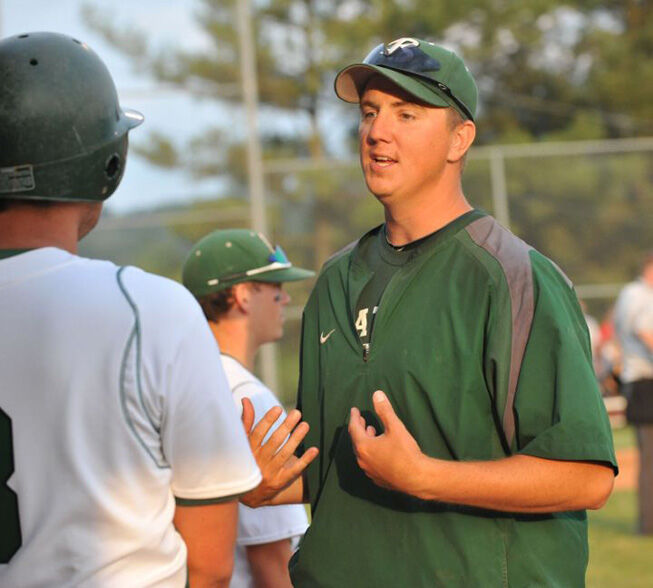 Baseball is back in Southwest Virginia, and that is a good thing.
"It is amazing, it is a pleasure of mine," John Battle junior John-Alan Richardson said. "I love it so much."
John Battle baseball returned to Battle Hill for the first time in 690 days on Friday, and there was a definite excitement in the air, from the players, who were eager to finally play the game they love again, to the spectators, who filled the area around Battle Field anxious to watch baseball once again.
Even in the press box, there was an anticipation of hearing those famous words, "Play Ball."
"It was crazy," Richardson said. "When we were warming up it is just the most surreal feeling knowing that we are playing baseball for John Battle again. It felt nice."
While the COVID-19 pandemic wiped out the 2020 baseball season, a few players from John Battle and Gate City had played some baseball, but they hadn't worn the school colors with the school name on the front of their jerseys. Gate City actually played Tuesday, but the Trojans had to wait even longer to play again.
"I do think some of our guys were able to do the travel ball, but they were all separated so two here, four here, so that is part of the process where we are still understanding who we are," said John Battle head coach Jimmy Gobble, whose Trojans won the opener, 8-7 in eight innings over the Blue Devils. "There are a lot of pieces here that are new, but it is nice to have [Bryson] Almany behind the plate, it is nice to have Zach [Smith] and [Jacob] Hutton kind of holding that together.
"Our juniors did really well today and we had some freshmen hopefully understanding a little bit about varsity baseball."
Few appreciate high school baseball more than Gobble, a former pitching standout at John Battle, who rode his powerful left arm to a seven-year major league career. Following his retirement in 2010, he began serving as an assistant coach in 2012 and took over as head coach six years later.
"It's different when you play in front of your school," Gobble said. "Everybody talks about travel ball, but I am telling you, I have played everywhere and done just about everything anyone could do on a baseball field. There is something special about high school baseball in this area that I get to enjoy for about three or four months out of the year.
"It is really special for them and I am pleased for them and pleased for the guys that came back and watched too."
This was a fun game to watch. Gate City was a worthy opponent, having had high hopes dashed last season when the coronavirus ruined one final season for six seniors, including talented catcher Jon Compton who signed with Walters State Community College.
"It was exciting just to be out here on the field seeing the boys compete and getting after it," Gate City head coach Jonathon Salyer said. "I was excited about that team we had last year, we had six seniors on that team. COVID hit and shut us down and it was hard on us.
"Our catcher last year, four-year starter, went to Walters State, losing him. We are learning on the fly behind the plate. He is a freshman."
From seniors to freshmen, all contributed for both teams in an action-packed high school game that featured 15 runs, 21 hits, seven errors and a slew of big plays, many of which were made right at home plate. It even went eight innings, and honestly it could have gone on all night and few would have complained. (Other than me, I had deadlines to meet).
"We got to play Tuesday, but haven't played in a year in a half until Tuesday and then we get to come out and play today and play in a great game like that, it was pretty fun," Salyer said. "They made one more play than we did."
Richardson certainly had a good time. Playing shortstop and third base for the Trojans, he reached base four times, driving in the Trojans first run with a double in the first. He also had two walks and reached on an error in the eighth, two batters before Nolan Sailor hustled home with the winning run on a wild pitch.
"Throughout the whole game we try to keep our energy up because once your energy goes down your team goes down," said Richardson, who was constantly in motion, bumping his fists, yelling encouragement to teammates and just generally being a kid. "We had a bad start, but we were able to keep our energy up, we were able to stay in it and eventually win the game."
Gobble said jokingly after the game that he wasn't sure how much fun it was.
"I don't know if you call that fun," he said. "Holy moly, as a head coach who has done a lot of baseball, I will tell you, hats off to Gate City, that was one heck of a ball game."
He is still making the adjustment from player to coach. He has to remember that not everyone can do what he did.
"Yes, it is hard because of what you see things in kids. It is not about baseball, it is not about winning or losing, but it is about the overall aspect of understanding how your attitude reflects what you do here," Gobble said. "Seeing little things like that and seeing the Zach Smiths of the world and the Bryson Almanys who came from freshmen, who were shy and timid, to what they are doing now and able to go on collegiately. That is more enjoyable. The baseball intangibles, you really try to coach in practice."
Practice is to prepare for games. Yet, there were coaching moments for both coaches that took place during this 3 ½ hour thriller of a baseball game.
"Like I told them in the huddle, if I am talking to you during a game it is probably not a good thing," Gobble said. "I really want them to understand that. If they are doing their job and having the energy and intent that they need, mistakes will happen."
Gobble has seen how baseball is played at the highest level. Sometimes he has to step back for a moment and realize these are 14-to-18-year-old kids who are still learning to play the game.
"That is probably the hardest part for me playing in the big leagues as long as I did is seeing what they are capable of, but taking so long to get it out of them," he said. "It is not anger because you know they have something and you know they know how to compete, but it's like when they get here, they want to do it in the shadows and not under the lights.
"That is probably the biggest part of about high school baseball. I think right when I retired I came out and started. I tell you with coaching, those kids have changed my life. Coaching is special if you have the time to do it."