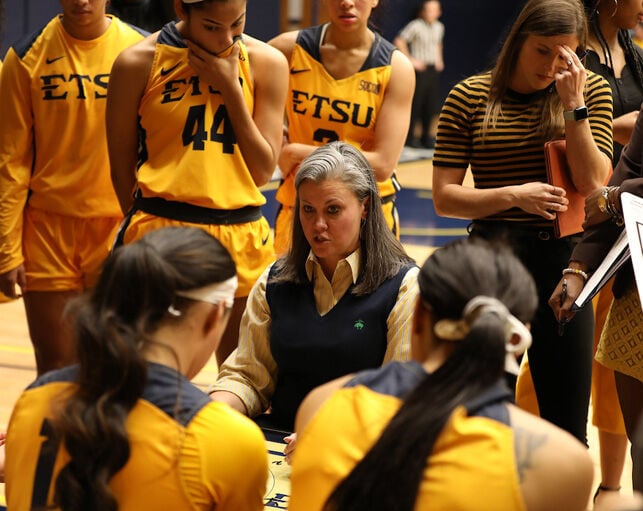 Coronavirus cases are surging across America, just in time for college basketball season, which starts in less than two weeks.
That is a definite concern for Brittany Ezell, entering her eighth season as the East Tennessee State women's basketball coach.
"The schedule is going to be the most challenging thing," Ezell said, "simply because heaven forbid if we were to get sick and have to cancel games or other teams get sick or are exposed, it is going to cancel games for us."
Just eight women's teams comprise the Southern Conference, leaving the Buccaneers with 14 league games, and they currently have seven non-conference tilts, beginning with the season opener on Nov. 28 at Longwood.
There is a certain minimum set by the NCAA they must meet.
"I think that is going to be the most critical element considering on the women's side in the SoCon we only get 14 games and in the non-conference it looks like we are only going to get about 5 or 6 [games]," Ezell said. "The minimum for the NCAA Tournament is 13 so we have to make sure we get enough games,"
Included on that non-conference slate is a Dec. 1 visit to Tennessee, who the Buccaneers lost to by just four points in last year's season opener at Freedom Hall in Johnson City. ETSU will travel a week later to Vanderbilt, with a trip also slated for Davidson next month.
ETSU's first home game at Brooks Gym is on Dec. 12 against Presbyterian. Other non-league December home games are against Appalachian State and Newberry. The first SoCon game isn't until Jan. 9 at Chattanooga.
Changes could occur along the way.
"Scheduling is in flux because we don't know what is going to happen during the season so we are not married to our schedule, we are not locked into it," said Ezell, a four-year starting point guard at Alabama from 1995-98. "We are just going to have to be very understanding and work through it as it comes."
Ezell took part in a Southern Conference zoom call last Thursday to highlight the season that can officially begin on Nov. 25.
"Thank you for helping us provide some normalcy amid this chaos," Ezell said. "Obviously this season brings a lot of excitement, but this year brings a lot of uncertainty."
Yet, Ezell said some things will go on as normal.
"What is for certain is the way that our team is going to play, the way that we are going to prepare and the approach we are going to take to the gift we are given every day, and that is the opportunity to compete," she said. "We are going to maintain our standards of attitude, the effort and the way we treat people. We are going to continue to work positively to represent ETSU in a first class manner."
While ETSU, which finished 9-21 last season, will open its campaign at Longwood, Ezell has seen a change in priorities following an offseason like no other, with the COVID-19 pandemic in March the beginning of what became a summer of discontent across the nation.
"I guess being in tune with the kids with everything that they have been going through," she said, "from the abrupt end of the spring semester to the uncertainty of the summer, all the way to their mental health, their physical well-being, the virus, the presidential election, social injustice movement, it is a little bit of everything right now.
"We only thought that coaches wore a different hat every day, but it has been quite challenging to make sure we are doing everything to assist our group of 18 to 22 year olds."
Ezell is just glad when basketball happens.
"That has been a big challenge," she said. "If I can get to practice and you get to basketball, that has been the easy part. It is getting there and then making sure these kids are taken care of and supported and listened to."
Ezell is a creature of habit, a person who likes routine. Like many, she has had to change her style some just to deal with all that 2020 has delivered.
"It has given me an opportunity to really step back and reevaluate what is most important and it has allowed us to really develop our relationships with our players and with our staff, even more so than we normally have been," Ezell said. "It has caused you be a lot more in tune to listening. What do you mean, what I can I do to serve you, what best serves the program. I also have to be mindful of the staff and mindful of my own mental well-being in terms of I can't pour into others if my cup is empty.
"We try to do a lot of things to make sure the people around us have full attention and I have to rush to recover and wake up knowing that the next day is just going to be chaos."
Ezell, a native of Franklin, Tenn., who played both basketball and softball at Alabama, came to ETSU in 2014 after a three-year stint at Belmont. She has also been a head coach at the University of Montevallo and Okaloosa-Walton Junior College (now Northwest Florida State College).
She has worked to maintain a positive approach with all that has occurred leading up to this season. She already knew to expect the unexpected once she exited last week's zoom call.
"The first thing I do in the morning when I look at myself in the mirror, reflection notwithstanding, I laugh, because today is going to be ridiculous," she said. "I am going to have to deal with it and I might as well go ahead and get a smile on my face and recognize that what I am getting to do every day is a gift and that somebody else is dealing with something much more difficult than me trying to schedule a basketball practice.
"I gave you a lot because today is going to have some sort of ridiculousness that I am going to have to deal with."