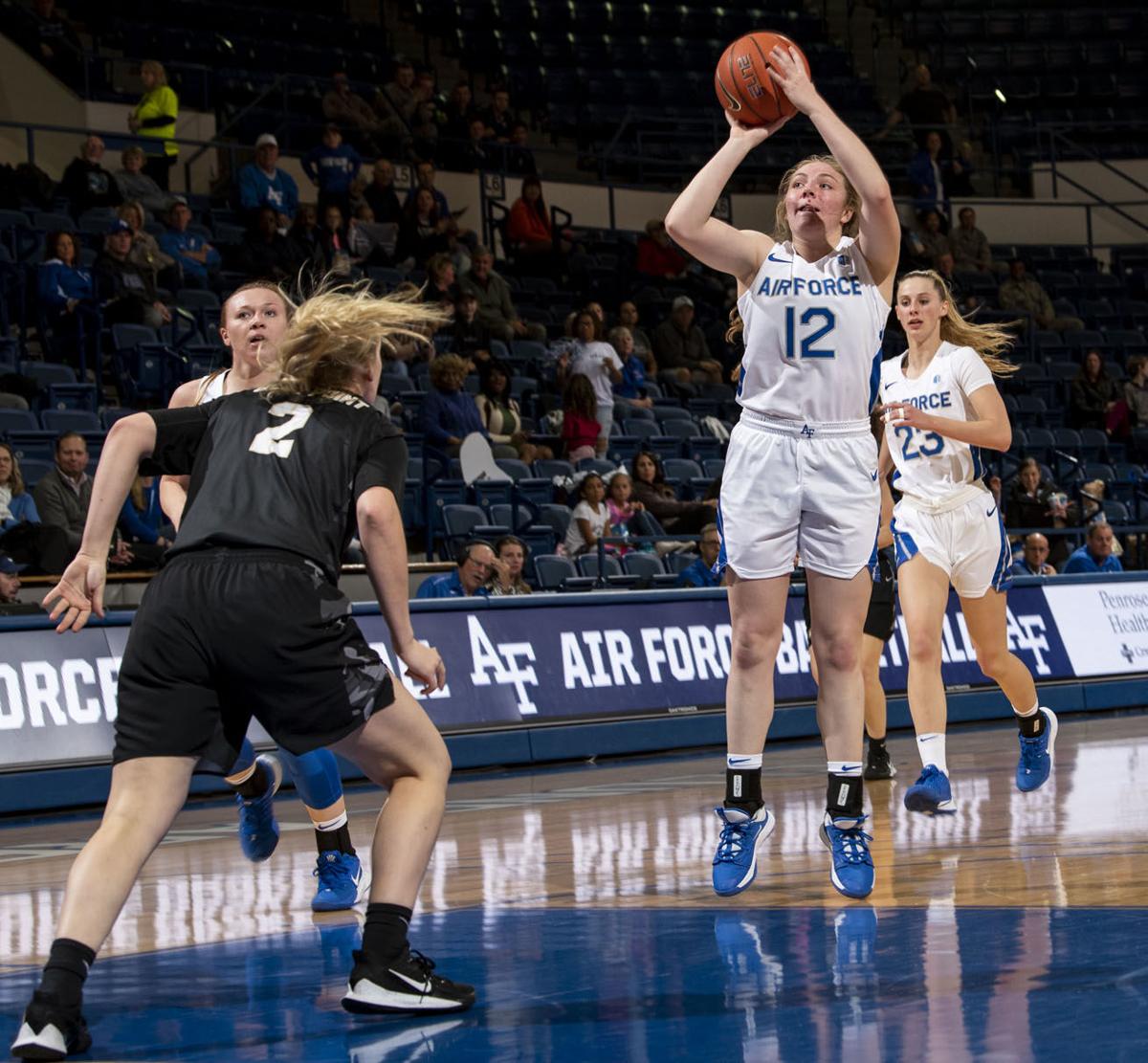 Grace Hess can take pride in the fact that a large contingent of folks from her Southwest Virginia hometown will be at Thompson-Boling Arena in Knoxville, Tennessee, this afternoon to see her play for the United States Air Force Academy women's basketball team.
Who all will be there to comprise the Hess fan club?
"The entire town of Abingdon, maybe?" said Jimmy Brown, who coached Hess at Abingdon High School. "Grace had an impact on a lot of people in Abingdon. I'm sure some of her teachers, friends, many of the youth that she worked with, along with our current team will be in attendance. She'll have quite the cheering section."
That's just one of many reasons for Hess to be excited today as the Air Force Falcons (1-6) face the nationally-ranked University of Tennessee Lady Vols (6-0) at 2 p.m.
"I used to go to games at Tennessee all the time with my teammates in high school," Hess said on Tuesday in a telephone interview. "Now, getting to play on that floor is crazy. It will be cool and an awesome experience."
A 5-foot-8 freshman guard, Hess is averaging 3.7 points, 1.4 assists and 1.3 rebounds in a reserve role through the first seven games of her collegiate career.
"So far, it's been a big transition, but it's been a lot of fun," Hess said. "My teammates and the coaching staff are great."
After scoring more than 1,500 career points at Abingdon and being selected as the Bristol Herald Courier's 2018 girls basketball player of the year, Hess enrolled in the 10-month Air Force Prep School program on the prestigious campus in Colorado Springs, Colorado.
She was named the prep school's most athletic female during the 2018-19 school year.
"That was huge," Hess said. "I was able to expand my horizons as far as my skill level and understanding of the game. I'll never regret that year. It helped me so much athletically and academically."
After all, you have to be at the top of your game to be an athlete at Air Force.
"It's very rigorous," Hess said. "The academics are hard and the schedule is pretty tough and it's designed differently than most colleges. I usually eat breakfast at 7 o'clock in the morning, classes start at 7:30 and then I don't get back to my room until about 7:30 or 8 [p.m.] and then I do my homework."
If anybody is built for such a demanding schedule, it's the relentless Hess.
"Grace's work ethic was unreal," Brown said. "She was always in the gym and was always working. She wasn't just getting up shots, but doing footwork, conditioning, lifting. She was always looking to get better in all aspects of the game."
Hess officially made her collegiate debut on Nov. 5 at Arizona State and scored five points. Her first shot as a college basketball player was a jumpshot that found the bottom of the net.
"Of course there were a lot of nerves [for that game]," Hess said. "I kept talking to my dad [Jimmie] because he's been my best friend through this whole thing and I told him what a dream come true it was and it was something I wanted to do since I was a little kid. It finally happened and it was one of the greatest moments of my life."
She'll get to see another dream come true today as she competes against the Lady Vols with her own personal cheering section there to offer support.
"To see a kid that you know has worked really hard get a chance to play at the highest level is great," Brown said. "I've been following her stats online, but I'm super excited to get to see her play in person."
Be the first to know
Get local news delivered to your inbox!