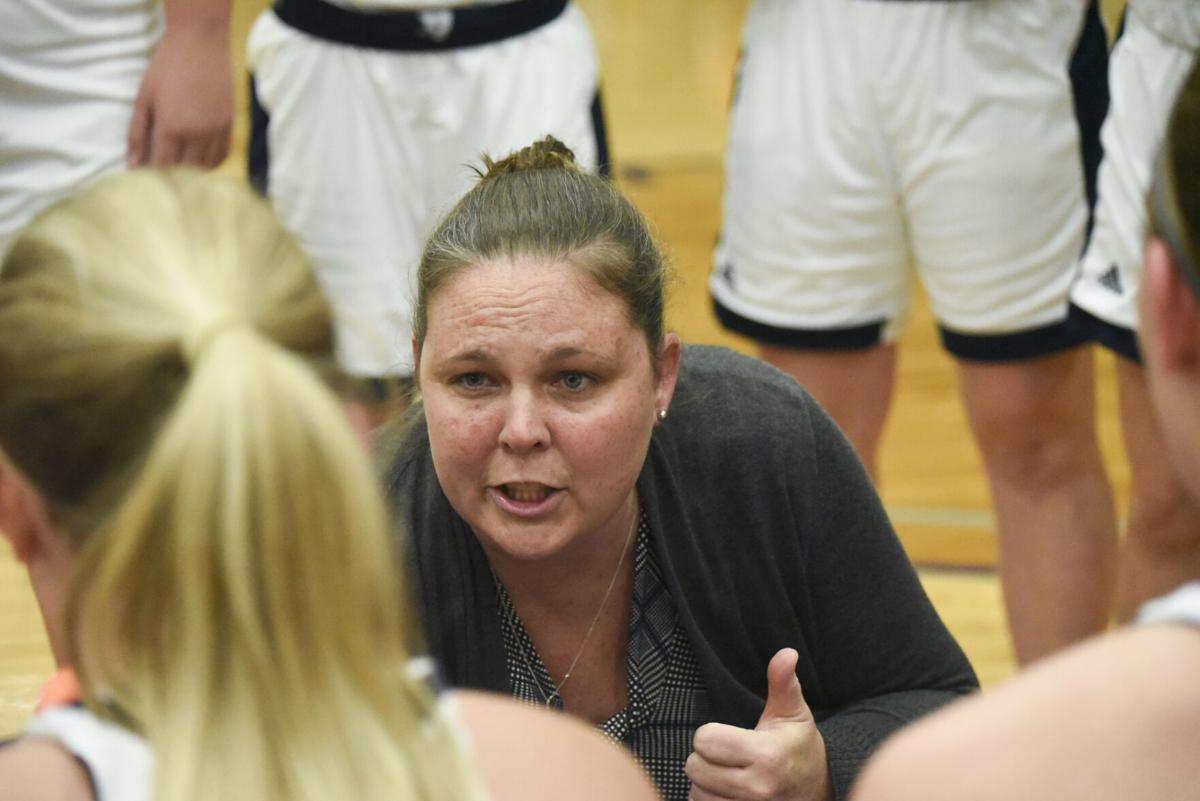 Division: NCAA Division II Independent
Key returners: Amaya Lee, G, jr.; Brylee Jones, G, jr.; Callie Haderer, G, sr.; Taylor Owens, G, soph.; Alexis Hoppers, C, sr.
Key losses: Kylea Cooper; Taylor Gilbert; Elizabeth Jones; Josie Salyer; Brianna Hogan
Promising newcomers: Emma Santoro, F, fr.; Grace Glance, F, fr.; Hannah Spainhour, G, fr.; Macy McClellan, G, fr.
Outlook: Dickens has the task of working in 11 freshmen to a team that relies on the power of Hoppers and the quickness of Lee.
After falling at Radford (93-37) and Western Carolina (72-48) in exhibitions, the Wasps officially opened the season on Nov. 13 with a 57-51 victory at former ODAC rival Bridgewater.
E&H then fell 78-69 to Queens on Sunday.
"We were still getting into offensive sets against Queens, but we've got some people that can score," Dickens said.
The 6-2 Hoppers supplied 17 points and nine rebounds against Bridgewater, while Jones (11 points) and the 6-foot Santoro (nine rebounds) also played well.
Lee (Virginia High), Haderer (John Battle) and Jones (Greeneville) are the current starters at guard, with Santoro and Hoppers (Sparta, N.C.) working the interior.
Relying on her footwork and sure hands, Hopper averaged 13.1 points and 8.6 rebounds last season.
" We knew Alexis had potential when we recruited her," Dickens said. "She scores in the post and from outside.
Teams are now focusing on Alexis but she's a great passer who gets her teammates involved."
Dickens wants defense to be the hallmark of her program.
" If we're playing hard, our defense could be very effective because we have some height," Dickens said.
The 5-5 Lee serves at the centerpiece of that E&H defense in addition to directing the offense.
" Amaya gets us going with her aggression," Dickens said. "On offense, Amaya can get by most defenders and create scoring chances."
The 5-10 Owens, who averaged 6.7 points last season, can keep opponents honest with her shooting range and hustle.
" Taylor plays so hard and helps us in several areas," Dickens said. "She can shoot, rebound and defense."
Santoro and the 5-8 Spainhour both attended West Stokes High School in King, North Carolina.
" Emma can play inside and outside. She's going to do well at the college level," Dickens said.
Haderer missed last season after suffering a knee injury in October.
The Wasps faced a transition phase during the COVID-19 impacted season.
" We had lost so much the year before and I thought things would just naturally come to our next group," Dickens said. "We didn't have enough time to fill thing outs or get ready, so we just got thrown into the season without getting into a rhythm."
Dickens said the new-look Wasps know what areas they need to improve on.
" We're not taking things for granted this season," Dickens said .
The schedule for both E&H men and women includes a mix of NAIA, Division II and Division III schools.
Coach's Quote: "We're still in the learning stage. Along with our veterans, we have some talented and versatile young players that will push for playing time. The last time we had this many freshmen was in my first year as an assistant in 2015. We're a little nervous about stepping up to a new conference and level next season, but it's exciting."