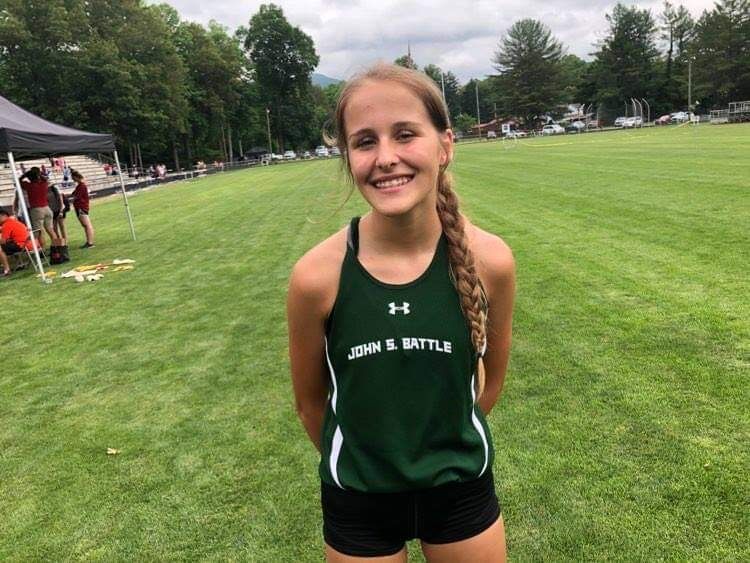 BIG STONE GAP, Va. – John Battle's Jada Samuel should have felt a few nerves entering her first Region 2D track and field meet on Wednesday, but the freshman had a special role model at Bullitt Park.
Reed Samuel, Jada's older brother, attended the meet to support his sister and offer advice in how to survive and thrive on the big stage.
In the 2019 Region 2D meet at Ridgeview High School, Reed was selected as the most outstanding boys performer after collecting 36 points.
Jada not only starred as an individual Wednesday, but she guided the youthful Trojans to 85 points and the team title.
"It's been great having someone to look up with my brother. And having him here today was really helpful," Jada said.
What about those freshman nerves?
"I get nervous, but I try to stay calm and run my race," Jada said. "It's a great privilege to be at this level as a freshman, especially to compete with so many freshman teammates. We play a lot of other sports together and that makes us closer."
Samuel recorded a personal record of 19.00 seconds en route to winning the 100 hurdles. She also won the 300 hurdles in addition to adding points in the relays.
Wednesday's meet started at 10 a.m. and athletes were treated to cool temperatures throughout the day.
Jada Samuel was smiling when she saw the overcast sky as the Battle team bus left Bristol at 7:30 a.m.
"This is my favorite weather to compete in. I loved this," Samuel said.
The rain finally came just after the trophy ceremonies.
It was also a day to remember for fourth-year John Battle coach Laura Jones. Jones, who competed in track and field at Marion High School, is the daughter of former John Battle football Steve Wright.
"We kept watching those team standings," Jones said. "We were a little nervous, but these girls have worked all season and they knew what they needed to do."
The Trojan lineup includes just two juniors and no seniors.
"I have mostly ninth graders, so this is really exciting," Jones said. "We finished second in the (Mountain 7) district meet this year behind Abingdon, but we've not been district or region champions in a while. A lot of work went into this."
Virginia High finished second in the girls standing with 75 points, with Graham (66) and Ridgeview (58) next in line.
VHS finished one point behind Tazewell in last week's Southwest District meet.
"That was tough," VHS coach Josh Shuler said. "I would almost rather get blown out than to lose by one point and have to look back on what could have happened in each event. We came back today and competed well."
The award for top girl's performer went to 5-foot-2 Marion junior Gracie Umbarger, who has a background in dance. Umbarger won the 200 and long jump.
"Gracie is quite the little athlete," Marion coach Susan Owens said. "This is the first year that Gracie has done the triple jump, and she's been pushing herself to get better in all events. The sky is the limit for Gracie."
Riley Houseright of Gate City was a double winner in the shot put and discus, while Graham's Katie Benson breezed to victory in 1,600 and 3,200 and Kylie Bostic of Ridgeview grabbed the 400 and triple jump.
In the boys meet, the Union Bears posted a team score of 150 en route to earning another trophy. Southwest District champion Tazewell (105), VHS (88) and Ridgeview (51) rounded out the top four.
The standout for Union was a familiar face in Malachi Jenkins. A 6-4 junior, Jenkins was a key cog during Union's run to the VHSL Class 2 title in basketball this past winter. He also a two-way standout in football and has been serving as the first-year goal keeper on the Union soccer team this spring.
"It's been an amazing year and I'm a little worn out, but I love to compete," Jenkins said. "We've had two soccer games already this week, and another game on Thursday."
Jenkins said that VMI has expressed interest for his talents in track.
On Wednesday, Jenkins won the high jump and 110 hurdles while finishing second in the 300 hurdles and fourth in the triple jump. Jenkins, who is ranked first in the state in the high jump, has been trying to reach the school record leap of 6-7 held his older brother Adrion.
It was the third straight regional title for the Union boys. The Bears finished second and third in the past two Class 2 state meets. The experienced Bears figured to be strong candidates for a state title last year before COVID-19 forced the cancellation of spring sports.
"We wanted to win today for last year's seniors," Jenkins said.
Union coach Tim Thomas said the efforts of his distance corps was also vital Wednesday along with freshman Reyshawn Anderson. Football standouts Xavier Lomax and Johnny Satterfield also earned valuable points for Union.
"Reyshawn had a personal record in the high jump and came out of nowhere to finish second in the long jump," Thomas said.
This year's Class 2 meet will be held at James Madison University on June 19
Tazewell sophomore Cassius Harris was tabbed as the most outstanding boys' performer.
"I'm happy with my day," Harris said. "I've been working really hard in the 400. And helping my team get second in the team standings was really cool. We've had a good season."
Chancellor Harris, the older brother of Cassius, has been sidelined by a pulled hamstring in recent weeks.
"Chancellor is a great athlete, and I've been trying to live up to his standard," Cassius said. "I wish he could have run with me today, but I had extra motivation to win for my brother since he's a senior."
Tazewell's Gavin Lee swept the discus and shot put, while Dominic Norris of Virginia High won both the long jump and triple jump.
No fan was happier at the end of Wednesday's meet than Reed Samuel, who is currently in the transfer portal after originally signing to compete in track at King University.
"It's fun coaching my sister and it's great to watch her do this well," Reed said. "I go to all the practices and try to help and encourage her anyway can."
What advice did Reed give Jada before her biggest meet on Wednesday?
"You've got to always be focused mentally and try your hardest," Reed said. "Everybody gets nervous, but I think Jada turns that emotion into adrenaline."