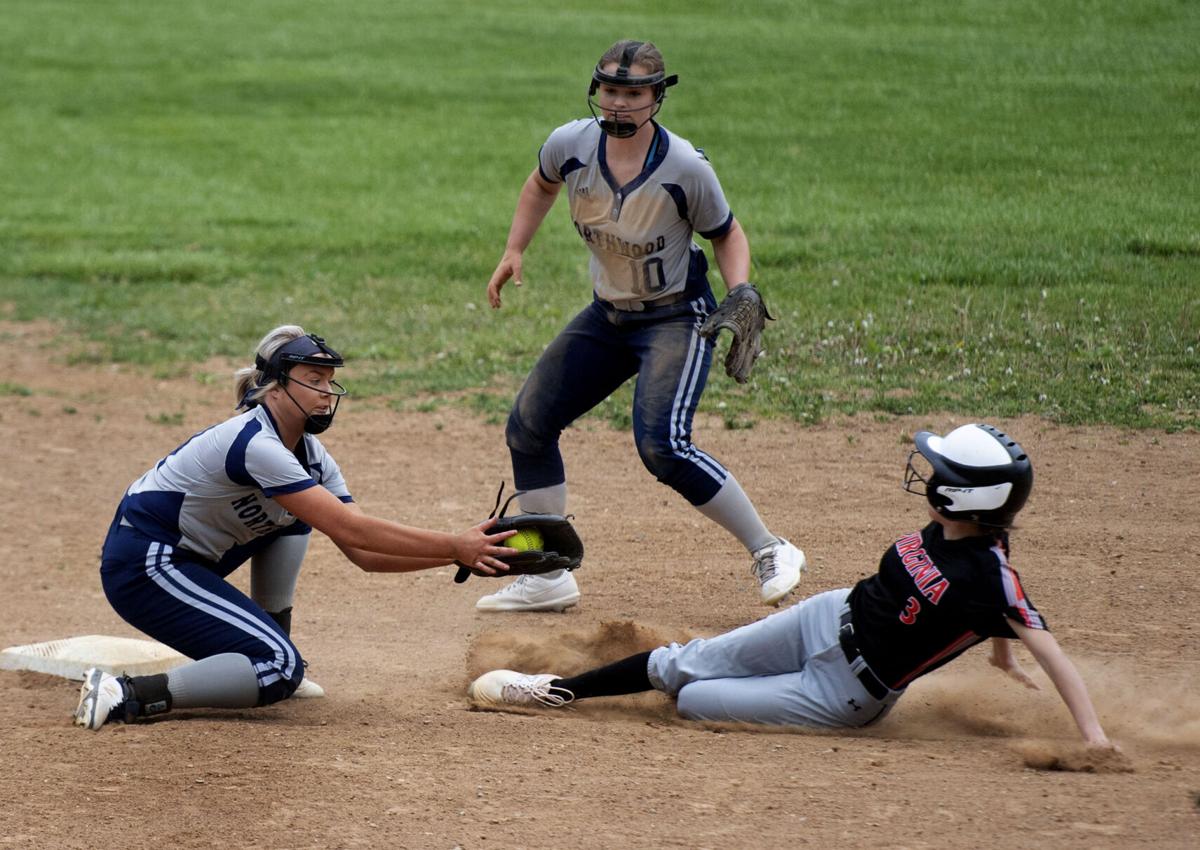 SALTVILLE, Va. – Karleigh Stephenson took a two-year break from softball. Her first home game back for Northwood was memorable.
The senior blasted a three-run homer in the bottom of the seventh inning Thursday to lift the Panthers to an 11-9 win over the Virginia High Bearcats.
"I missed the sport and the people," Stephenson said.
As a freshman, Stephenson supplied pitching and defense as a reserve on the Northwood squad that advanced to VHSL Class 1 tournament.
What about Stephenson's power hitting skill?
"That was my first home run ever, including travel and youth leagues," Stephenson said.
The Stephenson blast to centerfield was the final act of a wild 25-hit, two-hour affair that saw VHS take a 4-0 lead in the third inning.
It was a tension-filled opener for new Bearcat coach Andrew Belcher.
"That was a tough one," Belcher said. "I challenged my girls to come out and compete, and that's what they did."
The Bearcats grabbed a 9-8 lead in the top of the seventh when Aidan James supplied a run-scoring sacrifice fly and freshman Autumn Owens followed with a two-out, run-scoring single.
"Autumn has unbelievable bat control and plate discipline. And when she hits it, she hits it hard," Belcher said.
Owens finished with three hits, while Kylie Garrett added two singles and leadoff batter Carrie Patrick contributed a two-run triple and double. Patrick also excelled defensively at shortstop.
"Carrie is a special player," Belcher said. "She gets after it every day in the weight room, practices hard and plays the game the right way."
Garrett and catcher Harley Holmes were the lone seniors in a VHS lineup that included four sophomores and three freshmen.
"We put a big emphasis on hitting, and we have some girls that can swing it," Belcher said. "Nine runs is enough to win most games."
Northwood, which features seven seniors, was led on offense by Caroline Hayden (two singles), Lexie Crusenberry (two singles), Tia Crowgey (two singles), Olivia Briggs (two-run double) and Addy Counts (three RBIs).
Junior pitcher Cami Debusk struck out six and helped herself with a two-run single.
The heroine on this rainy night was Stephenson.
"Lord have mercy, that was a big home run by Karleigh," Northwood coach B.J. Buchanan said. "Her attitude and work ethic is great, plus she can hit and play defense. Karleigh does everything and we're glad to have her back."
There was one twist to the ending.
"Coach Buchanan was going to have me bunt at first, and I've only done that once in a varsity game," Stephenson said.
That strategy changed when Hayden and Crusenberry advanced on a wild pitch after singling.
Stephenson took over from there.
"The ball was low and straight down the middle, and I knew that Coach Buchanan was going to kill me if I didn't hit it," Stephenson said.