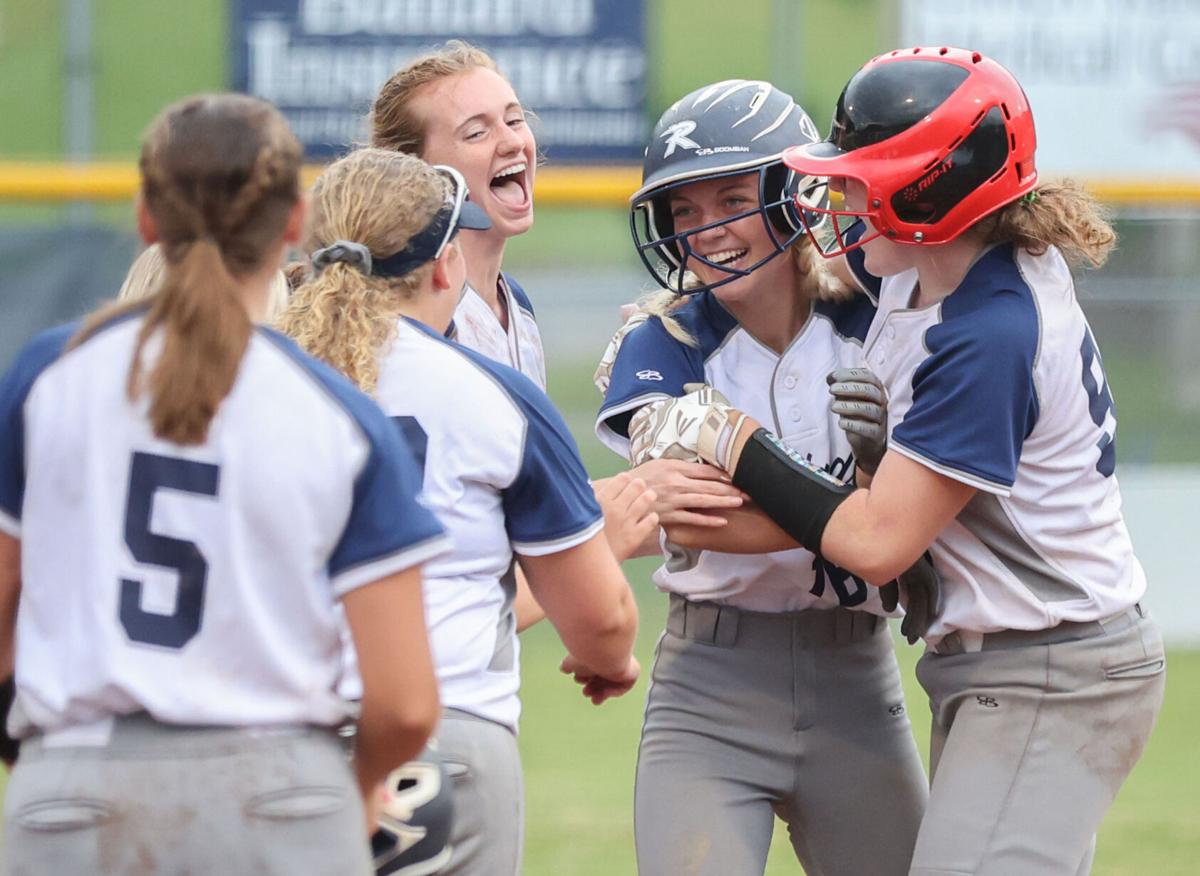 RICHLANDS, Va. – According to Richlands softball coach James Cochran, junior Chloe Perkins comes ready to work every day.
That work ethic came in handy Tuesday evening.
During a one-hour rain delay in the opening round of the Southwest District tournament, Perkins joined her teammates in a valiant effort to remove mud from Rhonda Blevins Field.
When the game finally resumed, Perkins emerged as the hero.
With a two-out, two-run single by Perkins in bottom of the seventh inning, the Richlands Blue Tornado edged the Virginia High Bearcats 4-3.
"That was the biggest I've had," Perkins said. "It was an inside fastball, and I was able to pull it up the middle."
While fans sought cover during then intense rainstorm, the Blues adopted a different approach during the delay.
"We had fun," Perkins said.
That fun included a variety of dance moves and chorus lines. The Richlands players and coaches also labored in the field.
"We were actually more drained mentally before the game was stopped," Perkins said. "That break got us pumped. We did so many dances that I lost count."
VHS collected eight hits in building that 3-2 lead. Aidan James drove in two runs on three hits, while Jayden Kilinski supplied two singles and Autumn Owens added a run-scoring double.
"We got some big hits, had good pitching from Anna Stacy and played pretty solid defense for 20 outs," VHS coach Andrew Belcher said. "We played well enough to win, but this game will humble you in a heartbeat."
Alyssa Lee kicked off the drama the final inning drama for Richlands by reaching on a bunt. Following a line single by Gillian Guerriero, Stacy was able to retire power-hitting Erica Lamie on a fly out that moved Lee to third base.
After Guerriero swiped second base, Stacy struck out Racheal Rife.
It was time for Perkins to shine.
"Chloe is a jewel," Cochran said. "She gives everything she's got in every game, and she came through again."
Perkins knows all about success. Her two cousins with softball standouts at Richlands, while Chloe was a member of the Class 2 state champion squad as a freshman.
"I broke my arm that freshman year, but I was able to come back and pinch-run late in the season," Perkins said.
On Tuesday, Perkins singled twice and reached base three times. She's hitting nearly .370 on the season.
The win clinched a home game in next week's Region 2D playoffs for 10-3 Richlands.
"All three games against Virginia High this season have been just like that. We're pretty evenly matched," Cochran said.
Lee added two hits for Richlands, while Lamie recorded seven strikeouts in a complete game. Lamie is hitting .600, with four homers and 20 RBIs.
"I thought we were flat early, but Chloe is an always in the groove," Cochran said.
Belcher had no issue with the condition of the field.
"The field was playable," Belcher said. The hard part was having to sit for an hour and then trying to refocus mentally. Richlands just got the hit when they needed it."
VHS will host a SWD tourney consolation game on Thursday, with the winner facing the No. 2 seed from the Mountain 7 District next week in the regionals.
The Bearcats missed three players who were out of town, including two starters.
As usual, Perkins was ready for her chance to work.
"I love big games like this," Perkins said.