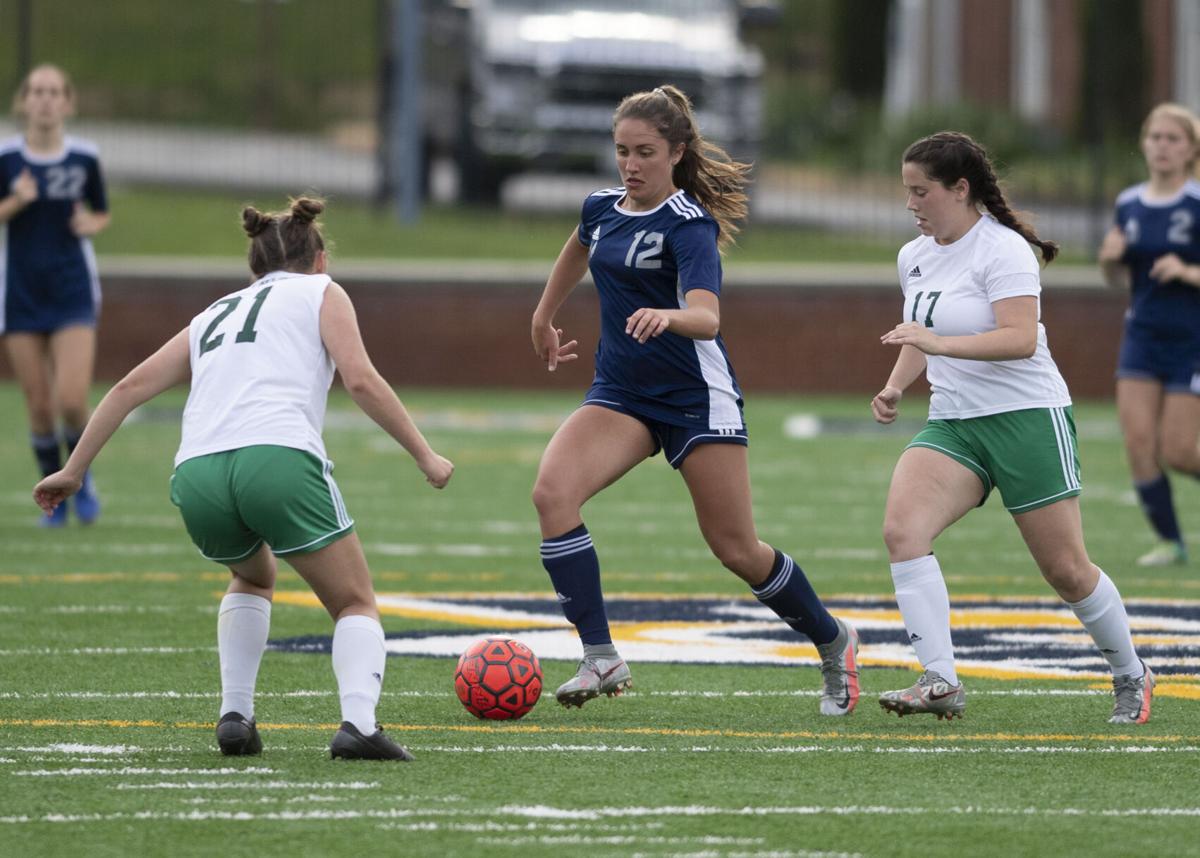 EMORY, Va. – Riley Cvetkovski had been kicking herself since missing her last penalty kick. She will recall the next one with a smile.
"It was my first penalty kick and it went straight to the keeper," said Cvetkovski, who nailed a penalty kick to lift Abingdon to a 1-0 Mountain 7 District semifinal victory over John Battle on a muggy Thursday afternoon at Emory & Henry College's Fred Selfe Stadium. "It is kind of like my redemption."
Cvetkovski lifted the Falcons to a third win over John Battle this season, all by one goal.
"It has become quite the rivalry, obviously county and district," Abingdon head coach Jordan Blackson said. "They have really given us some good games this season and the last couple of years so it has been a lot of fun."
Played under threatening and muggy skies with a noon start, both clubs had opportunities in each of the first halves, but John Battle's Macie Ratliff and Bella Jessee of Abingdon kept their opponents off the board, both of whom benefited from solid midfield defense.
"She is a pretty big force in the back. She saved a lot of good shots," John Battle head coach Colleen Shirey said. "Abingdon takes really good shots and she was able to stop them so I am really proud of her too."
Jessee was equally as busy, even getting a break late in regulation when Sarah Rice got past her and found the open net, but the play was nullified by an offsides call.
"Both teams just hustled hard all day, all game," Blackson said. "I thought early on we kind of struggled to move the ball around in the midfield. What we have been doing all year, I feel like it was there early on and it kind of came to a point where which side is going to hustle more and more effort on both ends, but both teams played well."
After four five-minute overtimes that netted no goals and few opportunities, the next step was penalty kicks, which isn't always the preferred method to end a match.
"The momentum of like playing through four overtimes and then have it all come down to these kicks, it sucks, but I feel like if it didn't happen we would still be out here playing," said Shirey, with a smile. "It needed to end.
While Ratliff remained on the pitch for the Trojans, versatile freshman Ella Seymore, who had been all over Nicewander Field for the Falcons, replaced Jessee in goal.
"Ella has been a versatile player for us and she has been in goal a lot of for us this year," Blackson said. "There in penalty kicks we just felt like Ella was our best choice in goal, but that doesn't take anything from Bella, the other keeper, she has played well all year too.
"Goalkeeeper is just a position we have a lot of depth in so we are fortunate in that."
Seymore was up to the task, stopping all five John Battle attempts, a couple with diving catches in front of the net.
"I usually play starting goalkeeper, but this year I have been playing the field," Seymore said. "I try my best. It is nerve-racking, you are standing there waiting for them to shoot it."
Ratliff was able to stop four of Abingdon's five attempts, but Cvetkovski, a sophomore of Macedonian descent, was able to get the ball past Ratliff on the Falcons' third try.
"We had all been trying really hard the whole game and that was just pure heart," she said. "I could not feel anything, I could not feel my body. It was exciting, but it felt good."
The key? Don't kick the ball directly at the goalkeeper.
"It is kind of like a last minute thing. You just have to pick a side and go for it," Cvetkovski said. "You can't go back and forth so I saw she was leaning more towards right so I knew I had an open shot in the corner."
"Riley is going to be a special player, this year is kind of her breakthrough year and we are proud of her," added Blackson. "She missed one [penalty kick] in a game earlier this year, a PK in regulation, and she beat herself up over that so I think today was definitely redemption for her."
Abingdon (9-3) will visit Wise County Central in the Mountain 7 District championship match tonight, with the Warriors having one of those three wins over the Falcons.
"We want payback on them," said Seymore, with a smile.
"We are ready," added Cvetkovski. "I think this gave us some confidence that we know we can keep going even when it is hard."
While Abingdon expects to hit the road on Monday for a Region 3D opening round match, the Trojans (11-3) will host either Marion or Tazewell in a Region 2D opener on the same day.
"It was good. I can't really ask any more out of them today so we are proud of the way we performed," Shirey said. "We have just got to carry this momentum next week for regionals."
After 100 minutes and 10 high-pressure penalty kicks on the pitch in muggy and humid conditions, both teams were ready for a break.
"We are all exhausted," Cvetkovski said. "We are about to go get some food and reward ourselves."