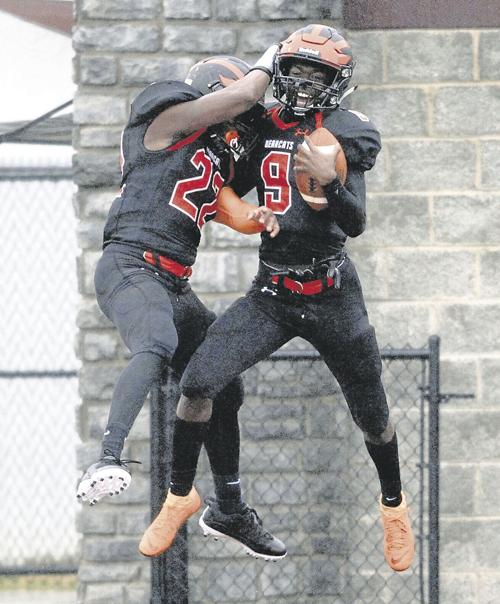 BRISTOL, Va. - Patrick Poku made an immediate impression last spring during his debut on the Virginia High varsity football team.
In the opening minutes of the game against Grundy, the 5-foot-11, 145-pound sophomore receiver took a screen pass 81 yards for a score. Poku later scored on a 74-yard connection with quarterback from fellow sophomore Brody Jones as the Bearcats posted a 19-12 win.
"I was happy with it," Poku said. "I've been trying to learn and improve since then."
Poku has faced a steep learning curve. Consider his first day of practice with the Virginia Middle School football team as an eighth grader.
"I didn't have any experience with football," Poku said. "Really, I wasn't sure what to do."
Along with his brother Prince, Patrick was raised in the West African country of Ghana where he lived in the bustling capital of Accra.
The Poku brothers developed a love of soccer at age 4. Both made a relatively smooth transition to the Virginia High soccer squad.
As for the American version of football, nothing came easy. Prince gave up the game after one season at VMS, while Patrick saw little playing time as a middle schooler.
"The coaches had to explain everything to me," Patrick said. "I kept working at the game during summer workouts. I also got taller and faster."
Speed is the calling card for Patrick. According to second-year VHS receivers coach Seth Davenport, Patrick has been timed at 4.49 in the 40-yard dash.
"Patrick can flat out fly," Davenport said.
That speed was evident last season, where Poku made three TD receptions. On that 81-yard strike against Grundy, Poku faked out the cornerback near the line of scrimmage before zooming down the sideline untouched.
"I wanted that first touchdown," Poku said. "It felt good when I reached the end zone and saw the reaction of my teammates."
Several of Poku's friends sent a video clip of that highlight reel sequence to Poku's phone.
"I've gone back and watched that touchdown a few times," Poku said.
The only missing piece from Poku's breakthrough day was his mother, Lucy.
"Mom had to work that day but she was happy for me," Poku said. "Mom didn't think I was a football guy at first."
Poku said his mother was the reason the family relocated to Bristol when Patrick was 13.
"Mom said she wanted a better future for us," Patrick said.
Accra has an urban population of 4.2 million, but the Poku brothers have adapted to a new culture.
"We arrived in Bristol on a December day and I saw snow for the first time. I was excited about that,'" Patrick said.
As for food, don't expect to see the Poku family at any fast food establishment. Lucy prepares all the family meals, including African standards such as fufu and jollof rice.
"Our family has a tight bond," Patrick said. "I learned how to play soccer from watching my mom play with us every day. In Ghana, we could always get a pickup game together with kids near our home."
Patrick scored five goals as a midfielder for the VHS soccer team this past spring. Just like in football, Patrick relied on his speed, moves and instincts.
"I love soccer, but I'm starting to get into football and I've been trying to get bigger and stronger," Poku said.
Naturally, first-year VHS head football coach Derrick Patterson was intrigued when he first saw Poku on film
"Oh yeah, Patrick can fly and he definitely has some natural athletic ability. I'm just getting to know Patrick. He seems like a great kid who is starting to buy into our program."
Flash back to the first 7-on-7 session for VHS earlier this summer at George Wythe.
"In one of our first plays, Patrick absolutely took off and ran past the cornerback. That showed us something," Patterson said.
According to Davenport, the Poku show is just starting
"Patrick absorbs information really well," said Davenport, a former star receiver at Holston High School who played two years of football at Bluefield College.
During Tuesday morning's 7-on-7 session on the new turf at Sullivan East, Poku made Davenport proud.
"Patrick and I went over a move for like two minutes on Monday, and then he applied that same move this morning for a touchdown," Davenport said. "Patrick is progressing into a guy we can depend on."
Patterson said the Bearcats currently have 45 players in camp. That's enough to field a junior varsity team.
The first official football practice in Southwest Virginia is July 29. The Bearcats will host Eastside on Aug. 13 before traveling to Gate City on Aug. 20 for a benefit game. The season opener is Aug. 27 at home against Tazewell.
Poku is eager to make another fast start.
"I really like Coach Patterson. He motivates me to keep learning and improving. Most of my teammates have been playing football since they were little. I'm still picking up things like route running, the proper way to catch passes, and how to get off the line of scrimmage faster.
"I'm learning something all the time, but I'm having fun."