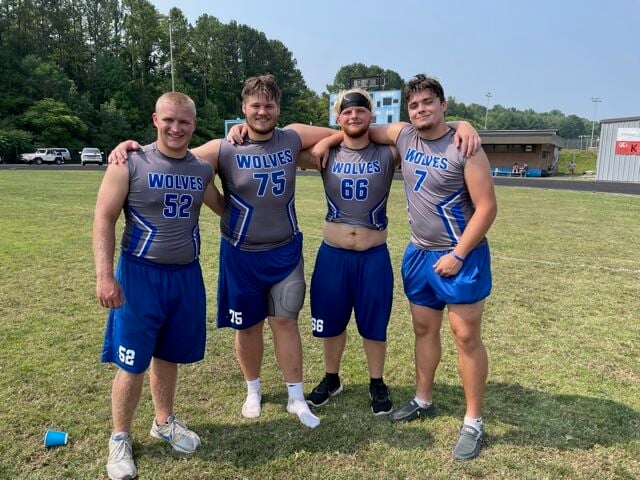 KINGSPORT, Tenn. – The Wolves are anxious to howl on Friday nights.
"We are doing really good," West Ridge senior quarterback Ethan Bergeron said. "We are going out and working hard every day, executing everything, getting ready for the season."
It will be the first football season in the history of West Ridge, and these Wolves want to start it right.
"We are trying to set a winning tradition at West Ridge," said West Ridge senior lineman Fletcher Gibson, like Bergeron, a former student at Sullivan South. "South has had a winning history and we have definitely had our ups and downs as West Ridge will, but we are hoping to instill something that will last a lifetime."
West Ridge, which was created from a combination of Sullivan South, Sullivan Central and Sullivan North, will open its inaugural season on Aug. 20 with a visit to Volunteer. The home opener is on Sept. 3 against Science Hill.
"We have got kids from all the different schools, we have some transfers that have come in," West Ridge head coach Justin Hilton said. "They are just meshing well together. You wouldn't know who is from where if you just walked around. They just want to have a good time and we are. It's been good."
Early practices involving as many as 93 players have been taking place at Sullivan South, which is where Hilton played, taught and coached, leading the Rebels to 27 wins over four seasons as head coach.
"It has been interesting. It has been fun. I realize, and I think I already knew this, kids are kids," Hilton said. "They want the same thing, they want to be loved and they want somebody to coach them hard. We are trying to give them those things and make them successful."
Hilton had hoped the Wolves would be able to practice on their new turf field next week, but delays are expected as construction continues on Lynn Road in Blountville.
"This has made us be flexible," Hilton said. "Adversity is going to hit us in the season so hopefully all these little things will help us get ready for when that happens."
Bringing students together who have been rivals on athletic venues can be a delicate situation, but that hasn't been a problem for the Wolves.
"I am glad we are one now. We have come together really good and we have built a really strong team," said senior lineman Grant Cornett, a former student at Sullivan Central. "It was weird hearing about it and you just thought what is going to happen whenever you get three schools together, how is that going to blend together. It has went really, really well."
The move came one season after the Cougars won four games, Sullivan Central's best season since 2012.
"We really started getting things moving in the right direction," Cornett said. "Change is a good thing, we are on to West Ridge."
Eli Kennedy is an offensive lineman from Sullivan North, the smallest of the three schools that comprise West Ridge. He will go from playing for a 2A school to a 6A program, the highest level in Tennessee.
"This is a big challenge," he said. "I am very excited for it actually. I am excited to see the kind of people I am going to be playing against."
He will find out in a pair of upcoming scrimmages, facing two-time defending Class 4A champion Elizabethton, along with Greeneville, which won the previous two 4A titles.
"I am been looking forward to that, you don't even know, man," said Kennedy, whose Wolves will finish a three-scrimmage slate with Sullivan East. "Those are some of the best teams I have been hearing about for a long time and I am very excited to play against them."
Bergeron, who started at quarterback for Sullivan South last season, is one of four competing to be in that same position for the Wolves.
"It has been a big change, learning new names and stuff, but it is a good thing. We love it," he said. "I love competition, go out and work every day and push everyone to get better."
"It has been a transition, but a fun one for sure. You get to bond with these kids, it is a lot different," added Gibson. "It is really just getting to know people, but I think we have been able to get along pretty well and it didn't take that long to really start to mesh and bond together."
Hilton has surrounded himself with a knowledgeable collection of assistants to help create the schemes and plays that will define the first season of West Ridge football.
"I hired people a lot smarter than I am. I have got great assistant coaches, most of them are just as qualified, if not more qualified, than me to do the job I am doing," Hilton said. "I have really surrounded myself with great people."
The work continues to find the right positions for each of the Wolves, who will open the season with consecutive road games at Volunteer and Daniel Boone.
"There is a lot to do. You have got to take one bite at a time so that has kind of been our approach," Hilton said. "We are going to take care of things in steps and hopefully we will be ready when the season opens."
There are no gimmes on the schedule. The first of just four home games will be Science Hill, which will be followed the next week by a visit to Dobyns-Bennett, two of the largest enrollments in Tennessee.
"I am looking forward to that," said Bergeron, whose Wolves will play their final three games at home.
"Seeing some new teams, teams we have never played before, some new competition and better competition."
"We are with the best of the best, it doesn't get any better," added Cornett. "It is a great opportunity for us."
It remains to be seen how the upcoming season will progress, but Hilton knows what he wants from his squad.
"We want to set our goals high, but the big thing we want to do is learn how to be better men, that is going to be the goal in any program, how to love each other and want better for each other," Hilton said. "When we step on that field we want people to see a team that plays hard the entire time and does the little things right."
"Every day we are just trying to get better," added Kennedy.
Coach and players are confident that fans of the Rebels, Cougars and Raiders will soon become supporters of the Wolves.
"At South we always had good crowds. Central always had really good crowds and North is a very proud community and in all those times when they had success it was packed," Hilton said. "I would think these communities are really going to rally behind us and support us."
Kennedy is betting on it.
"We definitely are. North, we didn't have too many people come out, but I have been hearing about Central and South and how many people came out for them," he said. "I am expecting a big turnout."
Both Gibson and Bergeron had long expected to be graduates of Sullivan South. That will no longer be the case, but both have accepted that reality without issue.
"It definitely is [bittersweet]. I have got a lot of history at this school, but we get to set a new tradition and make a new history for this school," Gibson said. "I am excited, I am looking forward to it."
"It sad that South is closing, but everyone is loving this, it is a great thing for us to all come together," he said. "I am very excited, everyone is very excited."