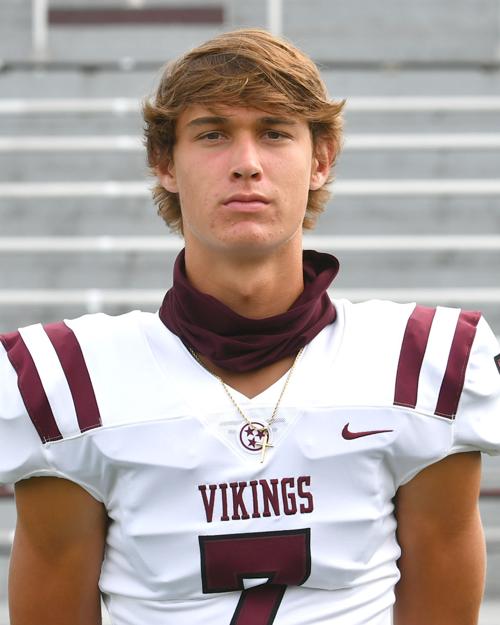 NEWPORT, Tenn. – Tennessee High junior Steven Johnson spent several months last summer in Houston training under famed quarterback Jeff Blake.
Johnson displayed some of his refined skills Friday as the tenth-ranked THS Vikings posted a 41-14 win over the Cocke County High Fighting Cocks.
Displaying a mix of poise and timing, Johnson completed 15 of 20 passed for 235 yards and three scores with no interceptions.
'Coach Blake has helped me to read the defenses and watch things develop," Johnson said. "I got good protection from my line tonight and my receivers made plays."
As usual, NCAA Division I prospect Jaden Keller was the primary playmaker for the Vikings. He provided three touchdowns, include a 78-yard highlight reel run off a screen pass in the third quarter that gave his team a 34-14 margin.
"I get excited every time I throw the ball to Jaden because I know he's going to make something happen," Johnson said.
C.J. Henley added a 52-yard scoring reception for THS.
With the Cocke County defense focusing on the THS running attack, the Vikings countered with quick-hitting passes and clever screens.
"That's what they were giving us and we had to take advantage of it," THS coach Mike Mays said. "(Johnson) is getting better, and we're protecting him better. When you get the ball in (Keller's) hands, it helps."
With versatile senior Bryce Snyder sidelined to a sprained ankle, the Vikings (5-2) sputtered with their running game early.
"It was like we were missing a block on every play," Mays said. "But we figured it out, and we were able to get things going in the second half.
Junior Levon Montgomery supplied 96 yards rushing for THS, including a 39-yard score in the fourth quarter.
"We kind of slept walk a little bit before we woke up," Mays said. "We can't do that against good teams. We've got to put four quarters together."
THS held Cocke County (2-5) to negative yards on offense until the final series of the first half when the Fighting Cocks found success with their passing game.
CCHS senior running back Cameron McLain, who topped the 100-yard rushing mark the past two weeks, collected 44 yards on the ground but quarterback Baxter Baylor threw for 139 yards.
Johnson credits his development to the fundamentals.
"I look for my coaches, see who is open and just play the game," Johnsons said. "Working with Coach Blake was a great experience. Texas is a big area for football and I learned a lot.
"We're all getting better."
Tennessee High   7   20 7   7-41
Cocke County 0   7   7   0-14
THS – Smith 8 run (Craft kick)
THS – Keller 38 run (Craft kick)
THS - Henley 52 pass from Johnson (kick blocked)
THS – Keller 23 pass from Johnson (Craft kick)
CC – Baxter 1 run (Campos kick)
CC - Baxter 5 run (Campos kick)
THS – Keller 78 pass from Johnson (Craft kick)
THS – L. Montgomery 39 run (Craft kick
First Downs: THS 12, CC 9; Rushing Yards: THS 150, CC 62; Passing Yards: THS 235, CC 139; Comp.-Att.-Int: THS 15-20-0, C 8-25-2; Fumbles-Lost: THS 1-0, CC 0-0; Penalties-Yards: THS 8-70, CC 3-25; Punts-Average: THS 4-35, CC 5-37
Be the first to know
Get local news delivered to your inbox!