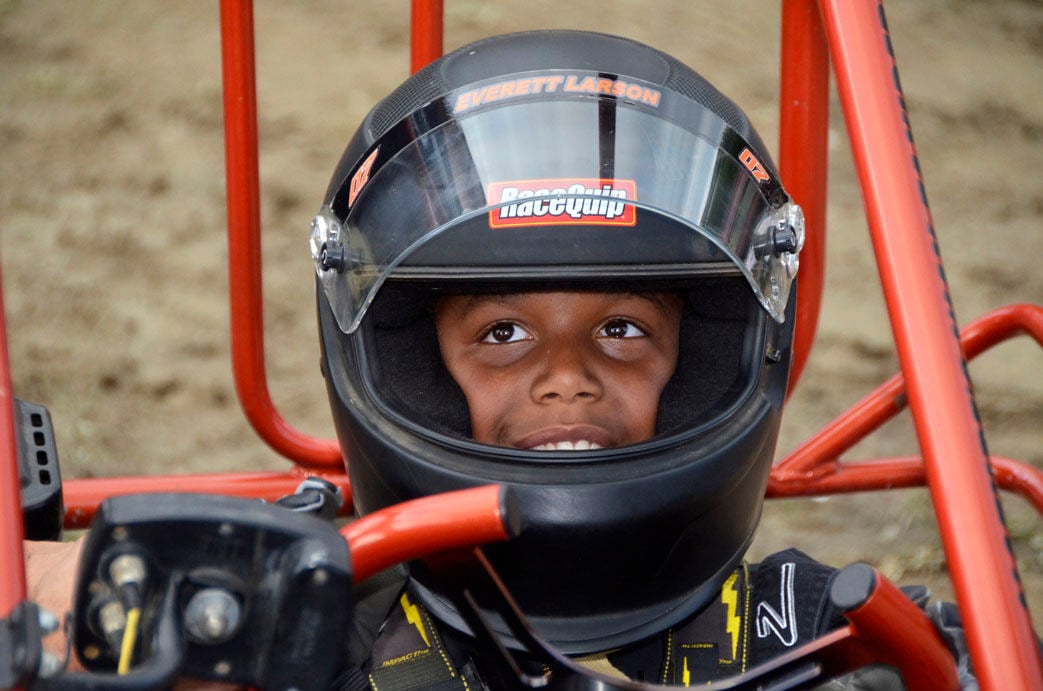 KINGSPORT, Tenn. – Everett Larson established his career goal at age five.
"My mom showed me a video of Richard Petty, and I've wanted to be a racer ever since," Larson said.
Four years later, Larson is pursuing his dream. He's a regular at the Kingsport Miniway, a karting facility adjacent to Kingsport Speedway.
So why does this resident of rural Mendota, Virginia, love karting so much?
"Friends, family and fun," Larson said. "It's not about winning, it's about fun."
Larson knows all about winning. In his first season of karting, Larson has earned multiple victories on the asphalt at Kingsport Miniway and on the dirt at Ashway Speedway in Strawberry Plains, Tennessee.
"I like running on a slick track and I feel comfortable going fast. Yeah, I like speed," said Larson, who competes in the Junior Sportsman Predator Division.
The world of karting has long served as the motorsports equivalent of Little League in baseball.
For entry-level competitors, the emphasis is on kart control, learning how to manuever in traffic, and executing clean passes.
Following an 18-year lull, Kingsport Miniway has been in operation for less than a month but last Sunday's program featured nearly 50 racers and teams from across Northeast Tennessee and far Southwest Virginia.
"It's been great to see all the interest," Kingsport Speedway general manager Karen Tunnell said. "When the Stiltner family purchased Kingsport Speedway, they also got the Miniway property. We wanted to finally resurrect this place and give folks another place to race."
The scene at the Miniway includes tier parking around the sprawling facility, concessions and families. Lots of families.
"It's just a lot of fun for kids and adults," said Tunnell, who hopes to open a kart rental operation later this month at the Miniway. "We've got racers from our big track who have bought their own karts to race and some racers have bought karts for their kids."
The familiar faces in the pits include Blountville's Phil Tuell, a former World Karting Association champion competitor and stock car racer, who has worked as a mechanic and mentor for a variety of NASCAR and Late Model teams.
Tuell now helps oversee the karting efforts of his grandsons, Konner and Karston.
"Karting is the true grassroots of racing," Phil Tuell said. "At this level, kids develop an interest in the sport, and they will follow it up as they get older. If you don't get kids interested in racing early, they will turn to other sports."
Konner, 8, is an eager newcomer in the Junior Champ Predator karts.
"I love it, and even wrecking is fun," Konner said. "I've improved a bunch since my first race, and I keep going faster. Racing is just funner than other sports."
Karston, 11, was forced to miss last week's event because he was competing in a baseball tournament.
Brent Tuell, father of Konner and Karston, is a teacher and head basketball coach at the new Sullivan East Middle School.
"Karting is definitely a family deal for us," Brent said.
The Lane family from Kingsport has also made a serious investment in karting.
Derek Lane, 32, won numerous WKA events on dirt and asphalt for 25 years before turning to Legends Cars in 2012 and Late Models in 2015.
After winning the 2017 Late Model track title at Newport Speedway in Newport, Tennessee, Lane now runs in the Sportsman class at Kingsport Speedway where he ranks second in points.
Lane, who won his Sportsman race last Friday, shares a Senior Champ Animal kart with another Kingsport Speedway racer in Austin Brooks.
"I love karting and coming out here to the Miniway," Lane said. "This is a stepping stone for kids who have interest in the sport, like my daughter.
Katy Lane, one of several female competitors at the Miniway, is another first-year racer who competes in Junior Sportsman Champ.
"My whole family has been involved in the sport and it's something fun to do," Katy said. "I watch my father race a lot on Fridays at the speedway, and I'm always trying to go faster."
The Lane family of racers also includes Derek's brother, Trey, and father, Jerry.
"We spend a lot of time in the garage," Derek said. "I wasn't sure at first when Katy wanted to get into karting because I know all the work and everything else that goes along with the sport. But she talked me into it, and here we are."
For Larson, his entry into karting can be traced to that Richard Petty video culled from YouTube along with two chats with Petty during local Food City appearances and support from family and friends.
Jon Larson, Everett's father, is a Minnesota native who runs a car restoration business in Mendota.
"Everett has been making progress every week, but really we're just enjoying the experience and collecting knowledge from everybody at the track," Jon Larson said "Karting is family-integrated, and it's pretty awesome to see how popular the Miniway has become."
One of the biggest supporters, and the primary sponsor, for Everett is Justin Matney, the owner of RPM Offroad in Bristol, Tennessee. The motorsports resume for Matney includes several appearances in the famed Baja off-road events.
According to Amy Larson, Everett's mom, her son has never wavered in his dedication to motorsports.
"Everett has a very big goal, but he's committed to it," Amy said. "He's always thinking about going fast. We don't want to ever push him. We just want him to enjoy this."
So what's next on the goal-chart?
"I want to run more races, move up to the trophy class and keep on getting better," Everett said. "Once I saw that Richard Petty video, things pretty much took off from there."