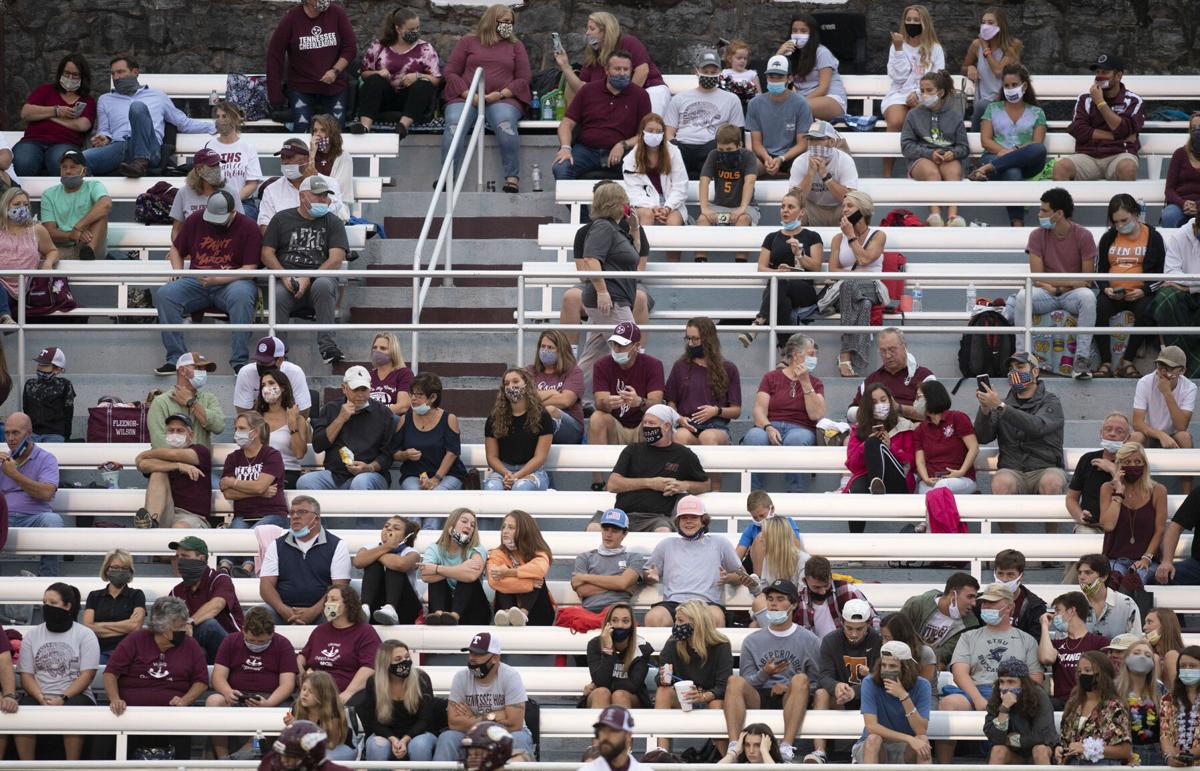 The message was loud and clear during Friday's football game at Elizabethton High School.
Wear your face mask and maintain social distancing.
Thanks to repeated announcements over the public address system, the folks at Elizabethton set an impressive example in terms of COVID-19 protocols.
The 2020 prep football season actually began on Aug. 13 in Herriman, Utah. Six other states, including Tennessee, opened play the following week.
Alas, not every school in Tennessee or around the nation has been as vigilant as Elizabethton. Just check out the game highlight shows.
On that first long-awaited Friday, students from Northeast Tennessee and beyond were jammed together in large cheering sections. Meanwhile, many adults yanked off their face masks seconds after undergoing temperature checks at stadium entrances.
The coronavirus has become a political football that has fractured friendships and created widespread anxiety in all facets of society. But if you like high school football, there is only one sure way to keep the season going.
Keeping a mask over your face is no fun, especially in hot weather. The discomfort level increases for those who wear glasses.
But the alternative is even worse.
Over 182,000 Americans have died from COVID-19 in just over seven months, according to conservative estimates from the country's top heath expects. On Tuesday, the Tennessee Department of Health reported 109 new cases in Northeast Tennessee to run the number of total active cases to 3,390.
Just when it seemed that the first week of TSSAA football went off with no issues, news came Friday that a member of the Sullivan North "football community" tested positive for COVID-19. Practices and games for North have since been suspended until through Sept. 9.
This week, TSSAA games involving Sunbright, Union County and Dickson County have been postponed due to COVID-19 cases.
School officials in Shelby County and Metro Nashville, the two largest systems in Tennessee, have not even given clearance for their teams to begin contact practice sessions.
In terms of health and income, the stakes are high for prep football programs around the nation. That's certainly the case for small rural high schools and towns in Tennessee which rely heavily on the income generated from football.
School administrators face a no-win situation on Friday nights. How do they enact and regulate safety protocols without turning away the fans they rely on?
Will a high school student wear a mask the entire game when he sees an adult refusing to wear one for just five minutes?
It's no wonder so many high school athletes are dealing with confusion and anxiety. They are encouraged to compete in travel baseball and softball tournaments on the weekend where no safety measures are in place, but they are not even allowed to attend school in person.
We could learn from the leaders at Elizabethton High School. Despite the muggy conditions, coaches, cheerleaders and band members kept their masks on while fans remained in limited family groupings.
And for good measure, there were all those friendly announcements.
At least for this year, the success of high school football programs can be judged on more than wins and losses.
If you want to support your school, team and community, you must follow the COVID-19 rulebook.
Be the first to know
Get local news delivered to your inbox!