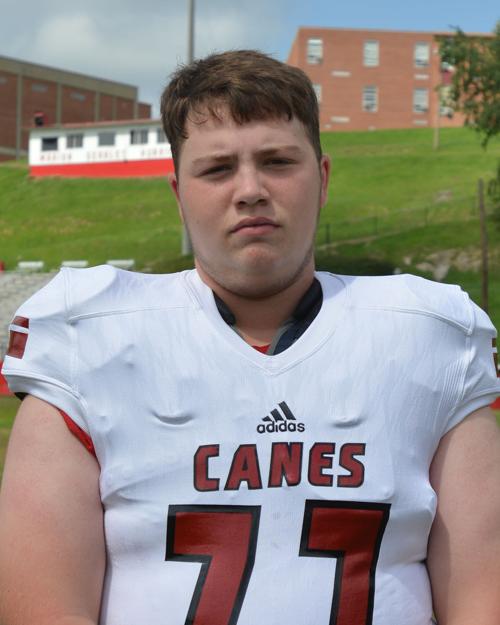 HONAKER, Va. – After Virginia schools played their 2020 football season in the spring of 2021, it just seemed natural to play one final game in the heat of summer.
That was fine with 6-foot-1, 320-pound Will Stephenson, a recent graduate of Marion, who completed his football career in the Fellowship of Christian Athletes All-Star Senior Football Game on Saturday afternoon on the steamy turf of EMats Stadium at Fuller Field.
"It was different," said Stephenson, who was joined by two Marion teammates on the East squad. "We went from wearing hand warmers and long sleeves every day to sweating really bad out here. Most of us had long sleeves on, we cut them off. We just came out here and played. We had a good time."
That was the point of the annual East-West event, which is normally held in the winter, but was delayed due to the 2020 fall season being pushed to spring by the COVID-19 pandemic. The teams met on Friday night for one practice in the FCA-sponsored event directed by area representative Gary Maggard.
"We had one practice, but the key thing was for the kids to hear about the message of Christ and get together with fellowship and just play one more time," said Eastside head coach Mike Rhodes, who led the West squad. "I am thankful to Mr. Maggard for putting this together and just giving these kids the opportunity."
Recent Narrows graduate Reid Bowman earned the East's offensive most valuable player honors by throwing for two touchdowns and running for another in the East's 30-0 win over the West. More than 20 Southwest Virginia schools were represented, with the most being seven from Richlands and six from Ridgeview.
"It was blast playing out here with all those other teams," Bowman, who was joined by Narrows teammate Hunter Smith, both of whom will play football at Emory & Henry College. "They were a lot of good kids from a lot of places. It is really is good to win out here. The other team had a lot of good players."
Patrick Henry's Ean Rhea earned East defensive MVP honors for a unit that forced three turnovers and kept the West under 100 yards on offense.
"It was great actually," Rhea said. "We just all kind of clicked very well. We didn't know each other very much, but we all came together really well and played together. We came out and played like we had been playing for a while."
Bowman connected with Logan Walden with a 45-yard first quarter touchdown, with the Holston graduate pulling away from a defender, making the catch and running in for the score. That duo hooked up again before halftime, with Walden snagging a 28-yard pass being dropped at the one. Bowman followed with a 1-yard run up the middle for the 12-0 lead.
"The coaches really helped me out a lot and it was real easy just to transition in and just go on," said Bowman, who came in only knowing Smith and Galax receiver Kolton Keatley. "It was an all right day. Usually we don't throw it as much at Narrows so it was fun to throw the ball around."
Twin Valley's Xzavier Ward opened the third quarter with a 48-yard scoring dash down the left sideline. Richlands' Granville Proffitt forced a fumble on the ensuing play that was recovered by Blue Tornado teammate Jake Altizer. Bowman dashed 25 yards to get the ball to the West 7. He then eluded a rush and found Keatley in the back of the end zone, a rare connection between Mountain Empire District rivals.
"I told him I wasn't going to throw him the ball, but I ended up throwing it to him because he was wide open," said Bowman, with a smile. "He was open so I just chucked the ball up to him and he is a good player so he went up and got it."
Bowman threw for 87 yards and ran for another 58 to pick up MVP honors, and also showed flashes of his future at Emory & Henry, making a couple of tackles for loss at the end of the game.
"It makes me feel really good that all my work is paying off," he said.
Marion's Luke Pruitt finished off the scoring with a 2-yard plunge late in the final period, a play set up by a fumble recovery from Chilhowie's Colby Crutchfield. Much like any game, turnovers played a role in this one. That, and a few players who decided not to play.
"Neither one of us had much practice, and both teams lost a lot [of players]. They have got baseball, track and everything going on right now so we didn't quite have the turnout," Rhodes said. "Everybody is out of shape, but they got to play football and they executed a little better than we did and that was the story for the ball game.
"If you lose the turnover battle you usually lose the game. Hats off to them, they played well. It is just a great event for everybody to be a part of."
West offensive MVP Jeremiah Allen from Castlewood would certainly agree. Ridgeview's Colt Fletcher was the defensive MVP for the West.
"We were all excited to play. We didn't know how the weather was going to affect us, but it turned out well in the end, we all had a good time," Allen said. "It is just a great time to come out here and go against people with equal talent as you and see who is the best of the best.
"It was just a great experience altogether."
Austin Cooper, who served as the head coach of the East squad, picked up a win in his final game representing Hurley. He has resigned and will relocate to Christiansburg so his wife can take a job there.
"I went out as a winner, that is a good way to end," said Cooper, who does expect to coach again in the future. "We had one practice, but we had a great group of guys. Great kids, smart kids, they wanted to be here, they wanted to compete and I thought they did a really good job today.
They fought the weather pretty well. We were all burning up, that is for sure."
Then the game ended, the few hundred fans on hand were allowed on the field, something that rarely happened during the spring due to COVID concerns.
When you see the smiles on the faces and see the joy of finally getting to scrap it on and people actually being able to be here, families being able to get pictures after the game, it felt more like football than we have in the past year," Rhodes said.
As for Stephenson, he had his plans made for the evening.
"I am a good sized guy. I am going to go home and maybe sit in the ice tub and see what happens," he said, with a smile. "Football is a big part of my life and for this to be the last time I play with half of these guys, it is a blessing."