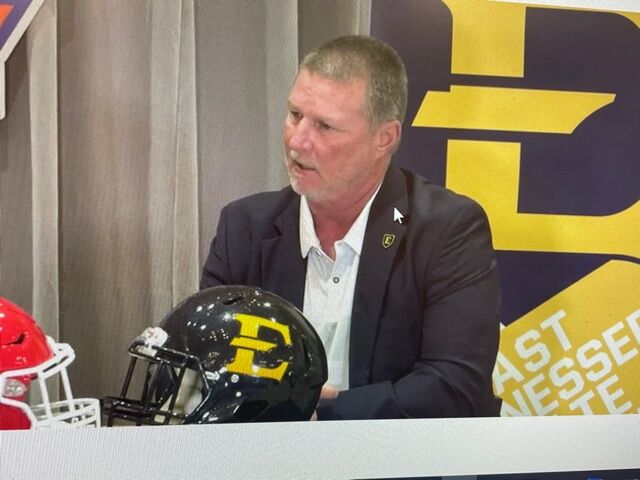 Close games have been the norm for the East Tennessee State football team as Randy Sanders enters his fourth season as head coach of the Buccaneers.
Expect more of the same in the 2021 fall season. And, not just in Johnson City.
"I think this fall is going to be that way even more so. You have got a lot of good football teams," said Sanders, who is 15-15 in three campaigns with the Buccaneers.
Sanders, who took part in the Southern Conference football media day on Monday in Asheville, North Carolina, wasn't sure who to pick as favorites in the preseason coach's poll.
"I think we are in for a great fall, I think it is going to be very, very competitive," Sanders said. "I think it is going to be a lot of fun. I am looking forward to coaching in it and I think our players are looking forward to the season and playing. I certainly think our fans should be excited about it because I think it is going to be a lot of fun."
How close have those SoCon games been?
Sanders has coached in 22 league games in three seasons, and 19 of those have been decided by eight points or less. ETSU was 6-0 in those games in 2018 to claim a share of the SoCon title and a berth in the FCS playoffs in his first season in Johnson City. The Buccaneers were just 1-6 in 2019 in league play, and finished 4-2 in an all-league slate in the spring.
Even his own family has been yearning for a few breathers along the way.
"It would be very nice to win a game by more than one score in Johnson City," said Sanders, a former offensive coordinator at Tennessee, Florida State and Kentucky. "I would love to do that. My wife and daughters are asking for it, which they kind of got used to that during my time in Tallahassee, but it will be very competitive."
VMI surprised many by winning the SoCon title in the COVID-shortened spring season, the Keydets' first league crown since 1977. VMI, which lost to James Madison by seven points in its first-ever FCS playoff appearance, won three games in the spring by five points or less.
ETSU defeated the Keydets, but lost two games by – you guessed it – four and eight points.
"It is a decision here or there. It is who is at full speed, who is nicked up a little bit with an injury. It may be a turnover, make a kick, miss a kick," Sanders said. "The difference in winning and losing right now in the Southern Conference is really razor-thin. It is there for anybody.
"You have got to take your hat off to Coach [Scott] Wachenheim and what those guys at VMI have done the last few years because they have found a way to win those close games. If you are going to be conference champions, you had better be ready to win close games and you had better be ready to win games late in the fourth quarter."
With all starters returning on both sides of the ball and on special teams – thanks to the NCAA ruling that no eligibility was used in the spring – expectations are high for ETSU, at least judging by the preseason polls released during Monday's media day football function.
ETSU finished in a tie for third in the media poll behind Chattanooga and VMI, and fourth in the coaches poll behind Chattanooga, Samford and VMI. The Mocs were the choice to win the league in both polls.
"I think we have a chance to have a good team, but I don't know who is this league does not have a chance," Sanders said. "It is going to be really competitive, I think the difference between winning and losing is really fine and it is going to be a lot of fun. I am looking forward to it.
"It is a great challenge, but that is why you do it is for the challenge of getting out there and competing."
Ten ETSU players were selected to the SoCon preseason all-conference teams. That includes all-everything Quay Holmes, who was first team at running back and a second team return specialist. Other first teamers included OL Tre'Mond Shorts, TE Nate Atkins, LB Jared Folks, DB Tyree Robinson and K Tyler Keltner.
OL Tavon Matthews, LB Donavan Manuel and DB Alijah Huzzie were second team selections.
Samford quarterback Liam Welch is the preseason SoCon Offensive Player of the Year, while defensive honors went to Stone Snyder of VMI.
Perhaps no team has a more experienced player than Folks, who shared SoCon Defensive Player of the Year honors with Snyder while playing linebacker for the Buccaneers. He is preparing for a remarkable eighth season of college football.
"When you talk about experience you have got to talk about Jared Folks," Sanders said. "You talk about a super-duper senior. As far as I know he is the first player to ever play eight seasons of college football. There have been older players, but there never has been anyone that has played that long."
The 6-foot-1, 230-pound redshirt senior from Harrisburg, Pennsylvania, spent four seasons at Temple, redshirting his 2014 freshman season and sitting out the following year with a shoulder injury. Folks recorded 10 tackles in a game against Central Florida in 2016, and then played little due to injury for the Owls in 2017.
Folks chose the graduate-transfer route, landing at ETSU in 2018, earning All-SoCon second team honors at linebacker. He was injured much of 2019, and then had a stellar campaign in the spring of 2021. Since the spring didn't count for eligibility, he chose to return for one final season.
"He is getting ready to play his eighth season. It is not too often you get a graduate transfer who plays four years," Sanders said. "He made All-American in the spring, excited to have him back returning."
ETSU, which opens its season on Sept. 4 at Vanderbilt, has announced kickoff times for its six home games at Greene Stadium.
The Buccaneers will host a pair of non-conference games against University of Virginia's College at Wise (Sept. 11) and Delaware State (Sept. 18), with both slated for 7:30 p.m. The first of four SoCon home contests will begin with Wofford on Oct. 2 at 3:30 p.m., with The Citadel visiting for a 4:30 p.m. kickoff on Oct. 9. Both November games, including homecoming with VMI on Nov. 6, and a Nov. 6 home game with Mercer will begin at 1 p.m.
The Southern Conference returns 87 percent of its letterwinners the spring campaign, bringing back 553 of 636 players from last season. The SoCon, which has won eight FCS titles – the second most all-time in the nation – enters its 100th season of college football.
Southern Conference Preseason Poll