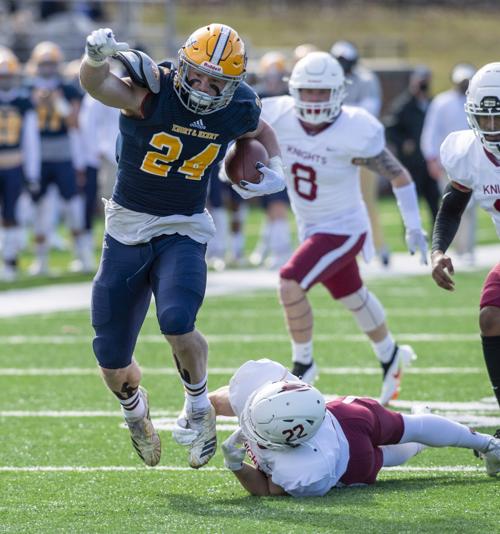 EMORY, Va. – Emory & Henry Wasps football coach Curt Newsome has a bottom-line message for his team today.
A win over Guilford College translates into a ticket to the Old Dominion Athletic Conference championship game on April 2.
"That's what we're selling to our guys and they are excited about it," Newsome said.
Earlier this week, Washington and Lee athletic officials decided to opt out of their truncated spring football season without playing any games due to concerns with COVID-19. The Wasps (2-0) were scheduled to travel to W&L on March 26.
Newsome said E&H explored the possibility of scheduling a game with Bridgewater.
"We just couldn't work it out because of logistics," Newsome said. "And of course, we wanted to play the W&L game."
The immediate concern is today's 2 p.m. contest against Guilford.
E&H opened the season with 17-0 victory at Ferrum, followed by a 47-14 win against Southern Virginia last Friday in Emory. The lone game for Guilford was a 44-0 loss at Randolph-Macon on Feb. 26.
To avoid overnight trips, the ODAC was basically broken into two divisions for the spring football season. E&H was lumped together with Ferrum, Southern Virginia, Guilford and W&L.
With a victory today, the Wasps will be in line to face the winner of the March 27 contest between Randolph-Macon and Hampden-Sydney. Those two traditional rivals each have two wins against ODAC foes.
No site has been announced for the title game, but factors such as total points, victory margin and points allowed will be factored in.
"Since we're only able to play three games, I would imagine we would have to travel," Newsom said.
That means today's game will likely be the spring season home finale for E&H.
As was the case last week, attendance will be capped at 1,000 with general public tickets released after allotments are given to parents and students.
"We have the best fans in the ODAC and it's neat to have people in the stands," Newsome said. "The stadium wasn't as noisy as usual last week, but it means a for our players to have their parents watching them."
According to Newsome, his players have acted with caution and discipline in regard to following COVID-19 protocols.
For example, all E&H players were moved to the same dorm for this school year.
"I think we're the only team in the ODAC doing that," Newsome said. "We've actually created our own bubble, and that has created more unity among our guys."
The Wasps undergo COVID-19 tests 72 hours before each game. Newsome said he has taken around 12 PCR tests, a process which involves taking a swab from the throat and nose.
"That's not something I look forward to every week, but I've been pleased with the discipline shown by our guys," Newsome said. "Our players will have the opportunity to take their first vaccine shots next week along with rest of student body. That's an exciting step."
In addition to stressing over the COVID-19 test results, Newsome and his coaches have been working overtime to prepare for Guilford.
In the loss to Randolph-Macon, every member of the Guilford offensive line was sidelined due to COVID-19 issues quarantine.
That forced Guilford head coach Brad Davis, who was elevated to his position in December of 2020, to rely on his backup defensive linemen as offensive linemen.
"We were watching on Guilford on film this week when we noticed that something didn't add up with their two-deep on the offensive line," Newsome said. "I can't even imagine having to do what Coach Davis did."
Those offensive linemen have been cleared to play today.
Players to watch for Guilford include running backs Joey Strong Jr. and Derrien Phillips along with linebacker Ty Walker and Bryce Smith. GC lost three fumbles in its season opener and managed just 87 total yards.
"We really don't much about Guilford, but they will be a different team from what they showed against Macon," Newsome said.
E&H is averaging 32 points per game, with an average of 164 yards passing and 213 rushing.
"We still need to be more consistent in our passing game," Newsome said.
Newsome said his reworked offensive line is making steady progress.
"Anytime you have three new starters up front, it takes an adjustment," Newsome said.
E&H junior nose guard Donovan Pinnix (Eden, N.C.) earned ODAC defensive player of the week honors for his for his eight-tackle performance against Southern Virginia. Pinnix leads the team with 15 tackles, four sacks and two forced fumbles.
"Donovan is a great kid and hard-nosed player. He's earned his success," Newsome said.
Now that W&L game is off the schedule, Newsome said he will have more time for recruiting and other essentials.
"We will take a little time off to get everything in order and to make sure we keep passing those COVID tests," Newsome said.
All that will come after today's pivotal showdown against Guilford.
"The stakes are high," Newsome said.