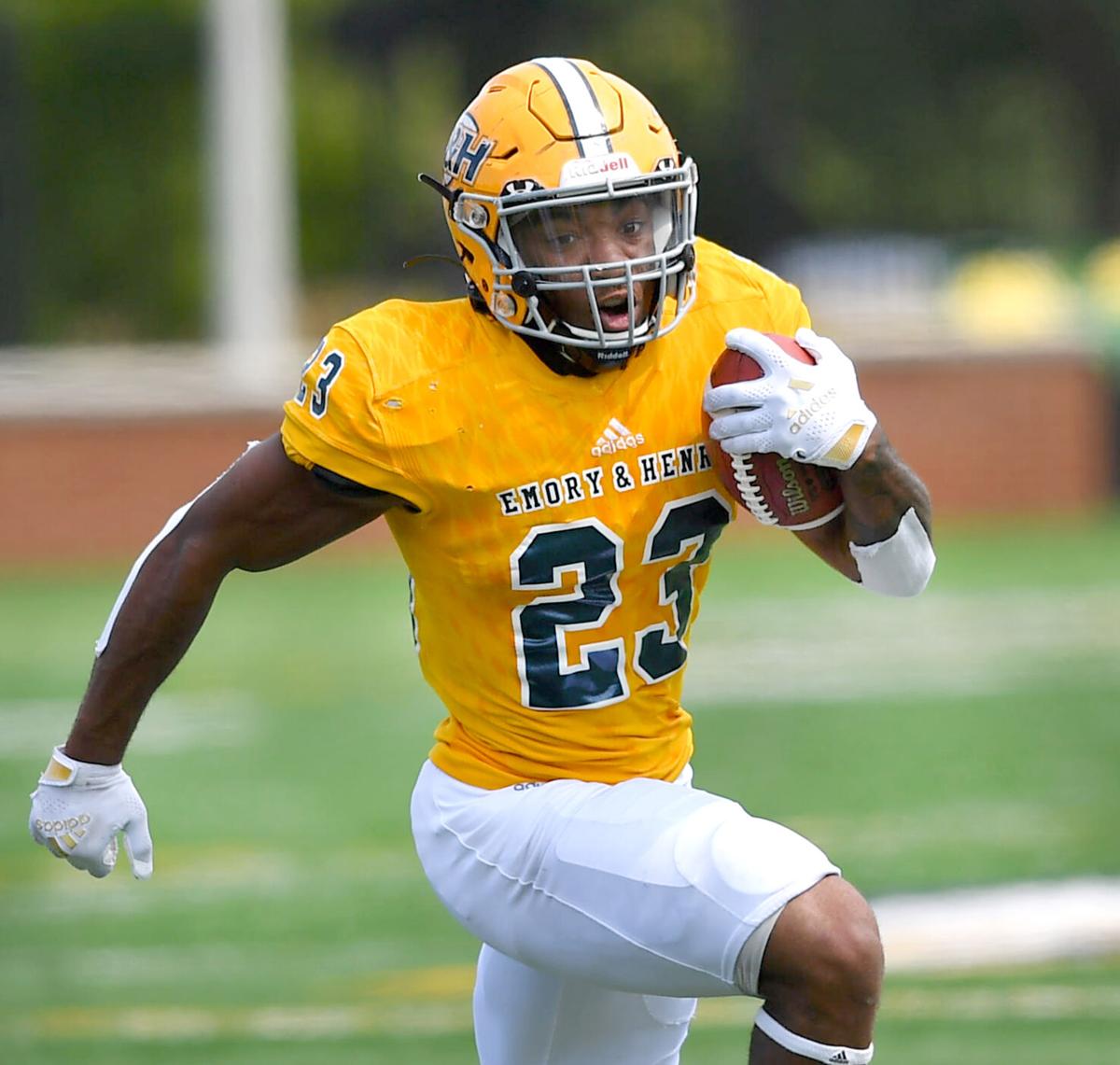 EMORY, Va. – Emory & Henry senior running back Devontae Jordan ranks second among all NCAA III players in rushing and all-purpose yards per game.
Jordan's circuitous journey to the top is just as impressive.
The path has included guidance from a famous uncle, stops in Wise and Canada, a job at Food City and a surprise phone call.
"And now I've found a home in Emory," Jordan said.
Through six games this season, the 5-foot-9, 192-pound graduate of Bassett High School has accounted for 1,107 yards rushing, 1,202 all-purpose yards and 15 touchdowns.
Jordan is the first E&H player to rush for at least 1,000 yards in a season since 2010. He's closing in on several school records, including the single-season mark of 20 touchdowns.
Not bad for a guy who didn't even play football until the eighth grade.
"I was raised by mother and grandmother, and I just never really into the sport," Jordan said.
Enter a big man named DeVone Claybrooks, a Bassett graduate who spent seven years in the National Football League, won a Super Bowl with Tampa Bay in 2002, and served as head coach of the BC Lions in the Canadian Football League.
"That's my uncle," Jordan said. "He taught me about football, and it turned out to be natural transition for me."
After starring for the Bassett High School Bengals, Jordan joined the football team at the University of Virginia's College at Wise as a walk-on in 2016. He played one game as a freshman and rushed for 62 yards as a sophomore.
This is where the journey gets a bit more complicated.
Following a transfer from UVa-Wise, Jordan moved to Halifax Nova-Scotia Canada, where he planned to play for the St. Mary's University Huskies.
Jordan eventually decided to spend more time with his family in Bassett.
Then came a life-changing message from current E&H offensive coordinator Kamden BeCraft.
"I don't know how Emory knew I was back in the States, but Coach BeCraft just called me one day," Jordan said. "I made a visit and fell in love with the campus."
Jordan was forced to sit out the 2019 season at E&H due to transfer requirements.
"That was a little discouraging at times," Jordan said.
While he was waiting for his chance with the Wasps, Jordan worked at the Food City location in Abingdon for five months.
Jordan gave E&H fans a preview in the spring season, compiling 308 all-purpose yards in three games and scoring touchdowns by rushing, receiving and returns.
With a unique running style where he patiently waits for running lanes to develop, Jordan has rushed for at least 100 yards in every game.
Coming into the season, Jordan said he expecting to split time in the backfield with Grayson Overstreet.
"When Grayson got hurt (torn flexor), I played with a chip on my shoulder and I knew that I had to take the load," Jordan said.
Jordan isn't lacking for motivation. He still remembers being overlooked by scholarship schools coming out of high school. Jordan gains more fuel from his family, including his one-year old son Kingston.
"Knowing that I have someone to play for other than myself has made me grow up faster," Jordan said.
Jordan must also juggle time as a business major.
"It's a pretty tight schedule, but I manage it pretty well," Jordan said. "Several people help with baby-sitting, including my mom who still comes to games with my grandmother. They've always been super supportive.
"My mom always tells me to set high standards for my son, and that's what I'm trying to do."
According to E&H head coach Curt Newsome, Jordan is the perfect antidote for the 3-3 stack defenses that are being increasingly employed against run-pass option teams like the Wasps.
"Devontae is strong and quick, and he does a great job of zone running," Newsome said. "Devontae doesn't say much. He just goes to work."
With 31 carries for 162 yards, Jordan worked overtime in last Saturday's 37-13 win against Hampden-Sydney.
Was Jordan sore on Sunday morning?
"Not at all," he said. "I'd like to carry the ball 41 times. I've always watched my nutrition and take care of my body."
The health maintenance includes regular visits to the weight room, where Jordan said he can bench press up to 400 pounds.
Now that Jordan has become one of the most productive college players in Virginia, has he been checking the national stats and E&H record books?
"No, I've never gotten caught up in numbers," Jordan said. "I don't even know what my numbers were in high school because a lot of my stats were lost.
"I just want to do my part of the team and lead by example."