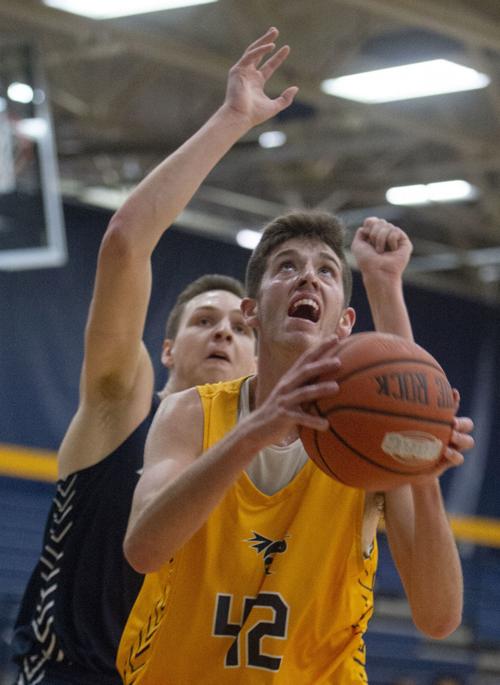 EMORY, Va. – Ben Thompson faced a variety of challenges in his debut season as men's basketball coach at Emory & Henry.
The Wasps are already facing another obstacle this season, with the first three games cancelled.
In a Wednesday interview, Thompson confirmed the issue is COVID-19.
"We're kind of in the COVID return to play protocol. I can't touch on it much more than that," Thompson said.
E&H is now scheduled to open the season on Feb. 2 at Roanoke College.
Thompson said he expects his team to return to the practice court "sometime next week."
"Having to stop to stop and start is a challenge for anybody, but I expect our guys will come back ready to prepare and play," Thompson said. "It's just another set of adverse circumstances that we have to battle through."
The gauntlet of the 2019-20 season included player departures and key injuries. The Wasps (7-19, 4-12) finished as the 10th seed in the Old Dominion Athletic Conference, falling to Ferrum in the first round of the tournament.
E&H was picked to finish 11th among the 13 team ODAC teams in Wednesday's coaches poll.
"We finished 10th last year and most of the coaches saw that we lost Colin Molden, but they have no idea who we brought in," said Thompson, referring to the second-team All-ODAC guard. "It (the poll) doesn't surprise me. I am sure it will be a motivating factor to our guys."
The E&H roster includes six newcomers, including three transfers from the community colleges and a pair of local freshman recruits in the 6-foot-6 forward Corey Keene (Grundy) and 6-4 guard Andrew Hensley from Gate City.
Thompson has not settled on a starting five.
"We still have a ways to go on that, but there a lot of guys that can start," Thompson said.
Despite the issues with COVID, Thompson said practice has gone well.
"The new guys are really talented and the returners have come back better," Thompson said. "Both groups have kind of jelled together, so I think we have a chance to be pretty good."
Molden, a clever and versatile guard, averaged 19.6 points per game last season en route to become the 17th player in program history to score at least 1,000 career points.
The new leader for the Wasps figures to be Robert Holliday, a 6-4 senior guard. Holliday averaged 17.5 points, 8.6 rebounds and 2.8 assists per game through eight games last season before suffering a season-ending injury.
"It's good to have Robert back for a full season," Thompson said. "Last year was tough for Robert. He averaged almost a double-double in points and rebounds despite playing hurt. We will rely on him a lot from an experience standpoint."
E&H will also rely on veterans such as 6-4 junior guard Anthony Williams (Lynchburg, Va.), 6-2 junior guard Micah Banks (Simpsonville, S.C.), 5-11 junior guard Jordan Grant (Windermere, Fla.), 6-2 sophomore Kevin Grau Rodriquez (Tampa, Fla.), 6-8 sophomore forward Dylan Catron (Chilhowie) and 6-2 junior guard Jake Martin from Wytheville.
Williams averaged 10.4 points last season, while Banks added 10.1.
The cast of transfers features a familiar name in 6-5 junior guard Tyler Arnold, a former Sullivan North standout who spent the past three years at Walters State Community College in Morristown, Tennessee. The other transfers are 5-10 junior guard Cam'ron Ginn-McKinney (Dothan, Ala.) and 6-8 junior forward Liam Bonk from Theresa, N.Y.
Five-foot-11 point guard Patrick Antonelli topped the state of South Carolina in assists last year while playing at Bishop England High School in Mount Pleasant.
"We have a lot of depth and competition at every spot," Thompson said. "Our new guys are kind of figuring things out, and I think they will all have a chance to help us in some capacity."
Despite the record last season, Thompson said he was pleased with how his players battled through hardship and finished the season strong.
"Obviously we want to be more successful on the court, but we played hard and we've brought in some really high character guys," Thompson said. "I think the foundation has been set, and we're moving forward in the right direction."
Spectators will not be allowed to attend any ODAC indoor events during the spring 2021 semester. E&H fans can watch game online at www.GoWasps.com/live.
The original schedule for E&H included road games at ODAC rivals Shenandoah (Jan. 23) and Lynchburg (Jan. 28) along with a Jan. 30 home game against Bridgewater.
Randolph-Macon is the favorite to win the league, earning 10 of 13 first-place votes. Virginia Wesleyan is second with the final three first-place votes as Washington and Lee, Roanoke and Lynchburg round out the top five.
Due to the COVID-19 pandemic, the ODAC created a single round-robin schedule with 12 conference games for each team. The ODAC Tournament will feature four teams, with tournament games taking place on-campus.
Has Thompson, a Lebanon native, been able to find a comfort zone in his second season at E&H?
"In most situations I would say yes, but nothing is very comfortable during this pandemic," Thompson said. "It's good to be back in my home area. But it's just been a crazy year in general with things constantly changing."
Thompson has been had found way of finding peace in the valley of adversity. His son, Joshua Patrick, is seven months old.
"Having him around provides perspective," Thompsons said. "Any problems or issues I may have during the day kind of melt away when I see his smile or hear him laugh."