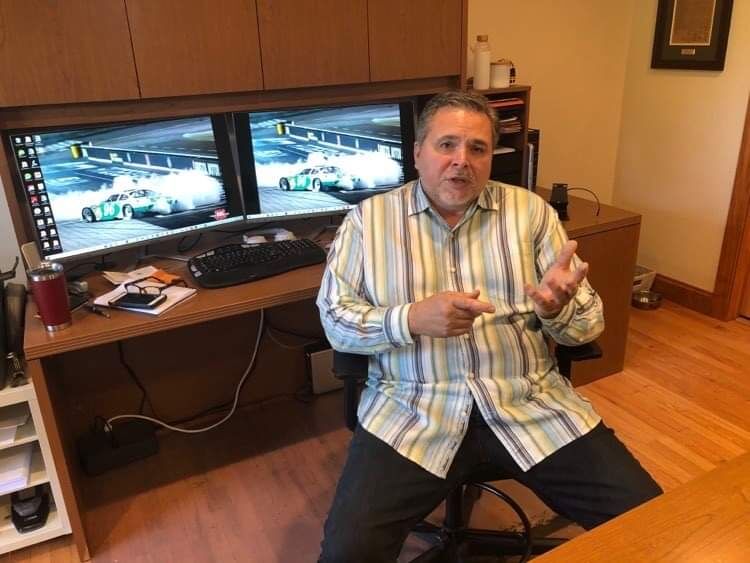 ABINGDON, Va. – Wade Lopez loves to compete.
On the football field, the 57-year-old Abingdon resident starred as an offensive lineman and linebacker at Abingdon High School and Concord University in West Virginia.
In the business world, Lopez has grown his Concord Wealth Partners financial planning firm into a five-branch juggernaut covering three states.
The next goal for Lopez is to make an impact in another hyper-competitive arena.
"The same fundamentals that work in business can work in motorsports," Lopez said.
He earned over 10 wins and a track title as a driver in the Late Model and Limited classes at Lonesome Pine Raceway and Kingsport Speedway before signing a deal to compete in the national Goody's Dash Series.
"I wanted to learn the sport from the ground up, and I was able to do that. I also made an agreement with my wife that I would quit driving after I won a championship," Lopez said.
For nearly 20 years, Lopez has operated the Abingdon-based Highlands Motorsports team.
"I originally had aspirations of being a car owner like Rick Hendrick and Charlie Henderson, but I had to spend time building my other business," Lopez said.
And that's where Don Henderson, the brother-in-law of Lopez, comes in. Henderson, who played on the same offensive line at AHS with Lopez, is the co-owner of the Henderson Motorsports NASCAR Truck series team with driver Parker Kligerman.
Lopez is a corporate partner with the Henderson operation, and was an associate sponsor on the truck Kligerman drove to a fourth place finish in the Sept. 18 Truck race at Bristol Motor Speedway.
The cars and trucks from both teams are housed in the same historic race shop in Abingdon.
"Don and I thought it would be a good idea to combine our resources for a lot of the obvious reasons, but mostly because we knew our best resource was the talent on our teams," Lopez said. "We may not have the depth, but our first team stacks up against anyone."
Josh Reeves, the son-in law of Lopez, is a partner in Highlands Motorsports. Reeves, a Martinsville native, drove to victory at BMS in 2018 during the Pro Late Model portion of the Short Track U.S. Nationals.
Reeves now handles a variety of mechanical and management roles for the Henderson and Highlands teams.
"Josh has a unique range of talents," Lopez said. "He's a good driver and loves to race, but we wanted to let him learn the business side of the sport and guide the growth of our team."
Reeves had a different vantage point at BMS for the 2020 edition of the Short Track Nationals on Sept. 26. He served as the crew chief for Wisconsin driver Alex Prunty before a practice crash destroyed the Highlands Motorsports entry.
"Josh had put together a game plan, just like he did when he won at Bristol as a driver," Lopez said. "We were among the top four fastest cars on Saturday, even with older tires."
That misfortune at BMS forced Lopez to cancel plans to enter Prunty in the famed Winchester 400 in Indiana on Oct. 11. Lopez still hopes to field a Super Late Model car in the Nov. 1 All-American 400 at Nashville Fairgrounds Speedway.
"I have nothing against Late Model cars, but that form of racing is based on momentum instead of horsepower," Lopez said. "With the Super Late Models, a driver can learn throttle control in lighter cars with more horsepower."
Lopez recently bought a new Super Late Model from the successful FURY Race Car shop in Mooresville, North Carolina. The Pro Late Model car that Reeves won with at BMS was formerly owned by Stephen Wallace, son of 1989 NASCAR Cup champion Rusty Wallace.
"We'd like to run for the Super Late Model points championship next season on the CARS tour," Lopez said.
For now, Lopez and Reeves are working to put together an alliance with a young driver and corporate sponsor. The template for Lopez comes from successful training ground operations like Kyle Busch Motorsports and GMS Racing.
"Our goal with Highlands Motorsports is to assist Henderson Racing by building a top-tier feeder program for younger drivers," Lopez said. "There's no doubt in my mind that Parker and Henderson Motorsports could win a Truck series title if the proper funding and depth could be added to help the first team. We want to assist in that effort."
Lopez has one other long-range ambition, and it goes in line with his competitive fire.
"Part of my business is to assist small business owners and promote job growth," Lopez said. "With my race team, I hope to provide a platform that will accomplish those goals.
"Abingdon has been good to me and my family, and I want to help the area grow any way I can."
Be the first to know
Get local news delivered to your inbox!