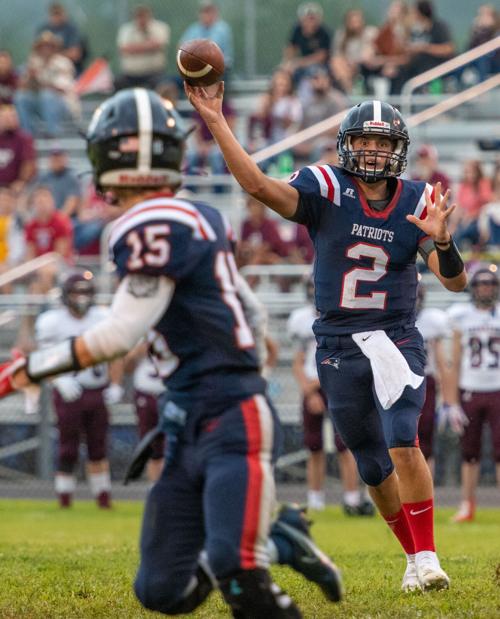 KINGSPORT, Tenn. – Just refer to Ethan Bradford as "The Gunslinger."
When pressure comes, the Sullivan East senior is able to create magic with his scrambling ability, courage and strong arm.
Take's Friday's performance as an example.
Bradford passed for a school-record 323 yards with five touchdowns as the Patriots earned a 46-0 win over the Sullivan North Raiders at Benny Compton Field.
"I will remember this night for a long time," Bradford said. "It's been a rollercoaster of a season, but we all focused in and had success."
The previous single-game passing mark of 276 yards for East was established in 1991.
So how does Bradford manage to stay so composed?
"I just really trust my line to give me time, and I trust my receivers to get open," Bradford said.
Bradford said he's added pieces to his skill-set with each game by reading coverages and letting plays develop.
"I kind of struggled with things like that in the summer, but my coaches have really helped me in those areas," Bradford said. "I had happy-feet at the beginning of the season and tried to get out of the pocket. Now with the help of my line, I'm able to settle in."
It was first-year East coach J.C. Simmons who convinced Bradford to play football for the first time since fifth grade this summer.
"Ethan has been fun to watch," Simmons said. "Sometimes he plays the game like a basketball player. He steps around, moves up in the pocket and make plays."
The final home game in the history of Sullivan North began with an elaborate senior night program and new uniform tops.
Feeding off that emotion, the Raiders mounted an 11-play drive to the East 6-yard line. That's when the dark cloud returned for North and Bradford began his magic act.
On a wide receiver screen, the fearless senior connected with junior Luke Hare on a 72-scoring pass.
Bradford was just getting started. On the next East drive, he weaved around several rushers before zipping a 77-yard TD pass to senior Caleb Smith.
Bradford completed his first six passes for 169 yards, while Hare compiled 110 yards receiving in the first half. Hare finished the game with over 170 yards receiving and two scores.
"Ethan and I started working over the summer and we just built a connection," Hare said. "Tonight, we were firing on all cylinders."
According to Hare, no play is ever dead with Bradford in control.
"Ethan is versatile back there," Hare said. "He keeps his composure, stays in the pocket and moves around. I'm glad Coach Simmons convinced Ethan to play."
The fun continued for East (3-6) at the 5:20 mark of the second quarter as powerful senior Thor Poe ran over two potential tacklers en route to a 40-yard touchdown.
Poe added a 3-yard TD blast with 44 seconds left in the first half to give East a 27-0 lead.
Sullivan North (0-9) has now dropped 12 straight games, including a pair of losses due to COVID-19 issues, and has scored just 30 points all season.
The Raiders, who have used a variety of options in the backfield, showed a spread formation early Friday with senior quarterback Bryant Herron operating out of the shotgun.
With their passing game sputtering, North quickly moved to a power-based running attack featuring massive lineman Tyler Fugate as a blocking back.
But just 27 players dressed out for North and three more Raiders went out with injuries in the first half. The Raiders were also slowed by eight penalties and two turnovers in the first two quarters.
Fullback Ethan Norris led the Raiders with 53 yards rushing on 14 carries.
The second half began with another masterstroke from Bradford, as he hit junior Hunter Brown with a 30-yard scoring strike.
Moments later, Bradford faked out the North secondary with a clever pump fake before hitting Brown with a 37-yard TD pass to make the score 39-0.
Bradford punctuated his record night with one more strike to Hare on another screen.
"Our other receivers did a great job blocking on both of my scores," Hare said. "It was open field the entire time."
East finished with 360 yards passing, including a pass from Brown. Freshman Dominic Cross added 46 yards rushing.
Senior linebacker Owen Laprade led the East defense along with Brown and senior defensive back Seth Chafin, who intercepted a pass.
East will close out the regular season next week at Greeneville. Simmons wishes he could have another year with his ever-improving quarterback.
"Ethan has grown 100 percent since the summer, on and off the field," Simmons said. "I'm proud of him."
Sullivan East 14 13 12 7-46
SE – Hare 72 pass from Bradford (kick failed)
SE – Smith 77 pass from Bradford (Ivester pass from Bradford)
SE – Poe 40 run (kick failed)
SE - Poe 3 run (Torbett kick)
SE – Brown 30 pass from Bradford (kick failed)
SE – Brown 37 pass from Bradford (kick failed)
SE – Hare 29 pass from Bradford (Torbett kick)
First Downs: SE 14, SN 12; Yards Rushing: SE 114, SN 92; Passing Yards: SE 360, SN 20; Comp.-Att.-Int: SE 16-20-0, SN 2-10-1; Fumbles-Lost: SE 2-1, SN 8-2; Penalties-Yards: SE 6-65, SN 9-85; Punts-Average: SE 0-0, SN 4-23.
Be the first to know
Get local news delivered to your inbox!