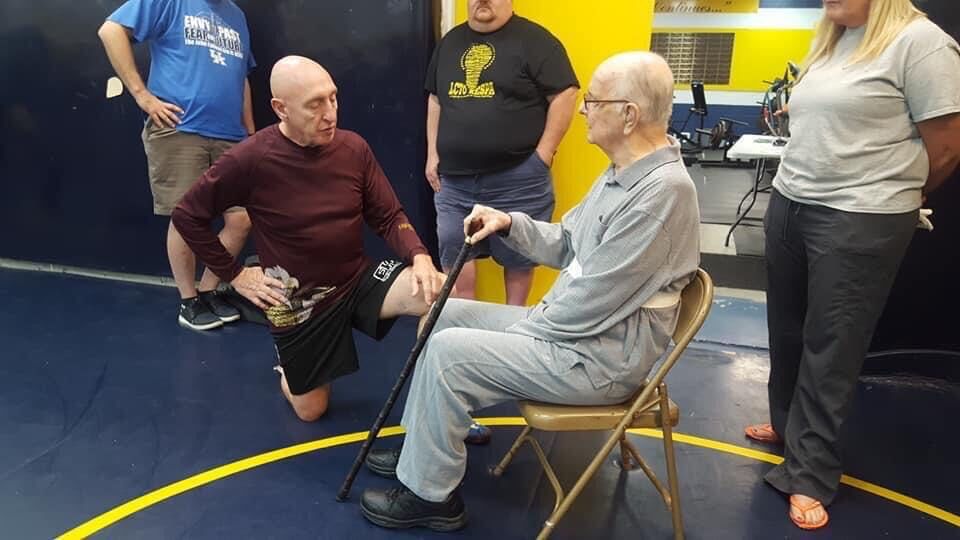 As the co-founder, benefactor, CEO and COO of the Grundy Wrestling Club, F.D. "Red" Robertson became a fixture at the VHSL state wrestling tournament for years and relished watching the Grundy High School Golden Wave collect those multiple first-place medals and trophies.
" Each year one of his favorite events was the high school state tournament," said Tass Robertson, Red's son. "From the speculation of how many champs to being the first spectator at the event, this weekend was one of dad's favorites. He would joke that the team's goal was to go to the state tournament every year and for all the other teams to know before the first match, they were wrestling for second. Thankfully, we have had many of those tournaments to enjoy."
Robertson died on Jan. 17 at the age of 86 and Grundy has dedicated its season in memory of the man who helped put the Golden Wave's renowned wrestling program on the map.
Twelve Grundy wrestlers have qualified for the Class 1 state tournament, which will be held today at the Salem Civic Center, as the Wave are the favorites to win their 24th team title.
Among the headliners for the bunch from Buchanan County is 220-pound senior Peyton McComas, who is going for his third state individual championship and is nationally ranked.
" When I met Mr. Robertson the first time at the gym, I was in middle school," McComas said. "I remember thanking him for letting me wrestle and for everything and he thanked me for wrestling for Grundy. He thanked all of us and I thought that was very special. The intimidating part is wanting to live up to the legacy that he has provided for us, seeing all the state champions on the wall and just wanting to do my best to get my name up there too and represent the program well."
Grundy might be synonymous with the sport of wrestling in Virginia and the surrounding states, but that hasn't always been the case.
" When the Grundy Wrestling Club began, Grundy wrestling was in a slump," said Reid Ratliff, a former Grundy standout. "Grundy had produced several individual state champions and even a team title in 1978, but in the years following, the sport had changed and became dominated by Norfolk-area schools. I remember going to the state tournament in 1985 and Grundy finished near the bottom in team score.
" In 1986, Grundy finished in third place as a team and of course in 1987 we started the run of [12 straight] championships. As I look back now after coaching a high school program myself, it was amazing how quick the success came. That was directly related to the vision and leadership of Mr. Robertson."
A coal operator, Red Robertson began closely following wrestling when his sons became involved in the sport and decided to lend his support.
He built a facility for the wrestlers to train, hired former NCAA All-Americans as coaches - first Ben Ward, then Kevin Dresser and now current head coach Travis Fiser - and funded trips to tournaments all over the country.
There were some lulls in terms of championships for Grundy, but Robertson's dedication to his community never wavered.
"In 2005, after our population was dropping and we were wrestling up a division, I went to dad and said, 'Dad, the 3A state champ has seven transfers on it and the 2A state champs have 13. There is no way we consistently win state titles the way we did in the 1980s and 1990s. We have the apartments next to the gym, we could fill them up with state power wrestlers and be back on top,' " Tass Robertson recalled. "Dad set up straight, pulled down his glasses and said, 'Son, you don't know why we are doing this do you? We are doing this to provide the children of Buchanan County an opportunity to succeed. I didn't say anything about state titles and I sure as hell didn't say anything about recruiting any wrestlers. And furthermore, the only reason to do what you are talking about is to stroke a coach's ego.' "
Grundy's grapplers wear t-shirts honoring Robertson as this year's state qualifiers for the Wave - Kaleb Horn, Michael Taylor, Ethan Blankenship, Carson Griffey, Chris Stiltner, Jacob Stiltner, Ian Scammell, Ethan Roberts, Isaac Coleman, Hunter Scarberry, Logan Looney and McComas - attempt to keep the gold standard intact today.
The Class 3 state tournament will be held Sunday as Abingdon has two participants.
The Class 2 state tournament is set for Monday with John Battle's Avery Almany, Graham's Justin Fritz and Union's Thomas Potter as title contenders.
State champions from Southwest Virginia will be crowned once again in the sport Red Robertson loved.
" In wrestling, you get to play against somebody your own size," he told the Washington Post in 2003. "They give you kind of a level playing field. There's 14 weight classes and there's something in there for just about everybody. If you get into wrestling and work hard enough, you can accomplish something."