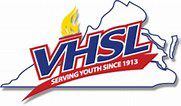 Wearing masks while practicing and competing in Virginia High School League sports during the COVID-19 pandemic remains an option.
The VHSL on Monday rescinded a decision made last week that required its member schools to follow health recommendations which would have forced athletes in several sports including basketball to wear masks during practices and competition.
VHSL executive director Billy Haun said in a news release Monday that the league incorrectly concluded that Gov. Ralph Northam's Requirement to Wear Face Coverings would include a provision to follow Virginia Department of Health and American Academy of Pediatrics recommendations stating "that students and coaches wear masks while competing in sports."
However, the VHSL said that the requirements for face coverings under Northam's Executive Order 72 "do not apply to … individuals exercising or using exercise equipment."
The VHSL — which is the governing body of the state's public-school athletics — is now "strongly" encouraging but not requiring the use of face masks for athletes and coaches during practices and games.
" VHSL apologizes for any confusion created by its original release," Haun said in a Monday release. "We ask the public to understand that it is the first mission of VHSL to make sure that athletics are conducted in a safe and healthy environment, and it was that desire that motivated the original decision."
In response to the VHSL's announcement Thursday night to require masks, the Virginia Independent Schools Athletic Association — which oversees athletics for many of the state's private schools — also issued a mask-wearing mandate on Friday.
Officials at North Cross and Roanoke Catholic were awaiting word Monday to see if the VISAA decision was still in effect.
While a handful of private schools in Virginia have begun playing basketball games, the public schools are beginning their second week of practice, many under restrictions for social distancing.
Many schools in the Roanoke area already have opted not to play winter sports — basketball, wrestling, swimming and indoor track and field — until January. Others will use VDH metrics on a weekly basis to determine whether to compete.
However, several schools — including Radford, Pulaski County, Giles, Narrows and Floyd County — are committed to opening the basketball season as scheduled next week.
Giles athletic director Steve Wilson said he will let the players on his varsity and JV boys and girls teams decide whether they want to wear masks during practices and games.
" I'm just going to say, 'Look, what do y'all want to do?' " the Giles AD said. "I recommend being prepared for it unless it changes back, but I'm going to leave it up to them.
" My kids put them on Thursday [during practice] and they didn't complain. I was very proud of our athletes."
Narrows AD Kelly Lowe said his teams will wear masks during selected practices.
" We're not going to enforce wearing them, but we're going to practice with them just in case we show up somewhere and we have to wear them," Lowe said.
North Cross athletic director Blair Trail serves on the VISAA's governing board. Trail said she has concerns about athletes in high-intensity sports wearing face masks.
The World Health Organization and the Centers for Disease Control maintain that wearing masks during high-intensity sports is not a good idea.
" I've been around so many kids with asthma attacks, and two that didn't make it," Trail said. "I find that more concerning than a healthy varsity player getting COVID.
" The American [Academy of Pediatrics], as of two weeks ago did not recommend it along with the CDC. The WHO and the CDC are sticking with what they said, that high-intensity [athletes] shouldn't be wearing masks."
The VHSL has scheduled a meeting Tuesday of its Executive Committee, which is composed of school superintendents, principals and athletic directors from across the state.
Franklin County principal Jon Crutchfield — the group's chairman-elect — said the meeting is partly to gauge how the state's 133 public school districts are handling winter sports.
" It's partly mask clarification and just to check in and see where everybody is," Crutchfield said.
Six of the seven Pioneer District schools — Bath County, Covington, Craig County, Eastern Montgomery, Highland and Parry McCluer — are on hold until at least Jan 4 with Bath pausing until Jan. 18.
The VHSL voted to delay its winter sports season and shorten the schedules.
Expect more delays, postponements and cancellations
" I want to be more hopeful but I'm not right now," Franklin County athletic director Crystal Worley said. "There's not a person that works in a high school wants the situation to be the way it is. We all want kids to be playing. But we still have to take care of children.
" My biggest fear … I've been in quarantine twice … I still have an 87-year-old mother to take care of. [COVID is] not discriminatory. If you're a compromised person, you'd better be careful."