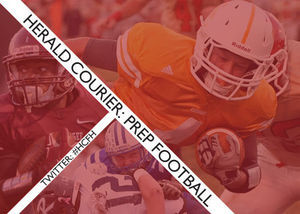 Patrick Henry (9-3) at Holston (12-0)
Last meeting: Holston 19, Patrick Henry 7 (Oct. 8, 2021 in Emory, Va.)
Holston is the defending Region 1D champ and the Cavaliers also won regional titles in 2008 and 2009. The Cavaliers were Region C runner-up in 1983 and 1984. …. Holston won the Region 1D title in the spring when J.I. Burton couldn't play in the finals due to a positive COVID-19 test within the program. … Patrick Henry won the Region 1D title in 2019, the only regional championship in program history. The Rebels were regional runner-up in 1990, 1997 and 2018. … This marks the fifth straight season a team from the Hogoheegee District will win the Region 1D title. … This is the second playoff meeting between the Washington County rivals. PH beat Holston, 29-6, in the 2019 regional semifinals. Many of the seniors on the current edition of the teams played in that game. … Patrick Henry has scored 85 points in its first two playoff games, but it will be interesting to see if the Rebels can get much going against Holston's lockdown defense led by linebackers Lane Blevins (129 tackles) and Dustin Bott (116 tackles). … Connor Beeson has rushed for 2,154 yards and 25 touchdowns this season and the Rebels have gained more than 3,700 yards on the ground collectively. Cody Pruitt (141 tackles) and Bobby Cline are the leaders on defense, while freshman Alex Brown has emerged as a playmaking defensive back. … Holston is one of eight unbeaten VHSL teams still playing. Riverheads (Class 1), Nottoway (Class 2), Graham (Class 2), Liberty Christian Academy (Class 3), Green Run (Class 5), Stone Bridge (Class 5) and Battlefield (Class 6) are the others. … Jordan Ezzell scored three touchdowns as Holston beat the Rebels last month, but coach Chris Akers of the Cavs isn't putting too much stock in the previous matchup. "Our last game with PH was in the rain with sloppy conditions," Akers said. "Both teams struggled at times. Both teams are different on a dry field. Beating someone twice in the same season is difficult. Winning the first matchup was nice, but it doesn't mean anything this week. I'm excited for both communities. Not very often do you have a regional title game that involves two teams located 12 miles apart. It should be fun."
Prediction: Holston 34, Patrick Henry 8
Ridgeview (9-3) at Graham (11-0)
Ridgeview earned its second straight dramatic playoff win last week behind freshman quarterback Ryan O'Quinn. With his team trailing Wise County Central 17-7 early in the third quarter, O'Quinn converted a serries of big plays with his arm and feet as the Wolfpack rallied for a 26-20 triumph. Juniors Cannon Hill, Ian Hartsock, Koda Counts Brandon Beavers also delivered in the clutch. Hill has compiled 126 points and nearly 1,300 all-purpose yards on the season. Beavers has over 1,000 yards receiving and 16 scores, while Counts has added 55 catches for over 500 yards. Hill and Hartsock lead the defense with over 100 tackles apiece, while Caden Gibson has 19 stops for loss. Beavers and Cody Deel have combined for seven interceptions, with Deel making several big stops last week. … Graham's semifinal victory over Union was also packed with emotion. On Monday of last week, the father of head coach Tony Palmer passed way. On Saturday, the collected 399 total yards en route to the win. "Our players and the assistant coaches, they just rallied around me and fought hard," Palmer said. Behind the senior threesome of 6-7, 320-pound lineman Brody Meadows, quarterback Zack Blevins and receiver Xayvion Turner Bradshaw, Graham has averaged 44 points en route to 11 straight wins. Bradshaw (500 yards receiving) averages 26 yards per touch and has scored 26 touchdowns on a mix of runs, receptions, kick returns and interceptions. In his first year as a starter, Blevins has generated 32 total scores while rushing for 1,1178 yards and passing for 954. Blevins is also a star on defense with 10 sacks. Other standouts include Ty'Drez Clements (966 yards rushing, 14 TDs), Braden Watkins (289 yards receiving, seven TDs), Sean Hughes (46 tackles), 6-3 Connor Roberts (39 tackles, five sacks), Ethan Church (35 tackles) and Brayden Meadows (34 tackles). The G-Men held Mountain 7 Districtplayer of the year candidate Zavier Lomax to 31 yards last week. … The aggressive Graham defensive front will put stress on Q'Quinn, while the mixture of Blevins and Bradshaw will frustrate the Ridgeview defense.
Prediction: Graham 28, Ridgeview 14
Lord Botetourt (8-3) at Abingdon (11-1)
Last meeting: Lord Botetourt 26, Abingdon 8 (April 16, 2021 in Daleville)
This will be a homecoming for rugged Lord Botetourt head coach Jamie Harless, a former Abingdon and Emory & Henry football standout. With a fundamentals-first approach built around power running and big offensive lineman, the Cavaliers have advanced to the past two Class 3 title games before falling to Hopewell and Lafayette. LB has won six straight games this season since early losses to E.C. Glass (41-30), Riverheads (62-38) and Appomattox County (35-14). LB earned a 28-27 victory at top seed Christiansburg last week. In the final three minutes, the Cavaliers stopped a two-point conversion attempt and recovered a fumble inside their five-yard line. In addition to recovering that fumble, Joey Isaacs contributed two interceptions and two touchdowns. Players to watch include quarterback Jakari Nicely (1,726 yards rushing, 637 passing), running back K.J. Bratton (1,085 yards rushing), Isaacs (10 interceptions) and place-kicker Bryson Harvey. Nicely rushed for 123 yards last week, while Bratton averaged over six yards per carry. The latest offensive line star is Virginia Tech recruit Gunner Givens. … In the spring matchup, Abingdon generated 228 yards with an equal balance of the pass and run but the Falcons were hurt by four turnovers. Current William and Mary player Martin Lucas led the Falcons with 96 yards rushing on 15 carries, while Malique Hounshell added 42 yards. LB rushed for 259 yards, as Dylan Wade accounted for 228 yards and two scores on 33 carries. LB has a 3-0 edge in this series, with home wins in 2015 (39-28), 2018 (63-27) and this past spring. …Hounshell has enjoyed a record-setting senior season with 1,376 yards rushing and 23 touchdowns, while senior quarterback Cole Lambert (1,577 yards passing, 14 TDs) has also been productive. Senior receivers Haynes Carter (900 yards receiving) and Peyton McClanahan have combined for 19 scores. … This will be the first time in school history that AHS has hosted a third-round playoff game. Abingdon's last regional title was in 1979. "Our guys are eager to make more school history," AHS coach Garrett Amburgey said. "Lord Botetourt is always big and strong, and they want to play physical. It will be a challenge, but we're excited to be playing at home." …Christiansburg generated 208 yards rushing against LB last week. That's a good sign for Hounshell, Lambert and the balanced AHS offense.