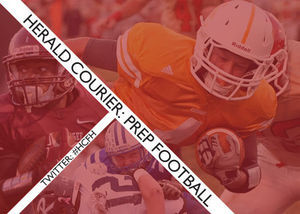 Wise Central at Ridgeview
Last meeting: Wise Central 14, Ridgeview 7 (Nov. 23, 2019 in Rose Ridge)
The focus will be on a pair of senior running backs. … Ridgeview's Trenton Adkins, who has signed to play at Toledo, accounted for 2,856 yards and 47 touchdowns last season. C.J. Crabtree of Wise Central rushed for 1,877 yards. … Both teams have experience and depth, but Adkins makes the difference. … After falling 41-20 to Ridgeview in the regular season back in 2019, Wise Central gained revenge in the Region 2D semifinals. On a foggy and cold night, the Warriors rushed for 246 yards and held Adkins to 117.
Prediction: Ridgeview 21, Wise Central 14
Last meeting: Gate City 49, John Battle 21 (Oct. 25, 2019 in Bristol, Va.)
Gate City graduated 13 seniors from a 4-7 team but senior quarterback Luke Reed and junior running back Carson Jenkins are proven playmakers. … Quarterback Jack Thurston and running back Zach Moore are players to watch for John Battle. …Reed and Michael Calhoun (166 yards rushing) led GC in the last meeting against Battle. … Look for another big night from the rugged Reed.
Prediction: Gate City 28, John Battle 7
Last meeting: Union 41, Lee High 7 (Aug. 30, 2019 in Jonesville)
Lee High features senior captain Nick Napier at running back and linebacker, while junior quarterback Tanner Laster and versatile senior Ethan Blanken also play key roles. … Union must replace dominant running back-linebacker Mason Polier, but the Bears have experience at the skill positions. Veteran Union coach Travis Turner is working to develop a young line corps. …Union rushed for 416 yards and took advantage of three turnovers against the Generals in their last meeting.
Prediction: Union 21, Lee High 0
Last meeting: Hurley 37, Rye Cove 6 (Sept. 6, 2019 in Hurley, Va.)
Two of the smallest football playing schools in the state will get things started in far Southwest Virginia with an earlier kickoff than most on opening night. … Rye Cove quarterback Mason Hardin rushed for 1, 117 yards, passed for 276 more and totaled 19 touchdowns last season and will be operating behind an offensive line that features varsity veterans Jesse Barnette and Chris Duty. … Hurley piled up 486 yards of total offense in last season's hammering of Rye Cove. The players who accounted for all of the Rebels' 37 points have graduated or aren't on the current roster.
Prediction: Rye Cove 12, Hurley 8
Grayson County at Holston
Last meeting: First meeting
The Holston Cavaliers figure to be in serious contention for one of the four playoff spots up for grabs in Region 1D and they have plenty of momentum to build on. … Holston had seven victories in 2019 and won the program's first playoff game since 2009. … Holston has never played Grayson County on the gridiron, but the Cavaliers did clash with Independence and Fries – the schools that combined to form Grayson County in the late-1980s – on multiple occasions back in the day. … Grayson County coach Brett McPherson has already announced that he will coach the Blue Devils in the abbreviated spring season and then resign his post. … With an important game on Saturday against Patrick Henry, look for Holston to tune up with a win.
Prediction: Holston 24, Grayson County 13
Last meeting: J.I. Burton 12, Chilhowie 7 (Nov. 23, 2019 in Wise, Va.)
This is one of the marquee games on opening night and a playoff rematch. … Mikey Culberton's one-handed interception in the end zone with 28 seconds remaining gave Burton a second-round playoff win over Chilhowie in 2019 in a game played at Carl Smith Stadium on the campus of the University of Virginia's College at Wise. … Many of the guys who played in that game are back in the fold for both teams. Burton boasts size, speed and strength. … Jordan Williams, Jonathan Gilley, and D.J. Martin will be looked to lead Chilhowie's offense, while Colby Crutchfield and Gabino Silverio are expected to be the tone-setters on defense. … Chilhowie goes to Smyth County rival Marion on Saturday. … J.I. Burton hasn't opened a season 1-0 since 2012.
Prediction: J.I. Burton 20, Chilhowie 16
Rural Retreat at Fort Chiswell
Last meeting: Fort Chiswell 15, Rural Retreat 14 (Aug. 30, 2019 in Rural Retreat, Va.)
Isaac Dunford kicked a game-winning 25-yard field goal with three seconds remaining to lift Fort Chiswell to a season-opening triumph over Rural Retreat in 2019. That gave Chris Akers a win in his head-coaching debut for the Pioneers. He had been the boss at Rural Retreat in 2014 and 2015. … Lucas Brewer had 63 rushing yards Rural Retreat against the Pioneers last season and he is back in the fold for the Indians. … Fort Chiswell returns nine starters on defense and eight on offense. Look for Dylan Bailey, Ezra Varney, Bevo Dunford, Johnathan Poole, Jude Reigelsperger, Tyler Crigger, Donovan Stroupe, Kindal Edwards and Luke Arnold to power the Pioneers tonight. … Rural Retreat faces both its Wythe County rivals this week as the Indians play George Wythe on Saturday.
Prediction: Fort Chiswell 19, Rural Retreat 6
Last meeting: First meeting
Northwood figures to be much improved. "As far as football has been going we have been pleased thus far with, not only the progress we've made in the past three weeks, but the progress we've made since November 2019," said Northwood coach Tim Johnson. "It really has been a night and day difference this year and we've been really happy with the speed we're playing at and the efficiency in our approach." … This will be the first meeting between the two squads, but the Saltville Shakers (which consolidated with Rich Valley to form Northwood) and the Grundy Golden Wave were once Southwest District rivals. … Running back/linebacker Ian Scamell and tight end/defensive lineman Peyton McComas are two of the top returnees for Grundy. They won state wrestling titles on Saturday.
Prediction: Northwood 13, Grundy 8
Last meeting: Castlewood 26, Honaker 24 (Sept. 6, 2019 in Honaker, Va.)
Chris Lark did one of the finest coaching jobs in Southwest Virginia last season as he guided Castlewood to a 6-5 record and a playoff berth. Included in the turnaround was a win over Honaker, which was Lark's first victory as head coach … Castlewood has 10 returning starters on offense and nine on defense as the Blue Devils figure to be a Region 1D contender. Mickey Carter scored two touchdowns against Honaker last season and is back in the fold. … This will mark Doug Hubbard's 38th season as head coach at Honaker as he is the dean of head coaches in far Southwest Virginia. The Tigers will play their other Russell County rival – Lebanon – on Sunday, Feb. 28.