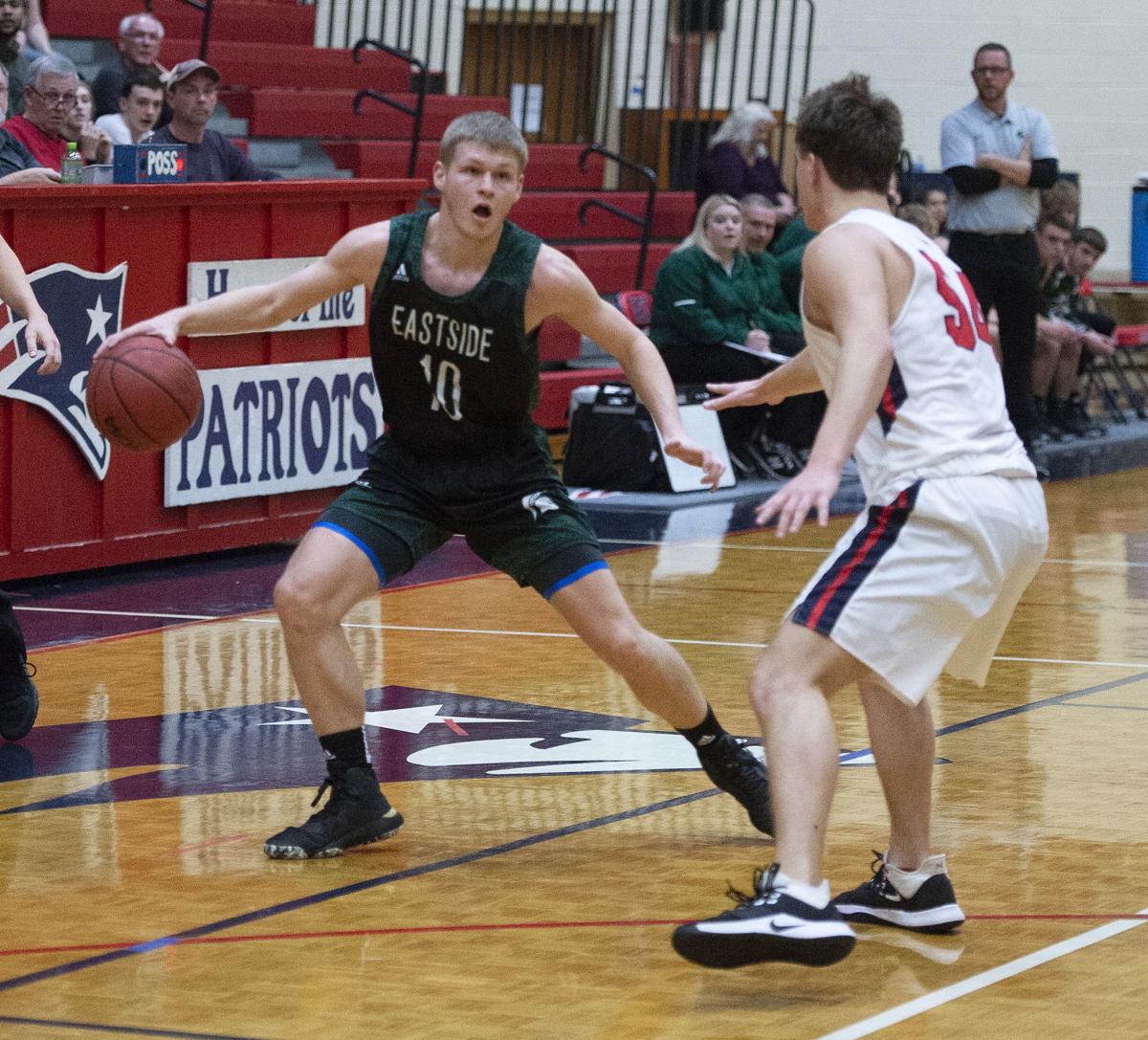 WISE, Va. – Twin Springs High School went back to the future on Thursday night thanks to a young gun and a steady senior.
Freshman Connor Lane fired in 21 points and 12th-grader Jordan Gillenwater was a model of efficiency off the bench as the third-seeded Titans triumphed over J.I. Burton by a 56-53 count in the semifinals of the Cumberland District boys basketball tournament at the David J. Prior Convocation Center.
Twin Springs (16-7) clinched a VHSL Region 1D tournament berth and plays Eastside in tonight's Cumberland District tourney title game.
The rulers of the district a generation ago, Twin Springs took a step in returning to its glory days of yesteryear on Thursday by advancing to the finals of the Cumberland tourney for the first time since 2015.
The Titans have nearly tripled their win total from a season ago under the direction of first-year head coach Tyler Webb.
Webb is a 2005 graduate of the Scott County school, starred on a state runner-up team as a senior and has overseen an impressive turnaround this winter.
"We talk about tradition a lot and recapturing that spirit in our community," Webb said. "Basketball means a whole lot to the Twin Springs community and I think that is something this team has really embraced this season. … They feel that sense of pride when they go out and play."
A roster comprised of six seniors, three juniors, two freshmen and a sophomore has proven to be a good mix for the Titans.
Lane and fellow ninth-grader Bradley Owens (nine points, 12 rebounds) provide a scoring punch for Twin Springs. A free throw by Owens with 2:01 remaining on Thursday put the Titans ahead to stay.
"They are scorers," Gillenwater said. "They can shoot it."
Meanwhile, Lane helped Twin Springs set the tone by making shots every time Twin Springs needed a clutch bucket.
"My teammates just set me up for those shots," Lane said.
Meanwhile, Gillenwater shot 6-for-7 from the field in scoring 13 points.
"I was ready for this game," Gillenwater said. "I didn't play well the last game, so I was ready for this big game."
He also had two rebounds, two assists, one steal and did not commit a turnover.
"He had a huge night and I'm so proud of him," Webb said. "He gave us a lot of energy and had some big, big moments. That's why he stayed in the game, because he kept doing positive things for us on the floor."
J.I. Burton (17-6) was led by Trevor Culbertson's 22 points, while Ethan Lindsay yanked down nine rebounds and Jonah Cochrane dished out seven assists.
The Raiders were 12-for-29 from 3-point range, something Webb could live with.
"That was kind of the gameplan going in – we were going to allow them to have those 3-pointers," Webb said. "It's kind of pick your poison. In the two games before this [against Burton], they'd shot 54 free throws against us. It was all because they were attacking the paint and we were getting spread out. We just chose to pack it in. We knew they were going to hit some 3s, but we were going to live with it if they made some. … Just keeping our composure [was key]."
J.I. Burton didn't score in the game's final two minutes, one of several times the Raiders endured point droughts.
"Twin Springs is a really good team," said J.I. Burton coach Caleb Church. "They're tough and Coach Webb does a good job with them. [Lane and Owens] can shoot from different area codes and it will go in – hats off to those guys."
Twin Springs was responsible for top-seeded Eastside's only league loss this season and will get another shot at the Spartans tonight. Regardless of the outcome, it's been quite a season for the Titans.
"I couldn't be more proud of this team," Webb said. "They've really bought in and they've worked hard every day."
Ethan Powers is one of the top players in Southwest Virginia and the Eastside senior once again showed why on Thursday.
Powers poured in 34 points – making 13 of his 20 shots – to go along with six rebounds, four assists, three blocks and two steals in a Cumberland District tournament semifinal win over the Rye Cove Eagles.
"Ethan's an elite shooter and he did what he did well," said Eastside coach Patrick Damron.
Freshman Eli McCoy added 14 points for Eastside, which shot 50 percent (29-for-58) from the field.
Zach Baker (20 points) and Ethan Chavez (12 points) were the top scorers for Rye Cove.
Be the first to know
Get local news delivered to your inbox!