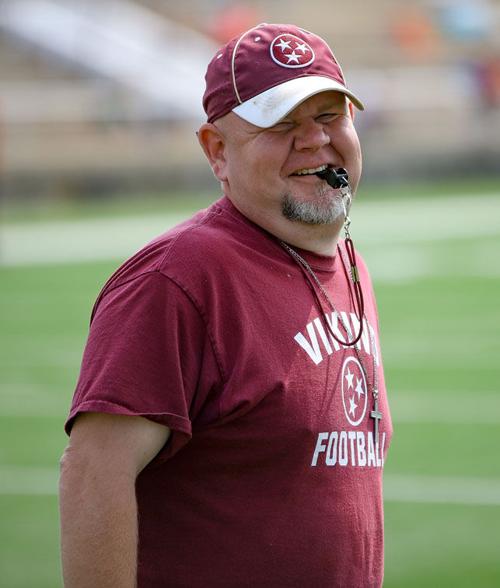 BRISTOL, Tenn. – The afternoon routine began several weeks ago for interim Tennessee High Vikings head football coach Matt Chandler.
At 2:45, Chandler would receive a visit in his Stone Castle office from longtime THS football assistant Trea Leonard.
"Coach Leonard would give me a hug because he knew that I was going into this high-pressure job and I didn't know if my heart was in it at first," Chandler said. "But Coach Leonard kept telling me that God brought me to this job for a reason."
That routine was broken Monday afternoon.
"It was the first day that Coach Leonard wasn't here for that hug," said Chandler, fighting back tears.
Leonard, 47, passed away Saturday night following a heart attack.
"We're devastated," Chandler said. "We have a very close-knit staff, and Trea was a massive part of our group."
According to Chandler, Leonard accompanied the Vikings to Friday's game at David Crockett but left at halftime in an ambulance.
"I noticed that Coach Leonard didn't have his usual energy last week but none of us knew the extent of his heart problems," Chandler said.
Just one week ago, THS junior running back Micah Montgomery drowned in South Holston Lake.
As was the case following Montgomery's death, the THS players shared their grief in a group setting Monday morning.
"The leadership in our school asked me Sunday night if we needed to have some sort of meeting because we knew the boys would be broken-hearted," Chandler said. "It turned out to be an awesome experience. People shared memories and told stories about the influence Trea had on their life."
Tennessee High senior Nysaiah Foote related the time Leonard asked for a meeting following a seventh grade social studies class at Vance Middle School.
"I will never forget that moment," Foote said. "Coach asked me why I wasn't playing football, and then he wanted me to make him a promise to get back on the field by the time I got to high school.
"I didn't realize he was talking about the eighth grade team, but I ended up playing that next year and I haven't looked back since."
Foote, who developed into a standout defensive back and receiver at 5-foot-10, said that Leonard imparted much more than technique and strategy on the field and in the weight room.
"Coach Leonard was like another father and big teddy bear who showed us love," Foote said. "I'm going to miss him a lot."
Leonard handled the demanding nose guard position during his playing days as a Viking. Chandler said nose guard was reflective of the personality and determination of Leonard, who served the THS football program while balancing a full-time job at a Bristol manufacturing plant with a full-time college course load.
"Trea was sleeping three to four hours a day while taking classes at ETSU, working the night shift at Strongwell and coaching football with us," Chandler said. "We worried about him being exhausted, but Trea said that football was the part of his day that made him happy."
From 2001-08, Leonard coached at THS and Vance Middle School while studying for his degree at ETSU. After contributing as an assistant football coach at Volunteer High School from 2009-14, Leonard rejoined the Vikings staff in 2015.
Daryl Shanks, a THS football assistant for the past 24 years, said his relationship with Leonard dated back to 1998.
"We needed a volunteer coach and somebody told us about Trea," Shanks said. "Trea started out working with our freshman team, and he always had a way to build relationships with players.
"A lot of times, Trea would leave the school following a Friday night game and go pull a shift at Strongwell. That tells you something this man's work ethic and his love for the game and these kids."
Since 2015, Shanks and Leonard directed the THS defensive line corps.
"Trea and I spent a lot of time together," Shanks said. "So many players from previous teams have reached out to me over the past couple days to ask if they could do something to honor Trea."
The Stone Castle fieldhouse was a somber place Monday afternoon.
"We're doing the best we can to lean on each other," Shanks said. "I think Coach Leonard would want us to go on and work with just as much energy. Without a doubt, Trea strengthened my faith. As long as I'm here, I will never forget him."
To honor Leonard, Chandler said a strip with the word "Warrior" will be placed over the top of the THS helmets.
"Coach Leonard was the bring-it guy and workout warrior in the weight room," Chandler said. "He would be in there with Coach [Mike] Mays playing air guitar and pumping everybody up."
As he drove with Mays to meet members of Leonard's grieving family Saturday night, Chandler said he was struck by one word that summarized the life of his beloved assistant.
"Comforter. Coach Leonard served that role for everybody that was around him," Chandler said. "We referred to Trea as our team chaplain because he was a minister.
"You hear things all the time how people impacted the lives of others. I'm telling you, Trea walked the walk."
No funeral arrangements had been made by Leonard's family as of Monday night.
As for the dark cloud around Tennessee High athletics in recent months, Chandler and the Vikings have found shelter from the storm through unity and fellowship.
"Our players have been helping our coaches, and we're trying to help each other," Chandler said.
For Foote, the memories provide a path through the darkness.
"Coach Leonard changed my life, and I will never forget him because he pushed us all to be better," Foote said. "The past couple weeks have been really rough."