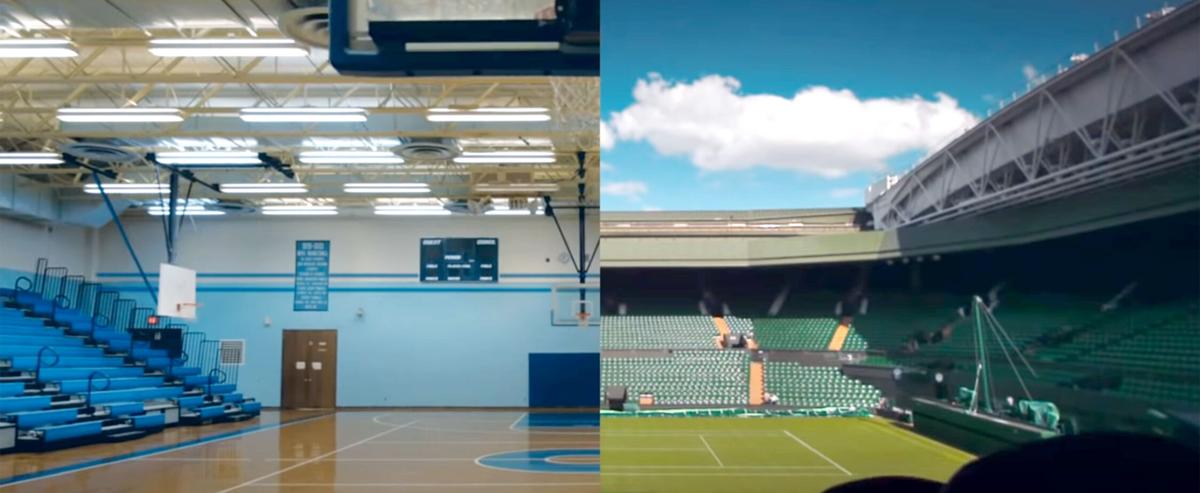 Travis Viers was helping his wife, Haley, prepare dinner last Thursday when he glanced at the television and was stunned to see a familiar landmark during a commercial break on TNT's National Basketball Association broadcast.
Had he really just saw the gymnasium that's located at Council Elementary School?
"I said really loud, 'Haley, that looked like Council Elementary on a Nike commercial.' Of course she said 'No way.' I told her I was sure it wasn't, but it just looked really similar," Viers said. "I went back and rewound it and we about fell over. … Just the one rewind and I knew it."
He quickly called Neil Rasnake, his friend who would be considered the master of that domain since he's spent more time in the gym that's home to the Council High School Cobras than anybody else.
Rasnake was a star hoopster for the Cobras, later played at Western Carolina University, competed professionally overseas and in some U.S. minor leagues and is now the athletic director at Council.
What was his reaction when Viers alerted him of this surprising development?
"Actually, I did not believe him," Rasnake said. "I told him it was probably just a gym that looked like it. Travis recorded it and sent it to me and I quickly realized that it was our gym. … A few minutes later I saw it live on TV while watching the NBA games."
There was indeed the empty Southwest Virginia gym sharing a split screen with the iconic All England Lawn Tennis and Croquet Club.
It shows up at the 42-second mark of the 1-minute, 30-second advertisement which is titled "You Can't Stop Us" and is narrated by women's soccer star Megan Rapinoe.
 "It's a prideful moment for all of us," said Council High School principal Kathy Witt. "In one word, our community reaction has been just that – proud."
The YouTube video had more than 42 million views as of Tuesday afternoon.
"It has created quite a bit of buzz with people in the area," Rasnake said. "I have had a ton of people message me or call asking if that was really Council's gym on the Nike commercial. Actually, [VHSL basketball referee] Robbie Perry messaged on Twitter and he said he could tell it was Council as soon as he saw those 10-foot doors."
According to Tim Nudd of MUSEbyclio.com, the ad agency of Wieden + Kennedy in Portland sifted through 4,000 clips and chose 72 of them to be used for the Nike commercial.
The stock footage of Council's gym came from 2014 when a Canadian film crew came to Buchanan County and recorded a segment on Rasnake and his friends after they formed Showtime, a Council-based team that competed in the first six editions of "The Basketball Tournament."
Some directorial licenses were taken.
 "Neil and I noticed later that Nike photoshopped out the 2000 state runner-up photo on the wall and the 2001 state championship retired jerseys," Viers said.
Caleb Stocks is a rising senior at Council High School and a standout for the school's basketball team. How has he felt about seeing his home gym on television frequently?
"My first reaction was 'Wow.' The second was 'How did that happen?' I've watched it back a couple of times," Stocks said. "It's a place that really holds a special spot in a whole lot of Cobra hearts."
Council won the 2001 VHSL Group A state boys hoops title and roundball has long been king at the small school which competes in the Black Diamond District. The next basketball game in the facility won't be played until late December, when the VHSL is set to begin the 2020-21 sports calendar after a long layoff due to the coronavirus (COVID-19) pandemic.
The shot of the gym in the ad made many wax nostalgic.
"Our community and alumni are able to reminisce and remember our packed house and state championship teams," Witt said. "We warmly remember a more exciting time cheering for the Cobras, shoulder to shoulder and knee in the back, before the days of safe at home."
The commercial with the brief glimpse of small piece of real estate on Helen Henderson Highway is getting some big play on many networks in a commercial that focuses on resiliency among athletes amid the pandemic.
"It is really amazing that they selected Council Elementary gym out of all of the gyms," Rasnake said. "I think it is even more amazing being probably one of the smallest public high schools in the United States that they selected our gym. The commercial could not have come out at a better time with a better positive message during these trying times. Nike did a fantastic job with the commercial and I think I can speak for the whole Council community and thank them for including Council Elementary's gym."
Viers, who graduated from Council in 2010, posted the clip to social media and one comment summed up the experience of seeing the place he's played numerous games at being shown in a national advertisement.
"The funniest reaction was on Twitter from Peyton O'Quinn, who went to Haysi," Viers said. "In response to me saying that Council's gym was in a Nike commercial he wrote, 'That is a sentence I never thought I'd see in 10 lifetimes, but so dope.'"
Be the first to know
Get local news delivered to your inbox!