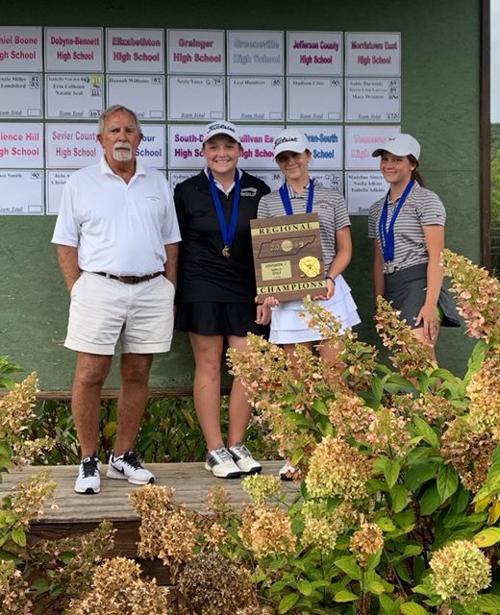 Tennessee High has only had a girls golf team for a short time.
It has been a resounding success.
"We didn't really have a girls team until five years ago," Tennessee High girls golf coach Richard Ensor said. "We only had one girl that played each year so they just went with the boys so we really didn't have a team.
"We started picking up kids in junior high that wanted to play. We have done pretty good the last five years."
Very good. Not only has Tennessee High produced some college talent at the highest level of competition, but the current trio of Vikings placed third in the TSSAA Large Class Girls Championship last year at WillowBrook Golf Club in Manchester.
They are back. The goal ahead?
"A little bit better," Ensor said, "if we can get there."
It isn't easy. While the Vikings won both the District 1-AAA and Region 1-AAA title last fall, it certainly isn't an easy task to advance from regional play – which will be held this year at Ridgefields Country Club in Kingsport – where only the first place team and top three individuals not that team will advance on.
And, there is plenty of competition for sports, including Dobyns-Bennett sophomore, Isabella van der Biest, who has already committed to Alabama, along with Kara Carter from Sullivan South, both of whom placed in the top 10 as individuals last fall.
"One bad round in the region and you are out of it…," Ensor said, "but I have three girls that are capable of shooting even par. That gives us a little bit of an advantage over the rest of the girls on the other teams, they may shoot in the 80s…
"We could not make it as a team and still take three individuals."
Leading the Vikings is the senior twin duo of Noelia Adkins and Isabella Adkins, along with junior Maddie Simcox.
That trio finished nine strokes back of first place Station Camp last October. Simcox was tied for fifth with van der Biest with a two-day tally of 150. Isabella finished in a tie for 15th, while Noelia placed 19th.
It might be safe to say they are playing golf as you read this. If it is daylight, Ensor knows they are usually on a course somewhere.
"They played in tournaments all over the place all summer. They are all three playing in Knoxville [this week]," he said. "They do [work at it]. They have given up a lot. They practice for hours every day. It seems like golf is their life right now."
Golf will be a little different in this year due to the impact of the COVID-19 pandemic, which has closed down fall sports in states like Virginia, but will continue on in Tennessee.
Tennessee High opens its season by defending its title on Aug. 4 at the Morristown Invitational, but there will be protocols to endure prior to heading to the first tee.
"We have to take their temperature and ask them a series of questions when they get there," Ensor said. "For example, when we go to Morristown, they have to meet me in the parking lot with a mask on.
"I have to take their temperature and I have to ask them a series of eight questions and then they can go on. They cannot go on the course until I take their temperature and answer these questions."
At least the masks won't stay on during the round.
"No, they don't," he said. "They just have to when they are [in the parking lot]. Once they get out there they can take it off."
Ensor said none of the girls have expressed any issues with playing under the current conditions.
"They haven't expressed any concern," Ensor said. "They have been going all summer to South Carolina and all these places and playing in tournaments so evidently they are not."
Ensor said golf is uniquely able to conduct matches while observing social distancing and other necessary actions to help prevent any issues with the coronavirus.
"They don't get too close to each other anyway," he said. "They know how to play. If somebody is putting they are at least 10 or 12 feet away from them."
Needless to say, the trio has been preparing for that first match.
"One of them called me the other day and said they were going to go down and play a practice round at Morristown," he said. "I told them last year you shot 72, 73, I don't know if you need a practice round or not."
Ensor acknowledges their strengths work together so well that it contributes to both individual and team success.
"That is part of what makes them so good. They love to play, and they make a potent team due to having different strengths on the course," Ensor said. "That is what makes our team most of the time pretty good because if one girl has a bad day then the other two girls can pick it up."
Tennessee High has produced some talented female college golfers, including Addie Baggarly, who plays at Florida, and the Lynchburg College duo of Ivy Foran and Lily Self, who was the ODAC Freshman of the Year last fall.
Expect the same for the future of his current team, who called the Country Club of Bristol their home course.
"We only have two matches up there," he said. "We try to play on different courses. It is good that they learn to play different courses."
The girls aren't the only Tennessee High golfers looking for state glory. Senior Jack Tickle, who has committed to play next at East Tennessee State, finished third in the state last season, just two strokes behind Crockett County's Jaden Zimmer.
Volunteer's Jon Wes Lovelace was second, showing that Tickle will also have a tough road in regional play to get back to Manchester. Tickle's cousin, Jet Tickle, is a sophomore golfer at the University of Tennessee.
"It is hard to make it. Volunteer has a really good player and D-B [Dobyns-Bennett] has got a couple of good ones," Ensor said. "He is going to have to shoot even par or maybe better to make it. It is hard to get it. The pressure on you, you have to do well in that tournament. He has done pretty good this summer."
While Ensor's girls didn't lose any opponents to the Virginia closure of sports for the fall, the boys did. There won't be a Big 6 tournament this fall, they lost out one some dual matches with Virginia High and won't be able to play one of the bigger regional events in Wytheville.
The boys, who are coached by Bob Zeiger, now in his 47th year coaching season, will face the same restrictions that the girls and the rest of the sports will deal with in the fall.
"Even if we go to practice we have to meet them in the parking lot, we have to take their temperature, ask them these questions before they can go out and practice," Ensor said. "Now everybody is going to have to do that. Football, volleyball and everybody. Sometimes it gets kind of hectic trying to do all that."
Other locals to watch include junior Seth Robinette, who was believed to have become the first Sullivan Central golfer to qualify for state competition on an individual basis. He placed in a tie for 29th last fall.
While teams are slated to tee off their seasons next week, Sullivan East got an early start on Wednesday, with Justice Dillard's 40 claiming medalist honors to lead the Patriots to a tri-match victory. The East girls also picked up a dual match win, led by Tori Leonard with a nine-hole score of 49.
Be the first to know
Get local news delivered to your inbox!