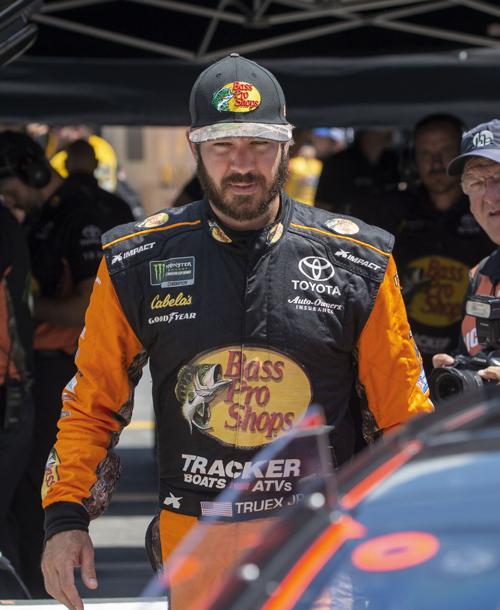 Martin Truex Jr. has won 27 races and one championship during his 14-year run in the NASCAR Cup Series.
One piece is missing for the 40-year-old New Jersey native.
Truex has never conquered Bristol Motor Speedway.
"Obviously, it's been a struggle there," said Truex during a Zoom conference session last week. "There's something about that track that just doesn't like me."
In 29 Cup starts at BMS, Truex has recorded just two top-five and three top-10 finishes. His last top-10 came in the 2017 Food City 500 where he finished eighth.
"I can think of countless points in (Bristol) races where we worked hard on the car and were right at the front of the pack, and then we would have a loose wheel, a flat tire, something on the car would break, or we would get crashed. It's just been a list of things," Truex said.
Truex is hoping for better luck in Saturday's Night Race at BMS. He's currently fifth in points and coming off a second-place effort at Richmond last Saturday.
"When we came back from the COVID-19 break, we were doing a little bit of experimenting and it wasn't going very well for us," Truex said.
That's when first-year crew chief James Small decided to go back to the basics on the No. 19 Joe Gibbs Racing Toyota. Small replaced Cole Pearn, who suddenly retired in December after guiding Truex to 24 wins and four trips to the Championship 4 in five years.
"We got back to our normal stuff," Truex said. "The last 12 races, we've been a top-two or three car every week, and we had a shot at winning a few. They just haven't worked out.
"We've had a little bit of bad luck this season for sure, but James has done a great job. I feel like we're still getting stronger and have yet to show our full potential, so I'm excited about that."
Entering the playoff opener at Darlington, Truex had finished fourth or better in eight straight consecutive races.
That streak ended in headline-grabbing fashion when Truex was involved in a crash with fan favorite Chase Elliott near the finish. After controlling the race for 196 laps and the first two stages, Truex left Darlington with a 22nd place effort and a flood of angry social media posts from Elliott fans.
So exactly what happened at Darlington?
"It was just one of those racing deals where it was obviously really close," Truex said. "It was going to be the pass for the win in my eyes. We both made a split-second decision and tried to anticipate or think about what the other one would do, and I think we both guessed wrong.
"Just really close, obviously. Nobody's fault. I don't think you can really put blame on one guy. It was just kind of a racing deal that was unfortunate for both of our teams."
Truex said he hasn't spoken to Elliott since the Darlington incident.
"I said in my interview after the race that I thought I had the momentum and I was going to be able to get him cleared," Truex said. "At the very last second, when I saw that he was right there on the corner, there was no way for me to keep from sliding up the hill.
"I mean it is Darlington. Once you commit to the turn there, especially with a bad angle, you are going to use up all of the race track. It's just the way it worked out."
Bristol is another track famed for rough racing, big wrecks and temper outbursts.
But despite weeks of hype and bold prediction from drivers, the July 16 All-Star Race at BMS failed to deliver any mayhem or must-see moments.
"Going into that race, I was thinking that this is going to be wild," Truex said. "And it was probably more tame than some of the races we've had."
Truex finished 10th in the BMS All-Star after drawing the pole position.
According to Truex, old Bristol notebooks and secrets no longer apply.
"With the PJ1 (traction compound) and trying to guess if the top grove is coming in or not, I feel like every time we go to Bristol the race is different," Truex said. "You have the same driver, same car and same track, but the race changes a lot based on the track conditions.
"There's really no telling what could happen."
Truex does have one indelible memory from Bristol Motor Speedway.
Flash back to the March 27, 2004 Xfinity race in 2004. Driving the Taco Bell Chevrolet for the Chance 2 Motorsports team founded by founded by Teresa Earnhardt and Dale Earnhardt, Truex earned his first series victory by holding off Kevin Harvick, Kyle Busch and Greg Biffle.
"I remember that whole race like it was yesterday. It was really cool," said Truex, who won three of the next seven Xfinity races after his BMS breakthrough.
What would another Bristol win mean for Truex this weekend?
"It would be huge," Truex said. "I remember my best chance of winning at Bristol. It was late in the race and we were battling for the lead, and then we got a speeding penalty on pit road."
Truex finished 20th in the Food City presents Supermarket Heroes 500 back in May at BMS.
"We've been riddled with bad things happening to us there," Truex said. "We've never really been able to show how good we can run. I'm hoping we can make it happen this time."
Be the first to know
Get local news delivered to your inbox!