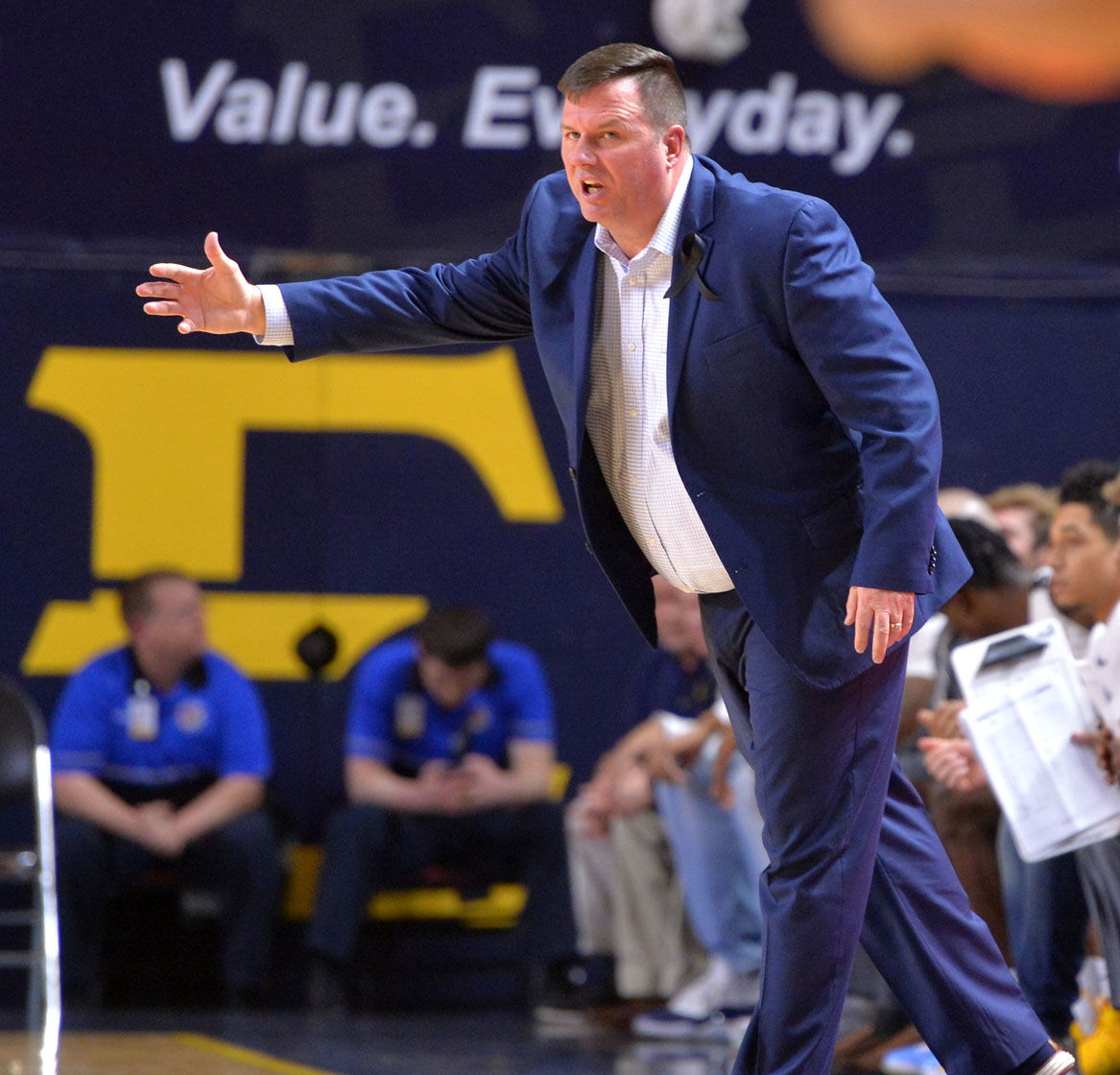 Jason Shay finally got a chance to coach his team.
The new East Tennessee State men's basketball coach welcomed 15 of the 16 players listed on his roster to Johnson City last week to begin preparations for the upcoming season, no matter when it begins.
While the still incomplete schedule includes an opener in early November, that could be in question due to the continued impact of the COVID-19 pandemic.
"It pains me every day. I wake up, 'are we going to be able to practice today,'" Shay said. "That is my main concern, just keeping our guys safe and healthy from day to day. We don't need any setbacks, we are trying to take the precautions and going through the protocols daily so that we stay healthy and no one contracts the virus and we can keep moving forward and improve."
Shay, who was promoted to head coach after Steve Forbes departed for Wake Forest after last season, had longed to have his team together, but that wasn't possible due to the coronavirus that shut down college athletics and campuses across the nation in March.
 "It was great to get back out on the court and just be able to teach and be with the guys and help them get better and just excited about the opportunity," said Shay, during a zoom interview last week. "There [are] a lot of new faces out there, but to be down there on the court with them and help them improve was exciting."
ETSU is coming off a terrific season, compiling a 30-4 record and winning the Southern Conference tournament, but hopes of an NCAA Tournament run was ruined when the coronavirus forced the cancellation of the season.
While only Patrick Good and Vonnie Patterson saw much action among the returnees for the Buccaneers, Shay likes what he saw in the early days of practice, including the brother duo of Ty and Ledarrius Brewer, redshirt freshman Damari Monsanto, sophomore Charlie Weber, Kansas State transfer David Sloan and incoming freshmen guards Truth Harris and Marcus Niblack.
"I think we have got a lot of weapons, I think we have got a lot of versatility. I think we are going to be able to score. You are going to have to guard us at a lot of different positions, which is exciting," said Shay, who was a walk-on guard at the University of Iowa. "They are going to be interchangeable. We are going to be versatile so moving forward we have got work to do, but the improvement from day one to day two was outstanding, phenomenal."
Shay is also breaking in a totally new staff, outside of Director of Basketball Operations Chad Donley, who was a graduate-assistant at ETSU in the past. His assistants include Turner Battle, Greg Heiar and Matt Wise, while Tyler Janota is the Director of Basketball Sport Performance.
"It is finally awesome to have them here and obviously they have been in transit to get to Johnson City. I took my time and wanted to get the right pieces in place," he said. "They are all great. It has been phenomenal to have them here. I enjoy coming to the office, I think we enjoy being around one another. We each bring different skills…
"We are all on the same page and getting better and they are seeing the way I want to see the game and how I think it should look so it has been good."
What Shay wants to see now is consistency and improvement on a daily basis from a team that lost seven of their top eight scorers from a 30-win season that competes in a much-improved Southern Conference.
 "That is going to be the challenge in trusting the process. We are a long ways away, it is a long journey. We always talk about it," Shay said. "It is hard, it is going to get harder. Are we going to be able to handle the adversities when we get going from here a week from now or a month from now, three months from now?
"When are we are going to play? There is some adversity, there is still some up in the air about when the season is going to start. Then our opponents are going to bring different challenges and the Southern Conference has obviously proven to be tough year-in and year-out.
"To win it is tough so we have got to be able to bring that mentality every day. We have got to bring a mindset that we are going to get better today and build and it is going to get harder and harder and harder and just building for that season so that we can compete and win."
Shay, who is still trying to find one more NCAA Division I game to complete his schedule, understands the uncertainty of the days that lies ahead, but is trying to keep his team focused on Nov. 10.
"There is concern. When are we going to start the season," Shay said. "Daily there are so many statements that you don't know how many are true or how many are false and just the uncertainty. It is a strain, it is stressful because I am trying to decipher how hard I need to train my guys.
"Obviously my sense is they took four months off so we have got to start a little slower and work our way into it, but how long do we work our way into it until we get going because are we going to play in November or is it going to be pushed back to January. Is it just going to be conference games?
"All of that is a challenge on decisions I am making, but as of right now, the season starts on November 10 and that is what we are working towards."
Be the first to know
Get local news delivered to your inbox!