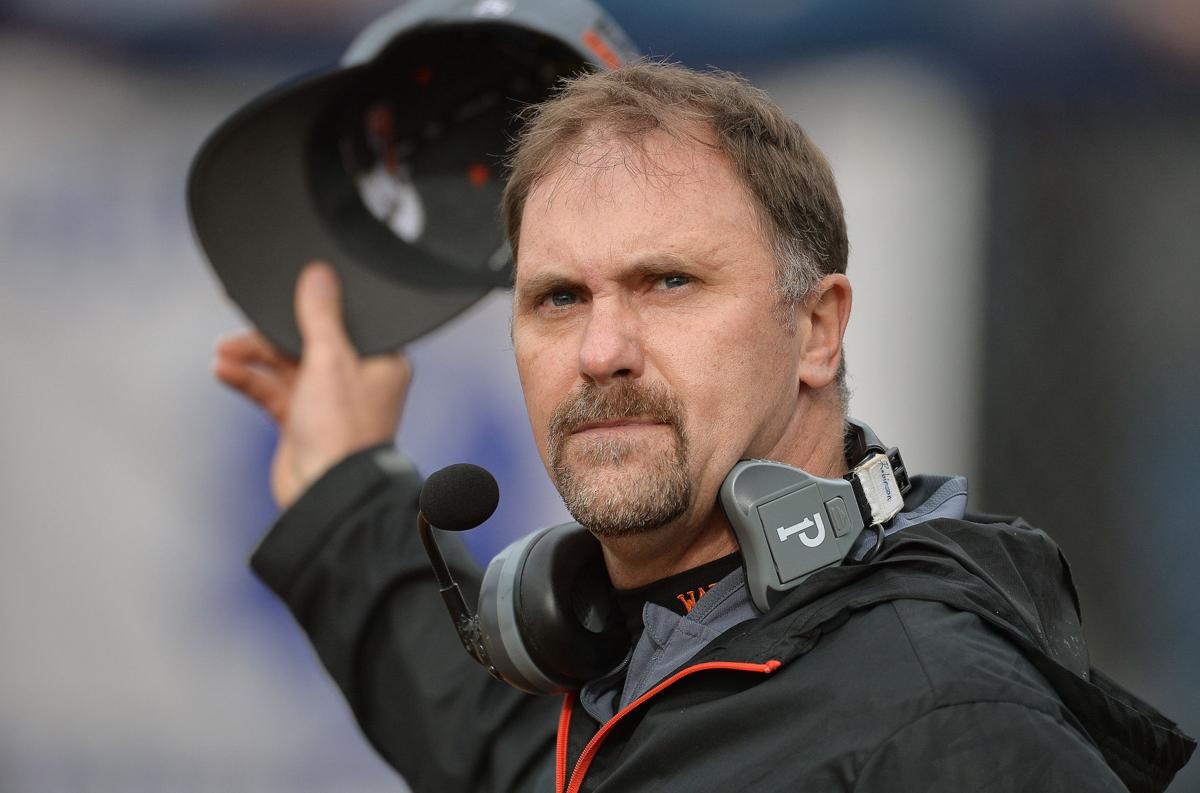 CHILHOWIE, Va. – On June 4, the Chilhowie Warrior baseball team dropped a tension-filled 7-6 decision at eventual state champion Auburn in the state quarterfinals.
So how much time did Chilhowie head coach Jeff Robinson have to reflect on that 22-3 season?
"Not much," Robinson said. "We had a team meeting the next afternoon and the guys turned in their equipment. Then, we had a weightlifting session for football that night."
Such is the life for one of the most active and successful coaches in far Southwest Virginia.
In addition to serving as Chilhowie's head baseball coach for 18 seasons, Robinson has directed the school's football program for seven years. For the last 14 years, Robinson has balanced both positions.
"I enjoy it, but the routine does get to me at times mentally," Robinson said. "With the football team advancing to the state title game the past two seasons, I've been pulled in a lot of directions."
Robinson, 43, has a master plan for multitasking. It's all about the list.
"Between baseball and football season, I will write down all the things I need to accomplish over the summer," Robinson said. "I started with close to 40 items this year, and I'm down to five."
That to-do list for Robinson ranges from ordering new equipment for the football team and planning the July 20 Kickoff Classic benefit golf tournament to organizing the baseball banquet and accompanying his players to all-star games.
"I have to admit that organization is one of my strong points," Robinson said. "The hardest thing for me is starting a sport season and closing it down after the final game. There's so just much to do."
Robinson said the loyalty of his assistants and commitment of his athletes makes his job easier. Two of his baseball assistants, Jared Pierce and Reid Sturgill, are also part of the football coaching staff.
John Sabo, Chilhowie's softball head coach, performs various roles for Robinson in the fall.
It's been another busy summer in the Robinson household.
Football workouts, which began on June 1 at Chilhowie, are held every Monday through Thursday with Tuesday's set aside for 7-on-7 passing sessions at Honaker High School. The Warriors will attend team camp at Carson-Newman University in Jefferson City, Tennessee, from July 23-25.
"I'm usually at the school by lunch each day," Robinson said. "The players spend about an hour on stretching exercises and plyometrics before moving on to speed workouts and weightlifting. The last hour is spent on position work and conditioning."
For the past four years, Robinson has met with the parents of his football players to provide specifics on the dates and hours of workouts.
"The parents have been very cooperative to adjust the schedules around what we're doing," Robinson said. "We've had 90 percent player attendance in our summer program. That's amazing."
Chilhowie has fielded a 40-man roster the past two years, but Robinson expects the number to drop under 40 this season.
The challenge for Robinson and his assistants this summer is to mold another winner with just four returning starters.
"The good news is that our backups saw a lot of playing time, plus they were able to go against the second best in the team during our practices," Robinson said. "Then you factor those five extra weeks of practice that comes with a run to the state championship game. That extra time means a lot."
On June 24, Robinson attended the Virginia High School Coaches Association All-Star baseball game at James Madison University with Chilhowie slugger Daniel Boardwine.
Many coaches and athletes took advantage of a respite called Virginia High School League dead period. From June 30 until July 6, coaches are not permitted to talk to their players and all playing facilities are closed.
Robinson and his wife, Kristy, used the time to attend an Atlanta Braves game and to enjoy a couple days in Hilton Head, South Carolina, with their boys Bryce (age 8) and Blake (11) and four-year-old daughter Brylee.
Bryce and Blake helped their father as bat boys in during high school baseball season while Kristy also spent time in the dugout for the first time. All three of the Robinson kids compete for various teams in Chilhowie Little League program, with the boys competing in occasional travel ball tournaments
"It's great having my kids around during the season," said Robinson, a board member of the Chilhowie Little League. "I'm not able to hit all their games, so my wife takes the kids to all their practices and games. My wife is a true coach's wife. She's amazing."
Kristy (Poe) Robinson was a Chilhowie standout in the volleyball, track and field at basketball, where she compiled 986 career points. Kristy also worked as an assistant with the girls basketball, volleyball and track and field teams at Chilhowie.
Jeff Robinson admitted that the grind of leading two championship-caliber programs can be stressful.
"The summer seems get to shorter each year but having the opportunity to work with committed athletes helps," Robinson said. "For example, we had a bunch of baseball players who showed up for football weightlifting the day after their season ended in June."
Meanwhile, Robinson always keeps his big-picture list handy.
"I will add or check off items throughout the summer, but I always have a plan," he said.