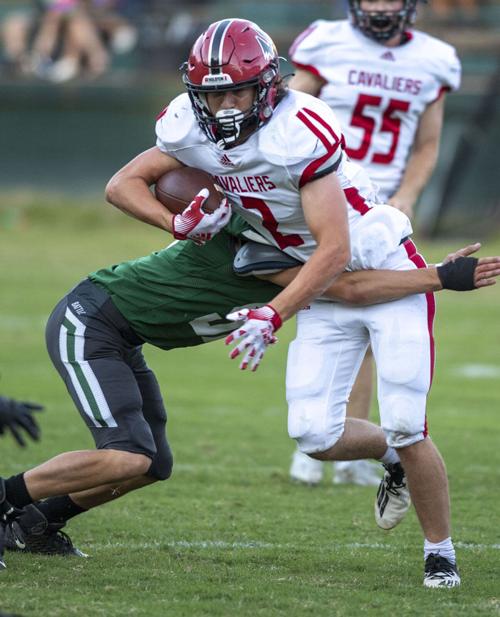 Holston High School quarterback Brycen Sheets is a confident guy when he breaks the huddle, walks to the line, surveys the opposing defense and receives the snap from center Dillon Bott.
The senior signal-caller has every reason to be self-assured as he knows whoever he gives the ball to is more than likely going to make a big play.
Jordan Ezzell, Trent Johnson and Gage Quina have combined to rush for 2,214 yards and 34 touchdowns this season, while collectively they have caught 34 passes for 568 yards and five scores.
"It makes my job easier," Sheets said.
The triumvirate doesn't have a cool nickname, but The Trail Town Trio might be a good moniker since they have frequently forged a path to the end zone and helped Holston (12-0) reach tonight's VHSL Region 1D title game against the Patrick Henry Rebels.
"Having three backs gives us the ability to stay balanced," said Holston coach Chris Akers. "Teams that play us have to remain balanced and are not able to key on one player. They are all seniors and have big-game experience."
All three have different personalities: Ezzell is a jokester, Johnson is quiet and Quina is all business.
They are basically identical triplets on the football field, however.
"We're alike in that we run hard and will do anything for a win," Quina said.
Quina has a team-high 108 carries.
"Quina is the workhorse," Akers said, "He may not have the stats the other two have, but he is a hard downhill runner. Quina could be the hardest working kid I have ever coached. He is serious and focused all the time."
Ezzell had three touchdowns in last week's playoff win over Grundy and is the definition of a playmaker.
"Ezzell is a powerful back that is always falling forward and getting that extra yard," Akers said. "When he gets into the open field he has that football speed and tends to outrun the defense."
Johnson is the fastest in this group and finished with two touchdowns, a two-point conversion and snagged an interception in a first-round playoff triumph over Honaker
"If he gets the edge," Akers said. "He is dangerous."
Spreading the wealth is a major benefit when you consider the fact Ezzell, Johnson and Quina all start on defense as well and have combined for 136 tackles, eight sacks and three interceptions.
"We're still fresh in the fourth quarter," Ezzell said. "That helps."
Having three backs of that caliber doesn't help the opposition in preparing a gameplan.
"They are three great players who will cause me to lose a lot of sleep this week," said Patrick Henry coach Seth Padgett. "You think you can take one away and then one of the other two breaks a long run. When you play players with the type of talent that all three of them, you have to be very sound defensively, because if you are out of position they will make you pay for it."
There is no drama, either, of guys wanting to be more featured in the offense.
"They never complain about touches," Akers said "They enjoy blocking for each other."
Instead, the Trail Town Trio embraces the situation.
"We strive off each other's energy," Johnson said. "When we get it going, the rest of the team follows."
Holston's defense has been dominant in allowing just 7.7 points per game, but the offense has been lighting it up in averaging 39.6 points.
Sheets has supplied 353 rushing yards and 11 touchdowns to go along with 836 passing yards and eight TDs to the high-powered attack. He's ready to put up some point points tonight and he'll be confident as usual that the Cavaliers can put up some points.
"We haven't really focused on being undefeated," Sheets said. "We have just been playing the game and having fun."