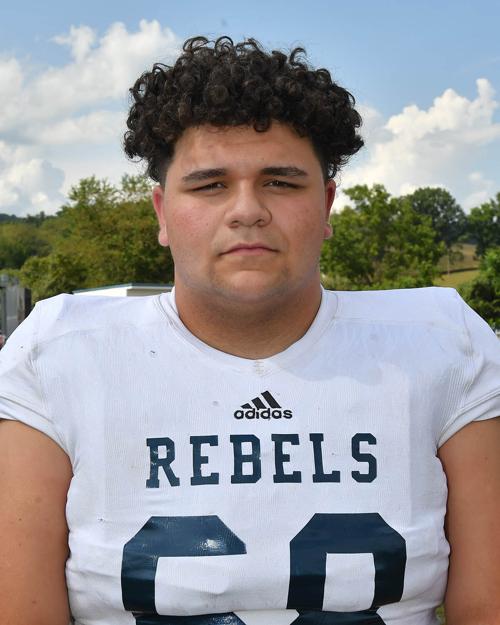 Clay Mora took a moment amid the madness to soak in the scene.
The two-way lineman for the Patrick Henry High School Rebels could fully appreciate how special playoff football is just prior to an important sequence during his team's wild 50-40 triumph over Twin Springs last Saturday.
"The crowd, the environment – it was amazing," Mora said. "I told one of my teammates that this is what football is and that's where I belonged. I want to play college football, so the environment made me turn it up even harder."
Mora will experience more high-stakes, high-intensity postseason action tonight as PH (9-3) faces the homestanding Holston Cavaliers (12-0) in the Region 1D finals.
The 6-foot-3, 290-pound Mora has helped pave the way for Patrick Henry's productive rushing attack alongside fellow offensive linemen Colton South, Braxton Light, Jacob Mutter, Tyler Barrett and tight ends Bobby Cline and Connor Kausch.
Connor Beeson has rushed for 2,154 yards this season and put up 380 rushing yards and scored three touchdowns last week in that triumph over Twin Springs. As usual, he gave credit to his blockers like Mora.
"Clay is a character and the life of the team, really," Beeson said. "He's the leader of the line without a doubt and I think his weight room numbers speak for themselves. I think the line has been nothing short of spectacular this year and I can't thank them enough."
Mora was the only returning starter on the defensive line and has been a force. He sacked Twin Springs quarterback Abel Dingus twice during last week's contest.
"Clay has been very solid on both sides of the ball this year," said PH coach Seth Padgett. "He has been a big key on the offensive line to our success running the football, along with all of our other linemen and tight ends.
"He has been very hard to block on the defensive line. I have been impressed with how he has been able to play on both sides of the ball without having to have a break. That is not easy for a player of his size, but that is a testament to how hard he worked in the offseason."
Mora has contributed since he was a freshmen and PH is 38-8 over the course of his high school career.
"I'm blessed," Mora said. "We have a strong bond on this team and that's what helps. We've worked together so long and worked hard to get to where we are today."
Tonight, he might take a few seconds to contemplate his good fortune.
"Tyler Barrett's a freshman [lineman] and I've kind of took him under my wing," Mora said. "We've hung out and watched a lot of film together. I've tried to fulfill my role as a leader. I'm in it for the team and want to help out and go all the way since I'm a senior."