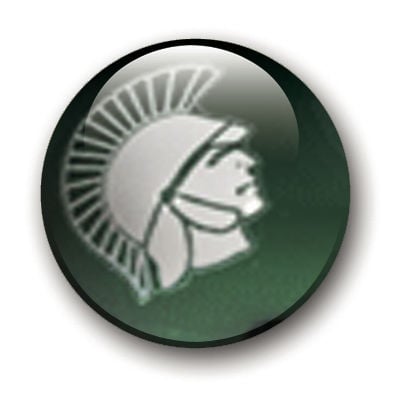 SALEM, Va. – Avery Almany didn't show much emotion after winning a state championship on Monday, probably because the John Battle High School senior wrestler had expected all along to go out on top.
"I was just prepared and ready," Almany said. "It's all I've been working for."
Almany's triumph in the 126-pound weight class was the first of six titles claimed by far Southwest Virginia grapplers during the VHSL Class 2 state wrestling tournament at the Salem Civic Center.
Graham's Justin Fritz (182) wasted no time in winning his fourth state championship, Union freshman Thomas Potter (145) won it all on his first try in thrilling fashion and Tazewell heavy-weight Josh Herndon became what is believed to be his school's first state wrestling champ.
Lebanon's Cole Jessee finished first at 152 pounds and teammate Trent Ray was the 220-pound champion in helping the Pioneers finish as runner-up to Poquoson in the team stand-ings.
Chance Rose (113) of Richlands was one of three area wrestlers to finish as runner-up.
Almany became Battle's first state champ since Phil King won the 135-pound title in 1997 at the same venue. Jeff Stanley (1971, 185 pounds), Dennis Freese (1972, 112 pounds) and Mike Osborne (1974, 98 pounds) were other Trojans to win state titles on the mat as Almany joined them as the fifth guy from the Washington County school to achieve the feat.
Almany had fallen short of the top prize in his previous trips to Salem, finishing sixth during an injury-plagued 2020 season and placing third in 2019. How focused was he this time around?
"One-hundred percent," he said.
Prior to Monday, Almany hadn't competed since earning a 6-0 decision over Lebanon's Ian Willis in the finals of the Region 2D tournament 19 days earlier. He got a rematch with Willis in the state finals.
"It's been crazy and hectic, really, with that long layoff," Almany said. "I just kept working hard in practice and maintaining my weight was key. It was a little tricky [getting a rematch with Wil-lis], because he knew what I liked to do and could be prepared for it.
In the end, however, nothing could stop Almany as he completed his mission.
The hours he's spent on the mat crafting his skills since he was 5-years-old resulted in him spending very little time on the mat in Salem.
He needed just 19 seconds to pin Poquoson's Jared Blake in the first round for his 100th career victory and stuck the shoulders of Strasburg's Anakin Burks to the mat in 1:14 in the semifinals. He dispatched Willis in 2:02 in the finals in a dominant showing.
How did that work out for a capper?
"Perfectly," Almany said.
Potter was perfectly calm in posting a 5-3 overtime victory over Poquoson junior Joseph Chiappazzi in his title win.
The ninth-grader fell behind 3-0 in the second period.
"I got a little upset, but I just had to keep my composure and keep wrestling through," Potter said. "You're still always in the match, even when you are down."
A takedown in OT sealed the deal for Potter.
"Early in the match I was pretty sure if I could sit to the side I could get a little cradle locked up and get two [points]," Potter said.
The triumph also put him on track to become a four-time state champion.
"Three more," Potter said. "Three more."
While Potter began his quest to become a four-time champ, Fritz saw his journey to that achievement come to fruition.
He needed just 23 seconds to pin Stuarts Draft's Kyle Coffey and finish the season with an unbeaten record. His titles came at 132, 145 and 152 and 182.
"It's always been my goal and a dream I've always had," Fritz said. "I just love the sport and I was able to stay connected and it treated me well … It was definitely hard, but I give all glory to God."
Cole Jessee had finished second in the 2020 Class 1 state tournament while competing for Castlewood.
Transferring to Lebanon, he thrived while competing for a new school in a new classification.
His title came via a 3-2 decision over Asher Coffey of Stuarts Draft. A reversal with 27 seconds left put Jessee ahead to stay.
"There was short time and I had to do something," Jessee said. "I went big and it paid off. This season was different and with all the [pandemic] stuff as well. [Lebanon Coach Michael Webb] is a great coach. I've got a great bunch of boys to push me every day and great practice partners. I wouldn't be here without any of them. It's like the worst feeling when you get to the finals and lose. This here is like being on cloud nine."
Trent Ray pinned Glenvar's Zach Moore in 2:21 in his match. He was the fourth finalist for Lebanon after Jessee won with Willis and Fisher Martin (170) finishing as runner-up.
"Seeing [Jessee win] gets you pumped up, of course," Ray said. "What also seemed to do it is when somebody you really care about loses. When Fisher lost his match, it just fired something up inside me, because you love these guys."
Lebanon finished with 122.5 points, second behind Poquoson's winning total of 167.5 "Un-heard of for Lebanon wrestling," Ray said. "I'm very proud and just glad that it ended so well, not just for me, but the entire team and my friends."
Tazewell coach Deacon Young said he believed Herndon is Tazewell's first state wrestling champ and he got the gold by pinning Connor McCall of Stuarts Draft in 2:36.
Herndon didn't even compete in the state tournament a year ago.
"I just put in so much overtime work, cutting down my weight, staying in the weight room, running before practice, running after practice," Herndon said. "It just does a whole lot when you are conditioned right and you can go longer periods of time with these guys."
One of the top football prospects in Southwest Virginia and a signee with the University of Virginia's College at Wise, Herndon will hit the gridiron on Saturday when Tazewell opens the season at Riverheads.
"Going into a football game with a state tournament win – that feels pretty great," Herndon said. "I'll be back on the field where I love to be and hopefully, my senior year going out with a bang. I've already got one, might as well go for two."