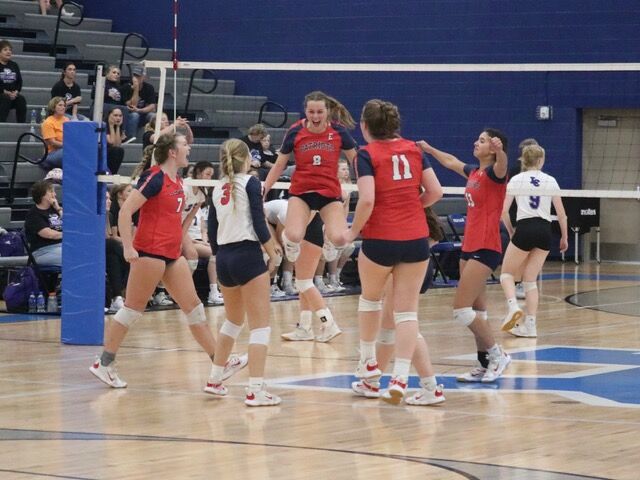 ROCKVALE, Tenn. – Survive and Advance.
In a thrilling match that took all five frames to decide a winner, Sullivan East emerged victorious against Lawrence County 16-25, 25-20, 25-22, 20-25, 15-5 in the Class AA state volleyball tournament on Wednesday evening at Rockvale High School.
Lawrence County won the opening game, then Sullivan East grabbed the next two. In the fourth frame Lawrence County came back from a 15-12 deficit to stay alive. And in the fifth and final game, Sullivan East came out focused and loose, quickly earning an 8-2 lead and holding it to win 15-5.
Sullivan East took a quick 3-0 lead to open the first game, in large part due to a couple of dominant serves by senior Mia Hoback. Lawrence County put together a four-point comeback and never gave the lead back to Sullivan East, who dropped the game 25-16.
"You know, I felt like our nerves carried over a bit from last night," said Sullivan East coach Tracy Graybeal, "We knew this was do or die. And you know, we were in a do-or-die situation in [the] first round of regionals, substate. We came out and I told them, I said 'We have got this over with, now let's play.'"
And that is exactly what they did.
Hannah Hodge began the second game on serve, and the Patriots snagged two quick points to take the lead 2-0. Sullivan East continued their dominance with a Jenna Hare rocket-spike to take a 6-2 lead.
The Patriots lead grew to 11-5, and Riley Nelson extended it with a delicate roll-shot that landed between three Lawrence County defenders. The Patriots never gave up the lead, and finished out the second frame 25-20.
"We came out the second game, and got a pretty good lead," Graybeal said, "but they are such a scrappy team, and they play good ball. They move the ball really well. I was super proud of the movement that we picked up as the match went on. We picked up a lot of balls. We had Jenna Hare, you had Riley Nelson, you had Jenny Hillman who came up with some huge kills, her and Avery Johnson both.
"We had some big digs. It was just aggressive serves, Hannah Hodge came up with a super big kill that I think really boosted us. That was our ball.
"After that first set, I knew we could do it the whole time," added Hillman, one of five Sullivan East seniors, "we just got in our heads a little bit. But that second set we came out, and I knew we could do it."
Lawrence County fought back in the third frame, jumping out to a 13-10 lead on the Patriots. A Jenna Hare spike jumpstarted a 5-0 run for the Patriots, forcing a Lawrence County timeout with the Patriots leading 15-13, and the Lawrence County student section booing loudly.
Sullivan East kept their lead and took it to 19-16, and then a strong Riley Nelson block at the net forced a second timeout for Lawrence County.
The timeout worked to slow down the Patriots momentum, as Lawrence County scored with a dump shot that just sailed over Nelson's head to cut the lead to 21-19. That was the closest the frame ever got, as Jenna Hare quickly avenged the point with a strong spike to give the Patriots a 22-19 lead, and eventually winning the third game of the match.
The Patriots struggled to hold their two games to one lead in a fourth frame that was plagued with mental errors. The score went back and forth, with Lawrence County edging out the Patriots 25-20 at the end.
In a final frame in which either team only needed to reach 15 to leave with a victory, Sullivan East came out firing on all cylinders, jumping to an 8-2 lead, which they never relinquished.
"That last set when we came out, we were ready to go." said Hillman, "Everybody was so pumped up, and it was one of the best times we have played together"
Fittingly, the game ended with a Jenna Hare spike that sealed it 15-5 for the Patriots.
"We stood and spectated a lot yesterday," said Graybeal, after the victory, "and I reminded them a lot that this is not a spectator sport unless you're sitting in the stands. It's got to be movement and vocals the whole time, that's kind of our mantra is movement and vocals.
"We worked at controlling the ball a lot better tonight. And we serve-received a lot better tonight. So, we were able to run our offense, and It was just a good night for the Patriots."